A Brief Chronology of Charles Fourier and of the American Utopian Events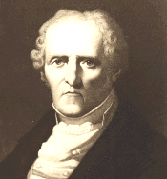 Source Charles Fourier
| | |
| --- | --- |
| 1772 | Charles Fourier is born at Besancon, France on April 7. |
| 1781 | Fourier's father dies leaving him a substantial fortune. |
| 1789 | After the completion of his education at College de Besancon he travels to Paris and then Rouen. |
| 1791 | He begins work as an apprentice in commerce. |
| 1793 | Fourier is imprisoned during social upheaval in Lyons. |
| 1797 | He becomes a commercial traveler. |
| 1800 | Fourier becomes an unlicensed broker. |
| 1801 | He begins work on is early writings which include an expose of his system. |
| 1804 | "Harmonie Universelle" is published in December. |
| 1808 | "Theorie des quatre mouvements et des destinees generales" is published in which he begins to specify the objectives and theory behind his ideals. |
| 1812 | Fourier's mother died. She left him a small inheritance but it allowed him to retreat into the countryside and continue his writing. |
| 1816-1820 | Fourier resides in the country to perfect his theories and his work on Great Treatise but it was never published. Just Muiron, his first disciple, contacts him. |
| 1822 | Fourier returns to Paris to gain support and interest in his utopia. |
| 1829 | Le Nouveau Monde industrel et societaire is published. |
| 1832 | Le Phalanstre, the first Fourierist journal is founded and a first attempt is made to establish the first phalanx at Conde sur Vesgre. Only partial construction prevailed. |
| 1834 | Summer Alcott is inspired to start his own private school Temple School. Alcott was not directly influenced by Fourier but by other utopian visionaries in Europe, primarily in England. |
| 1835 | La Fausse Industrie is published by Fourier and influences utopian ideals in the United States. |
| 1836 | Alcott publishes Conversations. It proved to be a failure. |
| 1837 | Fourier dies. |
| 1840 | George and Sophia Ripley find an ideal locale, at a milk farm west of Roxbury, for a secluded society of idealists. |
| 1841 | 160 acres are acquired through the Joint Stock Company in April. Brook Farm Institute of Agriculture and Education is established. |
| 1842 | Share ownership and board of trustees is established. Among the associates are Nathaniel Hawthorne and William B. Allen. Finances were administrated by Minot Pratt and Charles Dana, Ichabod Morton and John S. Brown were consultants. |
| 1843 | Alcotts arrive at Fruitlands bringing supporters with them . Curious visitors from nearby Brook Farm arrive. July 4, Ralph Waldo Emerson arrives for his first and only documented visit. By midsummer crops begin to flourish however a small hint of winter sends uneasiness throughout the community. In September Alcott realizes that measure have to be taken in consideration for harsh winter. By November members of the community leave in search of better living conditions before winter settles in. Only Charles Lane and the Alcotts remain at Fruitlands. By November Abby gives Bronson an ultimatum stating that she is leaving and taking the children with her and that he is free stay with Lane or go with her. Alcott's health begins to decline. By December snow settles in very heavily and firewood is low. Lane is jailed for tax evasion. Alcott leaves on Christmas eve for an association convention. Abby fills the children's stocking's with homemade toys on Christmas day. |
| 1844 | Snow continues very heavily round January and Alcott returns from Boston. On January 6, Lane and his son leave the Fruitlands and Alcott gets into a deep depression shortly after. He refuses food and water. By the 11th Abby with the help of a neighboring farmer moves the entire family from Fruitlands and nurses Bronson back to health. |
| 1845 | Brown and other trustees regrouped into a new company called Brook farm Phalanx. |
| 1849 | On April 13, Brook Farm is sold at a public auction to John Plummer for about $19,000. |
| 1852 | Hawthorne publishes The Blithedale Romance. |
| 1966 | Fourier's Griffe au nez is published. |
| 1967 | New Amourous World by Fourier is also published. |
Sources

Riavanovsky, Nicholas V. The Teachings of Charles Fourier. Berkeley: U of California Press. 1969.

Spencer, Michael C. Charles Fourier. Boston: Twayne, 1981.
| Top | Fourierism in the United States
Beecher, Jonathan, and Richard Bienvenu. eds. The Utopian Vision of Charles Fourier. Boston: Beacon P, 1971. HX704 .F7212
Guarneri, Carl J. The Utopian Alternative: Fourierism in Nineteenth Century America. Ithaca: Cornell UP, 1991.
Riavanovsky, Nicholas V. The Teachings of Charles Fourier. Berkeley: U of California Press. 1969.
Spencer, Michael C. Charles Fourier. Boston: Twayne, 1981.
The Utopian Movement: Selected Bibliography 1980-Present
Albinski, Nan B. Women's Utopias in British and American Fiction. London: Routledge, 1988. PR830 .U7 A43
Bartkowski, Frances. Feminist Utopias. Lincoln: U of Nebraska P, 1989. PS374 .U8 B38
Clark, Christopher. The Communitarian Moment: The Radical Challenge of the Northampton Association. Ithaca: Cornell UP, 1995.
Fogarty, Robert S. Dictionary of American Communal and Utopian History. Westport, CT: Greenwood, 1980.
Francis, Richard. Transcendental Utopias: Individual and Community at Brook Farm, Fruitlands, and Walden. Ithaca, NY: Cornell UP, 1997.
Kesten, Seymour. Utopian Episodes: Daily Life in Experimental Colonies Dedicated to Changing the World. Syracuse: Syracuse UP, 1993.
McFarland, Philip. Hawthorne in Concord. NY: Grove, 2004.
Pitzer, Donald E. ed. America's Communal Utopias. Chapel Hill: U of North Carolina P, 1997.
Roemer, Kenneth M., ed. America as Utopia. NY: B. Franklin, 1981. PS374 .U8 A47
Rohrlich, Ruby and Elaine H. Baruch, eds. Women in Search of Utopia: Mavericks and Mythmakers. NY: Shocken Books, 1984. HQ1122 .W65
| Top | Albert Brisbane (1809-1890): A Brief Biography
A Student Project by Don Kern
Albert Brisbane is credited with introducing Fourierism into the American culture and was central to the adaptation of these ideas into Brook Farm. Brisbane was never a member of the Brook Farm Association. Nevertheless, he impacted the thoughts of members of the farm with ideas he learned through studying in France under French social theorist and economist Charles Fourier. Fourierism, and through association Brisbane, share the dubious title of those that lead to the ending of the Brook Farm experiment. The focus of this biographical overview will center on Brisbane's involvement with Fourierism and the remarkable influence his ideas had on the group of Transcendentalists of Brook Farm.
Albert Brisbane was born on August 22, 1809. He was the son of a prominent land owner named James Brisbane who held advanced views on religion and education. His mother Mary not only took care of the household, but also was recognized for her abilities in the field of astronomy. Albert received a general education in his youth and later went on to study in France.
In 1828 he sailed to France at the age of nineteen. Here he studied the advanced fields of philosophy and literature under such great names as Francois Guzot and Victor Cousins. Later in his scholastic career he attended the University of Berlin to study Philosophy under Hegel. While in Germany he was accepted into the upper crust of German society, "He associated with the Mendelssohns, a wealthy banking family, and became a good friend of Felix Mendelssohn, the famous composer and musician."(Stanford 26)
By this point in his life Brisbane had developed very clear ideas on society's shortcomings and felt there must be a way to cure human misery; not only in the U.S, but for the world. He realized that Hegel was too focused on European civilization and soon found Charles Fourier's economic philosophy detailed in his book Traite de l'Association Domestique-Agricol (1821-1822). After two years of study under Fourier, Brisbane returned to the United States. He began publishing works expounding Fourier's views: The Social Destiny of man;or Association and Reorganization of Industry (1840) and Association;or A Concise Exposition of the Practical Part of Fourier's Social Science(1843).
Albert Brisbane's connection and eventual impact at Brook Farm was indirect. He was not a member of the Association. Furthermore, he knew very little of the plight of this group or the common values they shared. What Brisbane did find out was that somewhere around 1841-1842 Brook Farm opened there minds to his ideas on Fourierism. There is very little evidence to suggest that Brook Farm had any reason to move away from the institutional path they were following. Nevertheless, Fourierism found its way into Brook Farm. Brook Farm's constitution was changed on January 18, 1844, signed by George Ripley, Minot Pratt and Charles Anderson Dana; all of whom were key players in decisions concerning the destiny of Brook Farm. They expressed their reasoning in this way, "With a view to the ultimate expansion into a Perfect Phalanx, we desire without any delay to organize the three primary departments of labor, namely, Agriculture, domestic Industry, and the Mechanical Arts." (Swift 279-80) Upon this declaration, Brisbane developed a heightened interest in seeing his ideas and Fourier's doctrine put to the test. He began to visit Brook Farm giving lectures and at one point stayed as a guest for a few months.
Although he had an apparent interest in the success of Brook Farm, Lindsey Swift points out that, "It is evident that his main usefulness was confined to giving advice and to supply moral fervor." (Swift 280) A short two years after its induction into Brook Farm support for Fourierism began to diminish. A battery of public attacks on Fourier, spearheaded by a publication entitled the Observer, marked the official end of the movement and also the end of Brook Farm. Heavy with debt and pockets full with ideas that no creditor would accept as collateral, the Association was doomed. Unfortunately, Albert Brisbane's ideas on economic reform suffered the same fate and he is characterized as the "evil genius"(Swift 281) that lead to the end of Brook Farm.
WORKS CITED
Stanford, Donald E., Elliot, Emory Ed. Dictionary of Literary Biography: Albert Brisbane. Gale Research Company. 1979. Volume 3. 25-27
Swift, Lindsay. Brook Farm. New Jersey: The Citadel Press. 1973. 270-281.
MLA Style Citation of this Web Page
Reuben, Paul P. "Chapter 4: The Utopian Movement and Fourierism " PAL: Perspectives in American Literature- A Research and Reference Guide. WWW URL: http://www.paulreuben.website/pal/chap4/utopian.html (provide page date or date of your login).

| Top |