Chapter 4: American Transcendentalism

John Sullivan Dwight
1813-1893

© Paul P. Reuben October 17, 2016 E-Mail

Page Links: | Selected Bibliography | MLA Style Citation of this Web Page |
Site Links: | Chap 4: Index |
Alphabetical List
|
Table Of Contents
|
Home Page
|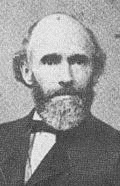 Source: Unitarians ... : JSD
John Sullivan Dwight was a graduate of Harvard Divinity School, a Unitarian minister, and a member of the Transcendental Club. He joined the Brook Farm community in 1841 and was noted for the music criticism he published in the Fourierist Harbinger (1845&endash;1848) and in his own Dwight's Journal of Music (1852&endash;1881). A musician as well as a Transcendentalist, he became a flute and piano instructor whose criticism is prized by musicologists today as our primary source for the history of music in New England during the nineteenth century. - Alcott Net
Cooke, George Willis. John Sullivan Dwight: A Biography. New York: Da Capo Press, 1969.
Mott, Wesley T. ed. The American Renaissance in New England. Detroit: Thomson Gale, 2001.
Myerson, Joel. ed. The Transcendentalists: A Review of Research and Criticism. NY: Mod. Lang. Assn. of America, 1984.
Top
John Sullivan Dwight (1813-1893): A Brief Biography
A Student Project by Dana Apodaca
In gathering a better understanding of John Sullivan Dwight, I've collected information from, John Sullivan Dwight: A Biography, by George Willis Cooke and Brook Farm, by Lindsay Swift. These sources have proved a great help in constructing this brief biography.
In 1812, Dr. John Dwight married Mary Corey, of West Roxbury. Together they shared in the joy of the birth of their first born John Sullivan Dwight, on May 13, 1813. John's family included his parents, two sisters, Marianne and Francis Ellen and a brother, Benjamin Franklin. The family resided in Boston, Massachusetts. (Cooke 2)
As a student, Dwight excelled in his studies and received various awards for his diligence and hard work. He attended Harvard College where his studies focused on Greek and Latin. His love of music also grew during this period, although it was not part of his curriculum, and would remain a passion throughout his lifetime. Dwight joined the Pierian Sodality, which was a club that enabled him to study and practice music. His all time favorite composer was Beethoven. In 1832, John graduated from Harvard and continued studying at the Divinity School finishing in 1836. (Cooke 3)
After graduation, Dwight joined the Harvard Musical Association in 1837 and would remain close to the association throughout his life. In 1839, Dwight turned his efforts towards religion and in Northhampton he took on his first important task as preacher. In a letter to a friend John Sullivan Dwight reveals, "'I'm almost unsure that I cannot succeed as preacher.'" (Cooke 11) Dwight would be ordained in 1840, yet his ministry would only last for one short year.
It is at this time, that Dwight finds himself leaving Northhampton for his mother's hometown in West Roxbury. The Brook Farm Community is established in 1841 and in November he becomes a member of the community. Brook Farm provides this city-dweller an opportunity to know more intimately the nature he so much loves. In a letter written on the Farm a young girl tells of how she picked wildflowers for Mr. Dwight who loved them so. (Swift 80) Overall, Dwight is a well-liked individual and shows himself as a friend to all. He takes a position as a teacher of Latin and Music. "Dwight, believed in Brook Farm, and devoted to it the whole of his capacities while it continued in existence." (Cooke 83)
Upon the Phalanstery fire, at the farm, Dwight tried to remain optimistic and set out to find financial aid. However, his attempt was too late; the community came to its close in 1846. (Swift 160) A link to the days on Brook Farm was established in 1851 when Dwight was married to Mary Bullard, who had been a visitor there. Their marriage would only last ten years due to Mary's untimely death while Dwight was abroad in Europe. (Swift 161, 162)
Throughout his lifetime, Dwight contributed to several publications. It seems as if his poetry, articles, and music criticisms flowed more readily than his words as a preacher did. Early in his life he helped edit and translate: "Minor Poems Of Goethe and Schiller" which appeared in Ripley's, "Specimens of Foreign Standard Literature." (Swift 157) Some of the newspapers he edited or contributed to were the Dial, Harbinger, Boston Commonwealth, Chronotype. He also established his own, Dwight's Journal of Music, in 1852. (Swift 161)
At the age of eighty years, John Sullivan Dwight died on September 5, 1893. His memorial service was described as less of a funeral and more of a gathering of friends to bid "'Godspeed.'" (Cooke 295) As the choirs sang, music was fittingly a part of the ceremony. The flowers he loved, it is likely, surrounded Dwight making all seem well and allowed for his final rest.
A Brief Chronology of Events:
1813 John Sullivan Dwight is born in Boston to Dr. John Dwight and Mary Corey.
1832 Dwight graduates from the Latin School of Harvard College.
1836 Dwight graduates from the Divinity School.
1837 Dwight joins the Harvard Musical Association.
1840 Dwight is ordained and ministers in Northhampton, for one year.
1841 Dwight joins the Brook Farm Community, where he teaches Music and Latin.
1851 Dwight marries Mary Bullard.
1852 Dwight establishes Dwight's Journal of Music.
1860 Mary dies while Dwight is abroad in Europe.
1893 Dwight (83) dies on September 5.
Primary Works:
Translating & Editing "Select Minor Poems of Goethe & Schiller".
Contributing articles and his noteworthy poem, "Rest", to the Dial.
Editing and contributing to the Harbinger.
Writing for Elizur Wright's Boston newspaper, Chronotype.
Musical editor for the Boston Commonwealth.
Creator, editor, and contributor to Dwight's Journal of Music.
On a final note, I think that Dwight's greatest role was that of teacher, poet, and friend. In comparison to other author's of the time like Hawthorne, Emerson, or Thoreau, Dwight does not really match up. This might be why his literary genre is not as popular among readers today. However his poetry and especially his musical critiques are done with a passion for the subject matter which persuade the reader to recognize art and literature at its simplest and finest.
Works Cited
Cooke, George Willis. John Sullivan Dwight: A Biography. NY: Da Capo Press, 1969.
Swift, Lindsay. Brook Farm. Citadel Press. New Jersey, 1961.
MLA Style Citation of this Web Page:
Reuben, Paul P. "Chapter 4: John Sullivan Dwight." PAL: Perspectives in American Literature- A Research and Reference Guide. WWW URL: http://www.paulreuben.website/pal/chap4/dwight.html (provide page date or date of your login).