Chapter 4: American Transcendentalism

William Ellery Channing
1780-1842

© Paul P. Reuben October 17, 2016 E-Mail

Page Links: | A Brief Sketch | Selected Bibliography | MLA Style Citation of this Web Page |

Site Links: | Chap 4: Index |
Alphabetical List
|
Table Of Contents
|
Home Page
|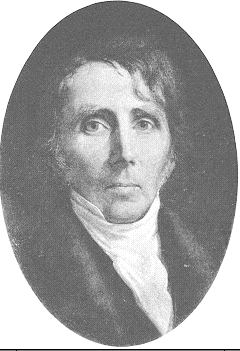 (Photo source: William Ellery Channing Center)
Channing, William Ellery (b. April 7, 1780, Newport, R.I. d. Oct. 2, 1842, Bennington, Vt., U.S.)
U.S. author and moralist, Congregationalist and, later, Unitarian clergyman. Known as the "apostle of Unitarianism," Channing was a leading figure in the development of New England Transcendentalism and of organized attempts in the U.S. to eliminate slavery, drunkenness, poverty, and war.
He studied theology in Newport and at Harvard and soon became a successful preacher in various churches in the Boston area. From June 1, 1803, until his death he was minister of the Federal Street Church, Boston. Preferring to avoid abstruse points of doctrine, he preached morality, charity, and Christian responsibilities. He became a popular speaker on ceremonial occasions and reached an even larger audience by writing for liberal Boston periodicals, one of which was The Christian Disciple (from 1824 called The Christian Examiner). In 1815 he was attacked by the orthodox Calvinist periodical The Panoplist, whose editor, Jedidiah Morse, denounced the Boston clergy as "Unitarian" rather than Christian. During the next five years Channing issued several defenses of his position, especially "Unitarian Christianity," a sermon delivered at an ordination in Baltimore in 1819.
Reluctantly accepting the label of Unitarianism, Channing described his faith as "a rational and amiable system, against which no man's understanding, or conscience, or charity, or piety revolts." Although he did not wish to found a denomination, believing that a Unitarian orthodoxy would be just as oppressive as any other, he formed (1820) a conference of liberal Congregational ministers, later (May 1825) reorganized as the American Unitarian Association.
Channing sympathized with the beliefs of several social and educational reform movements but did not believe that society could be improved by collective action. He denied that government--the only legitimate function of which was, in his view, the essentially negative one of maintaining public order--could advance the moral sensibility of the human race.
In his time, Channing's reputation as a man of letters was based on several long essay-reviews, among the first of their kind in the U.S. One took John Milton's "Treatise on Christian Doctrine" as a starting point; another, Sir Walter Scott's biography of Napoleon I, in whose career Channing saw the great social danger of taking prominent soldiers for heroes. Most of his manuscripts were destroyed by fire. - The Encyclopedia Britannica
Brown, Arthur W. Always Young for Liberty: A Biography of WEC. Syracuse: Syracuse UP, 1956. BX9869.C4 B84
- - -. William Ellery Channing. NY: Twayne, 1962. BX9869.C4 B86
Channing, William Henry. ed. Memoir of William Ellery Channing. 3 vols. 1848.
Fritchman, Stephen H. Men of Liberty; Ten Unitarian Pioneers. NY: Kennikat Press, 1968. BX9867 F7
Han, John J. "William Ellery Channing (1780-1842)." in Knight, Denise D. ed. Writers of the American Renaissance: An A-to-Z Guide. Westport, CT: Greenwood, 2003.
Lyttle, David. Studies in Religion in Early American Literature: Edwards, Poe, Channing, Emerson, Some Minor Transcendentalists, Hawthorne, and Thoreau. Lanham, MD : UP of America, 1983.
Mendelsohn, Jack. Channing, the reluctant radical; a biography. Boston: Little, Brown, 1971. BX9869 C4 M45
Patterson, Robert L. The philosophy of William Ellery Channing. NY: Bookman, 1952. B908 .C44 P3
Robinson, David. ed. William Ellery Channing: Selected Writings. Mahwah, NJ : Paulist, 1985. BX9815 .C42
- - -. "William Ellery Channing." in Mott, Wesley T. ed. The American Renaissance in New England. Detroit: Thomson Gale, 2001.
Author: Robinson, David M. In: Mott, Wesley T. (ed. and introd.); xxiii, 533 pp.; The American Renaissance in New England: Third Series; Thomson Gale, Detroit, MI Publication: 2001
Toulouse, Teresa. The Art of Prophesying: New England Sermons and the Shaping of Belief. Athens: U of Georgia P, 1987.
Wagenknecht, Edward C. Ambassadors for Christ: Seven American Preachers. New York: Oxford U.P., 1972. BV4208.U6 W34
MLA Style Citation of this Web Page:
Reuben, Paul P. "Chapter 4: William Ellery Channing." PAL: Perspectives in American Literature- A Research and Reference Guide. WWW URL: http://www.paulreuben.website/pal/chap4/channing_ellery.html (provide page date or date of your login).

| Top |