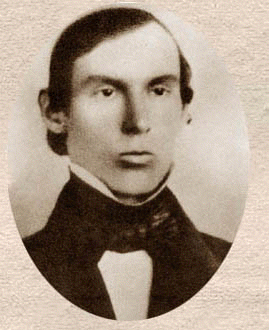 Source: Jones Very
Jones Very was an extraordinary Transcendentalist and member of the Transcendental Club. In fall 1838 he experienced a period of radical ecstatic mysticism so intense that many thought he had become insane. During this remarkable period he wrote approximately a third of his nearly 900 poems, illuminated, as he believed, directly by the Holy Spirit. Ralph Waldo Emerson published a number of Very's inspired poems, as well as remarkable insights on Shakespeare, in Essays and Poems in 1839. Other ardent supporters included Amos Bronson Alcott, James Freeman Clarke, and Elizabeth Palmer Peabody. In his desire to write and speak only as the Spirit bade him, Very established himself as a quintessential transcendental poet, despite the Hebraic diction of his poems. In the most profound of his utterances he assumes a divine persona, and his unpublished prose work Epistles to the Unborn is definitely not for the uninitiated. - Alcott Net
Primary Works
Poems of Jones Very: James Freeman Clarke's Enlarged Collection of 1886 Reedited with a Thematic and Topical Index. Ed. Kenneth W. Cameron. Hartford: Transcendental, 1965.

Jones Very: Selected Poems. Ed. Nathan Lyons. New Brunswick: Rutgers UP, 1966. PS3126 .L9

Jones Very: The Complete Poems. Ed. Helen R. Deese. Athens: U of Georgia P, 1993.
Bartlett, William I. Jones Very, Emerson's "Brave Saint". Durham, N.C.: Duke UP, 1942. PS3128 .B3
Cameron, Kenneth W. Lowell, Whittier, Very and the Alcotts among Their Contemporaries: A Harvest of Estimates, Insights and Anecdotes from the Victorian Literary World and an Index. Hartford : Transcendental Books, 1978.
Cane, Aleta. "Jones Very (1813-1880)." in Denise D. ed. Writers of the American Renaissance: An A-to-Z Guide. Westport, CT: Greenwood, 2003.
Clayton, Sarah T. The Angelic Sins of Jones Very. NY: Peter Lang, 1999.
Gittleman, Edwin. Jones Very: The Effective Years, 1833-1840. NY: Columbia UP, 1967. PS3128
Robinson, David M. "Jones Very." in Mott, Wesley T. ed. The American Renaissance in New England: Fourth Series. Detroit: Gale, 2001.
MLA Style Citation of this Web Page:
Reuben, Paul P. "Chapter 4: Jones Very." PAL: Perspectives in American Literature- A Research and Reference Guide. WWW URL: http://www.paulreuben.website/pal/chap4/very.html (provide page date or date of your login).

| Top |