Chapter 4: American Transcendentalism

George Ripley
1802-80

© Paul P. Reuben October 17, 2016 E-Mail

Page Links: | Nathaniel Hawthorne and The Blithedale Romance | Selected Bibliography | MLA Style Citation of this Web Page |
Chapter Link: | The Utopian Movement |
Site Links: | Chap 4: Index |
Alphabetical List
|
Table Of Contents
|
Home Page
|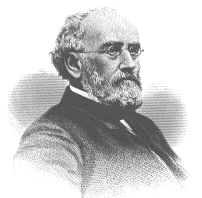 Source: GR: Career as a Writer
George Ripley was a Unitarian minister, Transcendentalist, member of the Transcendental Club, and, with his wife Sophia Dana Ripley, cofounder of Brook Farm. When conservative Unitarian Andrews Norton attacked the Transcendentalists in his infamous Discourse on the Latest Form of Infidelity in 1838, Ripley stood out as the most outspoken defender of the transcendental gospel. His able arguments in this printed skirmish solidified the Transcendentalist resistance against conventional Unitarianism as well as utterly demolished Norton's position. Ripley edited and published the 14-volume Specimens of Foreign Standard Literature (1838&endash;1842) and served as business manager for the Dial. His conscience spurred him to resign his pulpit in March 1841. - Alcott Net
Primary Works
Discourses on the Philosophy of Religion, 1836; The Latest form of Infidelity Examined, 1839.
Cooke, George W. John Sullivan Dwight; Brook-Farmer, Editor, And Critic Of Music. A Biography. NY: Da Capo P, 1969. ML423.D9 C7
Crowe, Charles R. George Ripley, Transcendentalist and Utopian Socialist. Athens: U of Georgia P, 1967. PS2713 .C7
Francis, Richard. Transcendental Utopias: Individual and Community at Brook Farm, Fruitlands, and Walden. Ithaca: Cornell UP, 1997.
Golemba, Henry L. George Ripley. Boston: Twayne Publishers, 1977. PS2713 G6
McCallum, R. Ian. "Alchemical Scrolls Associated with George Ripley." in Linden, Stanton J. ed. Mystical Metal of Gold: Essays on Alchemy and Renaissance Culture. NY: AMS, 2007.
Myerson, Joel. Brook Farm: An Annotated Bibliography and Resources Guide. NY: Garland, 1978.
- - -. The Brook Farm Book: A Collection of First Hand Accounts of the Community. NY: Garland, 1987.
Newman, Lance. Our Common Dwelling: Henry Thoreau, Transcendentalism, and the Class Politics of Nature. NY: Palgrave Macmillan, 2005.
Sams, Henry W. Autobiography of Brook Farm. Englewood Cliffs: Prentice-Hall, 1958. HX656.B8 S9
Swift, Lindsay. Brook Farm, its Members, Scholars, and Visitors, 1961. HX656.B8 S9
| Top | George Ripley (1802-80): A Brief Biography
A Student Project by DeeAnn Hammond
George Ripley's exact date of birth is unknown, but what is known is the impact he made on the Transcendentalist movement in the 1840's. George and his wife Sophia are credited with being the chief promoters of Brook Farm which was a utopian experiment begun in 1841. (Brook Farm 130)
George Ripley was a native of Greenfield, Massachusetts and a graduate of Harvard College and Harvard Divinity school. During the 1830's he and his Boston Brahmin wife, Sophia were involved in the exciting cultural life of Boston and Concord. (Lit. Bio.) In March of 1841 he gave his farewell speech to his parish, and he and Sophia traded in their social circles for the utopian life of Brook Farm, in search of the ideal society. They were to become the pioneers in the most noteworthy effort in American civilization at establishing a model community of workers, teachers and students, living the Transcendentalist dream. (Brook Farm introduction) Brook Farmers wished to abolish both poverty and wealth and bridge the gap between the social classes. (Lit. Bio.)
Brook Farm housed many literary geniuses, among them Nathaniel Hawthorne, Margaret Fuller, and Amos Bronson Alcott to name a few. It is said that over two hundred individuals had been connected with Brook Farm from first to last. (Brook Farm 118) Shares of the farming work were expected from everyone at Brook Farm except the very young and George and Sophia went about their new lifestyle with much enthusiasm. George threw himself into humble tasks and was in constant good cheer, seeming to enjoy himself.
Regardless of the hard work being done at Brook Farm, monetarily it began to fail. The land had been ill suited for farming and lack of financial means led to its painful demise in the fall of 1847.The property was transferred to a board of trustees and the Ripleys moved to Flatbush, Long Island. George continued to write for the Harbinger, the literary publication of Brook Farm until it ceased to be. He was then offered employment with the Tribune and for a while times were hard for George and Sophia who was now teaching school.
Sophia fell ill with cancer, and after a long and painful illness, sucumbed to the disease in 1861. Sophia's work had been so much a part of her husband's, and he credited her with being loyal and supportive. She was gifted in mind and brilliant in conversation, tall and fair and her power to infuse life into those around her must have been extraordinary. (Brook Farm 140)
After Sophia's death, George moved to Brooklyn where he eventually remarried. He began a secondary but significant journalistic career, becoming well known for his essays, reviews and articles in the New York Tribune. He survived and triumphed, becoming a leader in scholarly journalism in America. He was known as a journalist with high intellectual standards. George Ripley died in New York City in 1880, a greatly respected man. (Lit. Bio.)
Works Cited
Myerson, Joel. Dictionary of Literary Biography- vol. 1, The American Renaissance in New England Detroit Michigan, 1978
Swift,Lindsay. Brook Farm Citadel Press, New Jersey, 1961(intro through 143)
MLA Style Citation of this Web Page:
Reuben, Paul P. "Chapter 4: George Ripley and Brook Farm." PAL: Perspectives in American Literature- A Research and Reference Guide. WWW URL: http://www.paulreuben.website/pal/chap4/ripley.html (provide page date or date of your login).

| Top |