Chapter 5: Late Nineteenth Century
and Realism

Henry James
1843-1916

© Paul P. Reuben
June 23, 2014
E-Mail
Outside Links: | The HJ Scholar's Guide to Web Sites | The HJ E-Journal |
Page Links: | Primary Works | Selected Bibliography 2000-Present |
| Study Questions | MLA Style Citation of this Web Page |
Site Links: | Chap 5: Index | Alphabetical List | Table Of Contents | Home Page |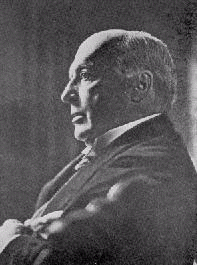 Source: Scholar's Guide
Like Howells and Clemens, James was also a prolific writer. Apart from writing fiction, James made important contributions to the genre of literary theories, especially through his famous essay, "The Art of Fiction," 1884. His conception of writing fiction is defined in these words: "A novel is, in its broadest definition, a personal, a direct impression of life, that, to begin with, constitutes its value, which is greater or less according to the intensity of the impression. But there will be no intensity at all, and therefore, no value, unless there is freedom to feel and say." In his treatment of subject matter, James felt that no aspect of life should be excluded. He said that "the province of art is all life, all feeling, all observation, all vision ... it is all experience. That is a sufficient answer to those who maintain that it must not touch the sad things of life ..." James's style of writing is magnificent and his canvas is broad - encompassing both Europe and America. He is a master of character portrayal and has extensively used the "stream of consciousness" method in his fictional writing.
Roderick Hudson, 1876; The American, 1877; Daisy Miller, 1878; The Europeans, 1878; Hawthorne, 1879; Washington Square, 1880; The Portrait of a Lady, 1881; The Bostonians, 1886;The Turn of the Screw, 1898; The Wings of Dove, 1902; The Ambassadors, 1903; The Beast in the Jungle, 1903; The Golden Bowl, 1904; The Outcry, 1911.

Selected Poems of James Henry. Ricks, Christopher (ed.). NY: Handsel, 2002.

What Maisie Knew. Ricks, Christopher (ed. and introd.). New York, NY: Penguin; 2010.

The Complete Letters of Henry James, 1855-1872, Volume I. Walker, Pierre A. (ed.). Lincoln: U of Nebraska P, 2006.

The Complete Letters of Henry James, 1855-1872, Volume II. Walker, Pierre A. (ed.). Lincoln: U of Nebraska P, 2006.
| Top | Selected Bibliography 2000 to Present
Anesko, Michael. Monopolizing the Master: Henry James and the Politics of Modern Literary Scholarship. Stanford, CA: Stanford UP, 2012.
Armbruster, Elif S. Domestic Biographies: Stowe, Howells, James, and Wharton at Home. NY: Peter Lang, 20
Betensky, Carolyn. Feeling for the Poor: Bourgeois Compassion, Social Action, and the Victorian Novel. Charlottesville: U of Virginia P, 2010.
Bosanquet, Theodora, and Lyall H. Powers. Henry James at Work. Ann Arbor: U of Michigan P, 2006.
Cornes, Judy. Madness and the Loss of Identity in Nineteenth Century Fiction. Jefferson, NC: McFarland, 2008.
Davidson, Rob. The Master and the Dean: The Literary Criticism of Henry James and William Dean Howells. Columbia: U of Missouri P, 2005.
Eimers, Jennifer. The Continuum of Consciousness: Aesthetic Experience and Visual Art in Henry James's Novels. NY: Peter Lang, 2013.
Ellmann, Maud. The Nets of Modernism: Henry James, Virginia Woolf, James Joyce, and Sigmund Freud. NY: Cambridge UP, 2010.
Goodheart, Eugene. Novel Practices: Classic Modern Fiction. New Brunswick: Transaction, 2003.
Goodman, Susan. Civil Wars: American Novelists and Manners, 1880-1940. Baltimore: Johns Hopkins UP, 2003.
Gorra, Michael. Portrait of a Novel: Henry James and the Making of an American Masterpiece. NY: Liveright, 2012.
Gunter, Susan E. ed. Dearly Beloved Friends: Henry James's Letters to Younger Men. Ann Arbor: U of Michigan P, 2002.
Gunter, Susan E. Alice in Jamesland: The Story of Alice Howe Gibbens James. Lincoln: U of Nebraska P, 2009.
Hallman, J. C. Wm & H'ry: Literature, Love, and the Letters between William & Henry James. Iowa City: U of Iowa P, 2013.
Izzo, Donatella. Portraying the Lady: Technologies of Gender in the Short Stories of Henry James. Lincoln: U of Nebraska P, 2001.
Jamil, S. Selina. Jamesian Centers of Concsiouness as Readers and Tellers of Stories. Lanham, MD: UP of America, 2001.
Jöttkandt, Sigi. Acting Beautifully: Henry James and the Ethical Aesthetic. Albany: State U of New York P, 2005.
Kventsel, Anna. Decadence in the Late Novels of Henry James. NY: Palgrave Macmillan, 2007.
Ludwig, Sámi. Pragmatist Realism: The Cognitive Paradigm in American Realist Texts. Madison: U of Wisconsin P, 2002.
Mazzucco-Than, Cecile. 'A Form Foredoomed to Looseness': Henry James's Preoccupation with the Gender of Fiction. NY: Peter Lang, 2002.
McGurl, Mark. The Novel Art: Elevations of American Fiction after Henry James. Princeton, NJ: Princeton UP, 2001.
Miller, J. Hillis. Literature as Conduct: Speech Acts in Henry James. NY: Fordham UP, 2005.
Novick, Sheldon M. Henry James: The Mature Master. NY: Random House, 2007.
Ohi, Kevin. Henry James and the Queerness of Style. Minneapolis: U of Minnesota P, 2011.
Otten, Thomas J. A Superficial Reading of Henry James: Preoccupations with the Material World. Columbus: Ohio State UP, 2006.
Person, Leland S. Henry James and the Suspense of Masculinity. Philadelphia: U of Pennsylvania P, 2003.
Simon, Linda. The Critical Reception of Henry James: Creating a Master. Rochester, NY: Camden House, 2007.
Stevenson, Elizabeth. Henry James: The Crooked Corridor. New Brunswick: Transaction, 2000.
Strouse, Jean. intro. The Outcry. NY: New York Review Books, 2002.
Tambling, Jeremy. Henry James. NY: St. Martin's, 2000.
Tintner, Adeline R. The Twentieth-Century World of Henry James: Changes in His Work after 1900. Baton Rouge: Louisiana State UP, 2000.
Tolliver, Willie. Henry James as a Biographer: A Self Among Others. NY: Garland, 2000.
Tucker, Amy. The Illustration of the Master: Henry James and the Magazine Revolution. Stanford, CA: Stanford UP, 2010.
| Top |Henry James (1843-1916): A Brief Biography

A Student Project by Marlene Warda
Henry James was born in April 15, 1843 at 21 Washington Place, on the edge of Greenwich Village in New York City to Henry James, Senior, and Mary Robertson Walsh James. Henry James's paternal grandfather, the Irish immigrant William James, played a significant role in helping support the James family. When William James died in Albany, New York in 1832, he left a fortune of $3 million to support the lives of his heirs. The fortune that William James left was used to help support Henry James, Senior's, intellectual career; as a result Henry James, Senior, earned himself a place in the history of American thought (Pizer 299-300).
Henry James, Senior, wrote views about Christianity, morality, Swedenborg, social redemption, and God's pervasive power in human affairs. James Senior also lectured, traveled extensively and associated with like minded American intellectual leaders, among them Ralph Waldo Emerson, Elleny Channing, Margaret Fuller, Henry David Thoreau, Parke Goodwin, Charles Anderson Dana, Albert Brisbane, and George Ripley. In fact, Henry James Senior's life overshadowed the son's life so much that for many years Henry James signed his name "Henry James, Jr." in hopes of distinguishing himself from his father (Pizer 300).
Jr.'s mother, Mary Robertson Walsh was from a wealthy upstate New York family, Scottish-Irish in origin and Presbyterian in religious persuasion. Mary James was extremely devoted to her husband and their five children (Pizer 300). When Mary James died in 1882, Henry James recorded this tribute to her in a private notebook:
She was our life, she was the house, she was the keyston of the arch. She held us all together, and without her we are scattered reeds. She was patience, she was wisdom, she was exquisite maternity. Her sweetness, her mildness, her great natural beneficence were unspeakable. She is with us, she is of us - eternal stillness is but a form of her love. Thank God one knows this loss but once; and thank God that certain supreme impressions remain! (Pizer 301)
Henry James was the second child. William James was the oldest and turned out to achieve intellectual importance like his brother, Henry James, Jr. and his father. However the remaining siblings Garth Wilkinson James, Robertson James and youngest sibling Alice James didn't achieve any sort of intellectual importance. However, Alice James might have achieved intellectual importance if it wasn't for her chronic ill health (Pizer 301). According to Dupree, apart from the family, Henry James had no social atmosphere while growing up (108).
Henry James traveled extensively to Europe. His love for European travel was instilled in him at a very young age. Henry James's father moved the whole family to England to live for a year before Henry James reached his first birthday. Extended visits to European cities such as London, Geneva, and Paris occurred throughout most of James's childhood. The extensive traveling resulted in Henry James receiving a kind of erratic education in which he attended a variety of day schools and was taught by private tutors in a range of cosmopolitan settings (Bishop 6).
Bishop suggests in his book that young Henry James was uncomfortable with formal education but showed a remarkable interest with languages (6). He read books in French, German and Latin. Scott, Dickens, and Thacheray were some of his favorite novelists. In 1856, Henry James Senior moved his family to Paris and while in Paris Henry James Senior wrote home to his mother as follows:
Harry is not so fond of study, properly so called, as of reading. He is a devourer of libraries, and an immense writer of novels and dreams. He has considerable talent as a writer. (Pizer 302)
In October 1861, Henry James suffered what he later called a "horrid even if an obscure hurt." (Bishop 6) In trying to put out a raging fire in a group of Newport stable near some houses, Henry James injured himself severely. Some earlier scholars believed that Henry James castrated himself and scholars have used this as an explanation for James's celibacy. According to Bishop, Leon Edel said that the hurt was in all a slipped disc or a strained back (7). As a result, the injury was a good reason for Henry James to avoid service in the Civil War.
In 1864 Henry James attended Harvard Law School, but he had no intentions of becoming a lawyer for he attended only one academic year. His time was spent attending James Russell Lowell's lectures in literature and making literary friends. Lowell, Charles Eliot Norton, and Oliver Wendell Holmes were among those friends.
Amongst all his literary friends, Henry James treasured William Dean Howells who at the time was the editor of the Atlantic Monthly (Pizer 304). According to Pizer, Henry James treasured Howells as his single most important American professional friend (304). James believed that it was Howells who first accepted his work:
You held out your open editorial hand to me at the time I began to write - and I allude especially to the summer of 1866 - with a frankness and sweetness and hospitality that was really the making of me, the making of confidence that required help and sympathy and that I should otherwise have strayed and stumbled about a long time without acquiring. (Pizer 304)
During the decade after the Civil War, Henry James published a number of short stories and book reviews in prominent American periodicals. By the time James was twenty five, a reviewer in the Nation defined James as "the best writer of short stories in America." (Pizer 304)
By 1875 Henry James settled in Europe for good. He lived the first year in Paris and moved to London in 1876. It was in Europe that he wrote The American (1877), Europeans (1878), Daisy Miller (1879), and his first acknowledged masterpiece The Portrait of a Lady (1881). In addition to writing fiction, he continued with his critical essays, publishing French Poets and Novelist in 1878 and Hawthorne in 1879. After both parents died in 1882, Henry James didn't see America again for more than twenty years. Between 1900-1904, Henry James published two collections of short stories, The Soft Side and The Better of Sort, a biography of William Wetmore Story, and The Sacred Font (1901). He also published The Wings of the Dove in 1902, The Ambassadors in 1903 and The Golden Bowl in 1904. The last three are considered the finest achievements of the late phase and the capstone of James's long and distinguished career (Bishop 10).
James wrote about international themes and about the entanglements of love. According to Bishop, only Jane Austen has explored the theme of love with equal refinement (32). During the middle period of his life, Henry James moved from a concentration on the international theme to an investigation of the varieties of "realism." He returned to international theme in the major phase of his life (Bishop 29). His style of writing is perplexing which in its "indirections, convolutions, circumlocutions and ellipses present a profound challenge." (Bishop 33)
Henry Jams received Honorary degrees from Harvard University in 1911 and from Oxford University in 1912. Soon after he suffered a stroke in December 1915, George V awarded James the Order of Merit. Two months after he received the Order of Merit, Henry James died on February 28, 1916. His body was cremated in England and his ashes were returned to his native land to be buried in the family plot in Cambridge, Massachusetts (Bishop 12).
Works Cited
Bishop, George. Henry James, Life, Work, and Criticism. Fredericton: York Press LTD, 1991.
Dupree, F.W. Henry James. Doubleday & Company, Inc., 1956.
Pizer, Donald and Earl Harbert. eds. Henry James. Vol. 12 of Dictionary of Literary Biography. Detroit: Gale Research, 1982.
1. Examine Howells's Novel-Writing and Novel-Reading and James's The Art of Fiction and discuss points of convergence and divergence.
2. In The Art of Fiction, James writes, "A novel is in its broadest definition a personal, a direct impression of life." With this quotation as your point of reference, analyze the particular "impression" James is trying to create in Daisy Miller, The Real Thing, or The Beast in the Jungle.
3. James has often been called a psychological realist, more interested in the development of consciousness than in portraying character types and social reality. Discuss the extent to which this observation holds true in Daisy Miller or The Beast in the Jungle.
4. Analyze The Real Thing as a story in which James explicitly chooses to define the word real, and show how James's characterization of the Monarchs evolves a theory of fiction.
5. Although Daisy Miller appears to focus on the portrait of Daisy herself, a reader might argue that James's real interest is in Winterbourne. Rethink the events of the story as Daisy herself might have viewed them and suggest ways in which the author of A White Heron or of A New England Nun might have differently handled both the story and the portrait of Daisy.
6. Bring together evidence of James's interest in convention and social forms from all four anthologized stories and analyze a particular scene from one of them that illustrates James's analysis of social reality.
7. James perfected the use of point of view as a narrative device. Choose one incident from The Beast in the Jungle and analyze his use of point of view in that story. What does it reveal? What does it conceal? How does it achieve its effectiveness? What is its significance in terms of the story's themes?
8. In Chapter XXII of The Turn of the Screw, the governess writes: "I could only get on at all by taking 'nature' into my confidence and my account, by treating my monstrous ordeal as a push in a direction unusual, of course, and unpleasant, but demanding, after all, for a fair front, only another turn of the screw of ordinary human virtue." Explore James's use of the term nature for the governess and evaluate how it motivates her "turn of the screw of ordinary human virtue."
9. Choose an interpretation of The Turn of the Screw that you find particularly compelling and defend it with a close reading of the text.
MLA Style Citation of this Web Page
Reuben, Paul P. "Chapter 5: Late Nineteenth Century - Henry James." PAL: Perspectives in American Literature- A Research and Reference Guide. URL: http://www.paulreuben.website/pal/chap5/james.html (provide page date or date of your login).

| Top |