Chapter 5: Late Nineteenth Century
and Realism

William Dean Howells
1837-1920

© Paul P. Reuben October 17, 2016 E-Mail
Outside Link: | The WDH Society |
Page Links: | Primary Works | "The Prudishness of the Anglo-Saxon Novel" | Selected Bibliography 2000-Present |
| Study Questions | MLA Style Citation of this Web Page |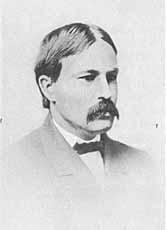 Source: WDH Society
A prolific writer, Howells is regarded as "the father of American Realism." Although not an exciting writer, he broke new grounds which led to the achievements of Mark Twain and Henry James. In Howells' view, writing should be "simple, natural, and honest" and should not delve into "romantic exaggeration." His famous definition of the function of a writer indicates his limitations as a Realist writer and of Realism as he conceived of it: "Our novelists, therefore, concern themselves with the more smiling aspects of life, which are the more American, and seek the universal in the individual rather than the social interests."
Venetian Life, 1866; Suburban Sketches, 1871; Their Wedding Journey, 1872; A Chance Aquaintance, 1873; A Foregone Conclusion, 1875; Out of the Question, 1877; A Counterfeit Presentment, 1877; The Lady of the Aroostook, 1879; The Undiscovered Country, 1880; A Fearful Resposibility, 1881; Doctor Breen's Practice, 1881; A Modern Instance, 1882; A Woman's Reason, 1883;The Rise of Silas Lapham, (E-Text),1885; Tuscan Cities, 1886; Indian Summer, 1886; The Minister's Charge, 1887; April Hopes, 1888; Annie Kilburn, 1889; The Mouse-Trap and other Farces, 1889; The Sleeping-Car and Other Farces, 1889; A Hazard of New Fortunes, 1890; The Shadow of a Dream, 1890; A Boy's Town, 1890;The Landlord at Lion's Head, 1897; Criticism and Fiction, 1891; The Imperative Duty, 1892; The Quality of Mercy, 1892; The World of Chance, 1893; My Year in a Log Cabin, 1893; The Coast of Bohemia, 1893; A Traveler from Altruria, 1894; My Literary Passions, 1895; Stops of Various Quills, 1895; Impressions and Experiences, 1896; The Landlord at Lion's Head, 1897; The Story of a Play, 1898; Literary Friends and Acquaintance, 1900; Heroines of Fiction, 1901; The Kentons, 1902; The Flight of Pony Baker, 1902; Literature and Life, 1902; Questionable Shapes, 1903; The Son of Royal Langbirth, 1904; London Films, 1906; Certain Delightful English Towns, 1906; Through the Eye of the Needle, 1907; Between the Dark and the Daylight, 1907; The Whole Family, 1908; My Mark Twain (E-Text), 1910; New Leaf Mills, 1913; The Leatherwood God, 1916; Years of My Youth, 1916;The Vacation of the Kelwyns, 1920 (published posthumously).
| Top | From Chapter 24: "The Prudishness of the Anglo-Saxon Novel." Criticism and Fiction, 1891
E-Mail message to me from Daniel J. Quigley, post-bac. student, Augusta State University, November 6, 1997.
Howells was known as much, if not more, for his literary criticism as for his novels (four of which are considered American classics--A Modern Instance, The Rise of Silas Lapham, Indian Summer, and A Hazard of New Fortunes).
Howells (1837-1920) wrote his most famous literary criticism in *Harper's Magazine* in a column entitled "The Editor's Study". These essays, written from 1886-1890, were collected and published in book form in 1891 under the title Criticism and Fiction. The best known chapter in this excellent and too overlooked book, chapter 24, was titled "The Prudishness of the Anglo- Saxon Novel". It contains the argument Howells (regretably) may be most famous for--that is, that American novelists could confine themselves to material that would not offend the innocence of a young girl, and should therefore do so.
Keeping in mind that Howells always wrote from a position of advocacy for the greatest realism, and portrayal of life as it really is in fiction, lets hear him in his own words from the beginning of that chapter:
"One of the great newspapers the other day invited the prominent American authors to speak their minds upon a point in the theory and practice of fiction which had already vexed some of them. It was the question of how much or how little the American novel ought to deal with certain facts of life which are not usually talked of before young people, and especially young ladies. Of course the question was not decided, and I forget just how far the balance inclined to favor of a larger freedom in the matter. But it certainly inclined that way; one or two of the writers of the sex which is somehow supposed to have purity in its keeping (as if purity were a thing that did not practically concern the other sex, preoccupied with serious affairs) gave it a rather vigorous tilt to that side. In view of this fact it would not be the part of prudence to make an effort to dress the balance; and indeed I do not know that I was going to make any such effort. But there are some things to say, around and about the subject, which I should like to have some one else say, and which I may myself be safe in suggesting.

One of the first of these is the fact, generally lost sight of by those who censure the Anglo-Saxon novel for its prudishness, that it is really not such a prude after all; and that if it is sometimes apparently anxious to avoid those experiences of life not spoken of before young people, this may be an appearance only. Sometimes a novel which has this shuffling air, this effect of truckling to propriety, might defend itself, if it could speak for itself, by saying that such experiences happened not to come within its scheme, and that, so far from maiming or mutilating itself in ignoring them, it was all the more faithfully representative of the tone of modern life indealing with love that was chaste, and with passion so honest that it could be openly spoken of before the tenderest society bud at dinner. It might say that the guilty intrigue, the betrayal, the extreme flirtation even, was the exceptional thing in life, and unless the scheme of the story necessarily involved it, that it would be bad art to lug it in, and as bad taste to introduce such topics in a mixed company. It could say very justly that the novel in our civilization now always addresses a mixed company, and that the vast majority of the company are ladies, and that very many, if not most, of these young ladies are young girls. If the novel were written for men and for married women alone, as in continental Europe, it might be altogether different. But the simple fact is that it is not written for them alone among us, and it is a question of writing, under cover of our universal acceptance, things for young girls to read which you would be put out-of-doors for saying to them; or of frankly giving notice of your intention, and so cutting yourself off from the pleasure--and it is a very high and sweet one--of appealing to these vivid, responsive intelligences, which are none the less brilliant and admirable because they are innocent. . . ."
| Top | Selected Bibliography 2000-Present
Armbruster, Elif S. Domestic Biographies: Stowe, Howells, James, and Wharton at Home. NY: Peter Lang, 2011.
Belluscio, Steven J. To Be Suddenly White: Literary Realism and Racial Passing. Columbia: U of Missouri P, 2006.
Davidson, Rob. The Master and the Dean: The Literary Criticism of Henry James and William Dean Howells. Columbia: U of Missouri P, 2005.
Dooley, Patrick K., Budd, Louis J., abd Hare, Peter H. A Community of Inquiry: Conversations Between Classical American Philosophy and American Literature. Kent, OH: Kent State UP, 2008.
Goodman, Susan, and Carl Dawson. William Dean Howells: A Writer's Life. Berkeley: U of California P, 2005.
Goodman, Susan. Civil Wars: American Novelists and Manners, 1880-1940. Baltimore: Johns Hopkins UP, 2003.
Goodman, Susan H. Republic of Words: The Atlantic Monthly and Its Writers, 1857-1925. Hanover, NH: UP of New England, 2011.
Koistinen-Harris, Janice H. Social Reform, Taste, and the Construction of Virtue in American Literature, 1870-1910. NY: Mellen, 2002.
Love, Glen A. Practical Ecocriticism. Charlottesville: U of Virginia P, 2003.
Ludwig, Sámi. Pragmatist Realism: The Cognitive Paradigm in American Realist Texts. Madison: U of Wisconsin P, 2002.
Margolies, Edward. New York and the Literary Imagination: The City in Twentieth Century Fiction and Drama. Jefferson, NC: McFarland, 2008.
Okker, Patricia. Social Stories: The Magazine Novel in Nineteenth-Century America. Charlottesville: U of Virginia P, 2003.
Palmer, Stephanie C. Together by Accident: American Local Color Literature and the Middle Class. Lanham, MD: Lexington, 2008.
Petrie, Paul R. Conscience and Purpose: Fiction and Social Consciousness in Howells, Jewett, Chesnutt, and Cather. Tuscaloosa: U of Alabama P, 2005.
Rohrbach, Augusta. Truth Stranger Than Fiction: Race, Realism, and the U. S. Literary Marketplace. NY: Palgrave Macmillan, 2002.
| Top |William Dean Howells (1837-1920): A Brief Biography

A Student Projected: Prepared and Presented in Class by Clare Ferry
William Dean Howells was born on March 1, 1837 in Martinsville, Ohio, the second son of eight children to Mary Dean and William Cooper Howells. According to Edwin Cady, Howells' family was considered somewhat unusual and they moved around the better part of William's early childhood, including one year at a utopian commune in Eureka Mills. They eventually settled in Jefferson, Ohio where his father was editor and publisher of the Ashtabula Sentinel, a country newspaper, and his mother was an artist. Donna Campbell, of the William Dean Howell Society, reports that William spent an idyllic boyhood on the Ohio and Missouri Rivers in small towns in a large family with intelligent and loving parents. William spent few years in public school and he was, for the most part, tutored at home by his father who owned the largest literary library in Jefferson, Ohio. Edwin Cady claims that Howells taught himself Spanish, French, Latin, and German. His father was a steadfast Quaker who instilled in young William a genuine dislike for violence and Puritanism.
By the age of twelve, William worked at his father's publishing company setting type. William's first ambition was to be a poet and at fifteen his first poem was published. Another of his first efforts at writing was a book of poetry, which he co-wrote with a friend, and named Poems of Two Friends. Still in his teens, he wrote a campaign biography of Abraham Lincoln that provided enough money for him to travel to New England where James Russell Lowell introduced him to Nathaniel Hawthorne, Ralph Waldo Emerson, Henry David Thoreau, Oliver Wendel Holmes and Walt Whitman. These authors influenced his early writing and later in his editorial career Henry David Thoreau provided the background for his belief and promotion of naturalism. When he was only twenty, Howells worked as a legislative reporter and as the news editor for The Ohio State Journal in Columbus(Campbell).
He was an active participant in the anti-slavery, racial equality, and the equality of women, movements. He was against capital punishment, imperialism and militarism, privilege and snobbery, class division and exploitation. He was for democracy, socialism, peace and world government. Because of his Republican political connections he was awarded the U.S. Consulate in Venice and spent the remainder of the war years there. Howells traveled extensively in Italy, exploiting to the full his experiences in the gay and familiar style already established in his earlier travel-letters to the papers of Ohio (Kirk, 25).
William met Elinor Mead in Columbus while home for a few months from his position at the Consulate. They married in 1862 and Elinor moved to Italy with him. Subsequently they had three children: Winifred in 1863, John Mead in 1868, and Mildred in 1872. His oldest daughter died of a chronic illness in 1873 and nine years later the Howells moved permanently to New York City. By all reports, theirs was a happy and loving marriage much like his friends, Sam and Livy Clemons (Carter, 18).
Returning to the states after the war, he landed a position at the Atlantic Monthly. At first he was the assistant editor, 1866-1971; later he served as editor from 1871-1881 (Campbell). It was in his position as editor that he became an enormous influence on American literary taste. John Nagel, in introduction to his book, Critical Essays on W. D. Howells, asserts that Howells' responsibilities at the Atlantic were not only reviews but specifically for recruiting the new people, the authors of his generation in every section. It was during this time, that he became friends with Mark Twain and Henry James. Mark Twain would share his anti-imperialism politics and Henry James shared his beliefs in the merits of realism versus romanticism. He was a life long friend with Mark Twain and Henry James and published, promoted and critiqued their work through much of his career. He wrote "the Editor's Study" and "Editor's Easy Chair" for Harper's New Monthly Magazine over a twenty year period, 1886-1909. Much of his time was also spent championing the work of many writers: Emily Dickinson, Mary E. Wilkins Freeman, Hamlin Garland, Sarah Orne Jewett, Charles W. Chesnutt, Frank Norris, Paul Laurence Dunbar, Abraham Cahan, Stephen Crane, and foreign authors, Ibsen, Zola, Perez, Galdos, Verga, and and Tolstoy. He also had a contract to write one novel a year for Harpers. Occasionally, he wrote for The North American Review.
| Top | In 1887, he protested the execution of "the Haymarket radicals," risking his reputation and literary position. Eight union strikers, out of a crowd of thousands, were rounded up and executed for the death of a policeman. The strikers demanded a safe work environment; fair pay and proposed working an eight hour day. The American media denounced their demands as un-American and against the American way of life. Howells steadfastly asserted that democracy allowed for men to protest against big business; to promote change for the betterment of all men; and that the evidence against the executed men was inadequate. History has proven him right.
Howells was called the Dean of American Literature. In 1908, he was elected the first president of the American Academy of Arts and Letters and, in 1915, the academy established the Howells Medal for Fiction. He held the position of president until his death, in 1920, at the age of eighty-three. He received honorary degrees from Yale, Columbia, Princeton and Oxford. According to Cady, Howells wrote over one hundred books that included novels, poems, plays, literary criticism, travelogues, and short stories.
His major themes were cosmopolitan life in New York City, war, the American businessman, sex and business, divorce, labor, race, social issues, and working women.
Henry James called Howells' work the definitive picture of American life in American fiction (Cady, 17). The title character in The Rise of Silas Lapham was the standard bearer for the ethics that Howells was developing: the salvation of man depended on the ability of one to rise above the group for the better good of society.
Carter explains the task the age of Howells set itself--to tell the truth, through fiction, about the ordinary world of physical experience. And the first way to do this they felt, was to narrow the gap between fiction and nonfiction, to write fiction that was largely autobiographical, that was one's own experiences clarified by the perspective of the fictional technique (Carter, 103). His opposition was to sentimentalism--to the telling of the currently popular lies about life in order to satisfy the prejudices and preconceptions of the audience (Carter 49). Howells effectively and persistently advocated the use in fiction of native backgrounds, manners, and speech, in the light of national difference. Gibson ardently proclaims, "Mark Twain chiefly created a revolution in the language of fiction; Howells was the architect of the revolution."
William Dean Howells wrote steadily and profitably for six decades.
Works Cited
Cady, Edwin H. Critical Essays on W. D. Howell, 1866-1920.Boston: G.K. Hall and Company, 1985.
Campbell, Donna M. William Dean Howells Society Site. Gonzaga University. URL:htpp://www.gonzaga.edu/faculty/campbell/howells (3/17/2001)
Carter, Everett. Howells and the Age of Realism. New York: J.B. Carter Company, 1954.
Gibson, William M. William D. Howells. University of Minnesota: North Central Publishing Company, 1967.
Kirk, Clara Marbug. W.D. Howells and Art in His Time. New Jersey: Rutgers University Press, 1965.
1. Analyze Howells's "Editha" in terms of his assertions in Novel-Writing and Novel-Reading that "the truth which is the only beauty, is truth to human experience," and that "the imagination . . . can absolutely create nothing; it can only compose."
2. Study Novel-Writing and Novel-Reading for what it tells us about Howells's attitudes toward gender and class. Consider whether the character Editha reflects those attitudes or the referential experience of late-nineteenth-century women. Contrast Editha with Freeman's character Louisa Ellis in A New England Nun.
MLA Style Citation of this Web Page
Reuben, Paul P. "Chapter 5: Late Nineteenth Century - William Dean Howells." PAL: Perspectives in American Literature- A Research and Reference Guide. URL: http://www.paulreuben.website/pal/chap5/howells.html (provide page date or date of your login).

| Top |