6: Late Nineteenth Century
and Naturalism

Paul Laurence Dunbar
1872-1906

© Paul P. Reuben October 18, 2016 E-Mail
Outside Links: | PLD Website | Dunbar House State Historic Site |
Page Links: | "Sympathy" | Achievement | Primary Works | Selected Bibliography 2000-Present | Study Questions |
| MLA Style Citation of this Web Page |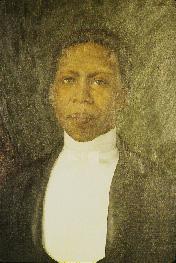 Source: PLD Homepage
"Sympathy" (1899)

I know what the caged bird feels.
Ah me, when the sun is bright on the upland slopes,
when the wind blows soft through the springing grass
and the river floats like a sheet of glass,
when the first bird sings and the first bud ops,
and the faint perfume from its chalice steals.
I know what the caged bird feels.

I know why the caged bird beats his wing
till its blood is red on the cruel bars,
for he must fly back to his perch and cling
when he fain would be on the bow aswing.
And the blood still throbs in the old, old scars
and they pulse again with a keener sting.
I know why he beats his wing.

I know why the caged bird sings.
Ah, me, when its wings are bruised and its bosom sore.
It beats its bars and would be free.
It's not a carol of joy or glee,
but a prayer that it sends from its heart's deep core,
a plea that upward to heaven it flings.
I know why the caged bird sings.
Praised as "the first American Negro poet of real literary distinction," by James Weldon Johnson, and the "poet laureate of the Negro Race" by Mary Church Terrrel, Paul Laurence Dunbar was enormously popular as a writer within his lifetime. He wrote novels and short stories, but his reputation is based on a sizable body of poetry presented in the 'dialect" of southern Blacks. Some critics have accused him of portraying negative stereotypes to satisfy a White reading public. One is reminded, in Dunbar's situation, of the concept of "twoness" discussed by W. E. B. Du Bois. When a writer is Black and the publishers and readers White, consideration should be given to the issue of "why" Dunbar, and Phillis Wheatley, and others, wrote as they did. William Dean Howells's review of Dunbar's poems has influenced much of Dunbar's critical reception. He suggested that Dunbar's poems should be divided in two groups: literary and dialect. Unfortunately he favored the dialect poems as being more authentic and exotic. Appreciation of Dunbar's literary achievements began in the second half of this century.
Oak and Ivy, 1893; Majors and Minors, 1896; Lyrics of Lowly Life, 1896; Folks from Dixie, 1898; The Uncalled, 1898; Lyrics of the Hearthside, 1899; The Strength of Gideon and Other Stories, 1900; The Fanatics, 1901; The Sport of the Gods, 1902; Lyrics of Love and Laughter, 1903; In Old Plantation Days, 1903; The Heart of Happy Hollow, 1904; Lyrics of Sunshine and Shadow, 1905.

The Complete Poems of Paul Laurence Dunbar, with the introduction to "Lyrics of Lovely Life" by W. D. Howells. NY, Dodd, 1967. PS1556 .A1

The Collected Poetry of Paul Laurence Dunbar. Braxton, Joanne M., ed. Charlottesville: UP of Virginia, 1993. PS1556 .A1

In His Own Voice: The Dramatic and Other Uncollected Works of Paul Laurence Dunbar. Martin, Herbert W. ed. Athens: Ohio UP, 2002.

The Complete Stories of Paul Laurence Dunbar. Jarrett, Gene Andrew (ed. and introd.); Morgan, Thomas Lewis; Fishkin, Shelley Fisher. Athens: Ohio UP, 2005.

Martin, Herbert Woodward. ed. The Collected Novels of Paul Laurence Dunbar. Athens: Ohio UP, 2009.
| Top |Selected Bibliography 2000-Present
Alexander, Eleanor. Lyrics of Sunshine and Shadow: The Tragic Courtship and Marriage of Paul Laurence Dunbar and Alice Ruth Moore, A History of Love and Violence among the African American Elite. NY: New York UP, 2001.
Elbert, Monika M. ed. Separate Spheres No More: Gender Convergence in American Literature, 1830-1930. Tuscaloosa: U of Alabama P, 2000.
Griffin, Martin. Ashes of the Mind: War and Memory in Northern Literature, 1865-1900. Amherst: U of Massachusetts P, 2009.
James, Jennifer C. A Freedom Bought with Blood: African American War Literature from the Civil War to World War II. Chapel Hill: U of North Carolina P, 2007.
Jarrett, Gene A. Deans and Truants: Race and Realism in African American Literature. Philadelphia: U of Pennsylvania P, 2007.
Leonard, Keith D. Fettered Genius: The African American Bardic Poet from Slavery to Civil Rights. Charlottesville: U of Virginia P, 2006.
McCaskill, Barbara, and Caroline Gebhard. eds. Post-Bellum, Pre-Harlem: African American Literature and Culture. NY: New York UP, 2006.
Moody-Turner, Shirley. Black Folklore and the Politics of Racial Representation. Jackson: UP of Mississippi, 2013.
Nelson, Emmanuel S. ed. African American Authors, 1745-1945: A Bio-Bibliographical Critical Sourcebook. Westport, CT: Greenwood, 2000.
Papke, Mary E. ed. Twisted from the Ordinary: Essays on American Literary Naturalism. Knoxville: U of Tennessee P, 2003.
Primeau, Ronald. Herbert Woodward Martin and the African American Tradition in Poetry. Kent: Kent State UP, 2004.
Williams, Andreá N. Dividing Lines: Class, Anxiety and Postbellum Black Fiction. Ann Arbor: U of Michigan P, 2012.
| Top | Paul Laurence Dunbar (1872-1906): A Brief Biography
A Student Project by Lisa Egan
Paul Laurence Dunbar, the son of former Kentucky slaves, was born in Dayton, Ohio on June 27, 1872. Paul was the third child for his mother Matilda, who had two sons by a previous slave marriage, yet he was the first child of his father Joshua (Alexander 17). Although Joshua Dunbar was a skilled plasterer, he was unsuccessful in finding work because of his alcoholism and the prevailing racism during the post-Civil War days (19). Little is known of Joshua beyond what is found in Paul's literature. Paul Dunbar will write, "both my mother and father were fond of books and used to read to us as we sat around the fire at night;" however, it appears that his father was illiterate because he signed his marriage certificate with an 'X' (24). Joshua's violent temper often erupted in brutality towards his wife and children, causing the three boys to hide under the bed or leave home for the duration of the battle (18). Seven months after Paul's birth, his mother became pregnant again. Since her sole income as a washer woman could not support a large family, she left her husband, and returned to her mother's house where she gave birth to a baby girl who would not live beyond the age of two (21). After Matilda divorced her husband, Joshua and Paul continued to visit regularly. It must have been during these visits that Paul learned of his father's escape from slavery into Canada through the Underground Railroad, and his later return to fight with the Union in the Civil War. Dunbar will later fictionalize these events in both his short stories and poems. Joshua Dunbar died in 1885, when Paul was thirteen. (23). In the subsequent years, Paul and Matilda developed an extremely close mother-son relationship, even going as far as Paul wearing his mother's wedding band in the time before his marriage (31).
Dunbar's education became a priority for Matilda. Although her work as a laundress left the family living on bare sustenance wages, she would not allow her son Paul to quit school as did his two older brothers. With the two older boys employed, the family's income became more stable, so Matilda was able to save a few "extra pennies [which] were spent on books for Paul, especially short stories and poetry by Mark Twain and Henry Wadsworth Longfellow." (Alexander 28) She began educating herself as well, taking a six-week course at the "colored night school" in Dayton (28). Paul attended the Tenth Street Elementary School in Dayton, and later continued his education at Central High, Dayton's only high school (Martin and Hudson 17). Dunbar was the only black student in his class. During his high school days, Dunbar began to establish himself as a literary presence. In his sophomore year, he was admitted into the prestigious Philomathean Debating Society, of which he would be elected president during his senior year (17). He also was elected editor and chief of the High School Times during his junior and senior years (17). Some of the traits that led to his success in high school included "an inquisitive mind, keen powers of observation, a sense of the significant, and persistent, goal-directed behavior; he also had a sensitive ear for language, a large vocabulary, and a facility in written expression." (Braxton xi) Dunbar's successes during these years included publishing three poems in the Dayton Herald, and writing the class song for his high school graduation in 1891 (Braxton xi). He also published poems and sketches in classmate Orville Wright's Westside News, and he edited "the Tattler, a paper 'for the colored people of Ohio.'" (Martin and Hudson 17) These achievements, however, did not prepare Dunbar for the harsh reality of a racist society beyond the walls of Central High.
| Top | Dunbar's limited means prevented him from attending college and pursuing his dream of becoming a lawyer; so he set his goal on becoming a journalist. He sought out a position at the Dayton Herald, a newspaper that had published several of his high school poems. Although the editor was familiar with his reputation and his work, he shelved Dunbar's application, saying "there was no place on the "staff for a Negro. Other reporters might not like it." (Alexander 36) He ended up working as elevator man in the Callahan Building in downtown Dayton for four dollars a week (Martin and Hudson 18). One of the patrons of the building later recalled that "the elevator boy was always reading. This is not in itself remarkable. The yellow literature of the day finds its widest field among the employed boys in offices. But this elevator boy was reading Tennyson and Shakespeare, and he was black." (Alexander 37) During this time, Dunbar also became an avid reader of The Century, where he became acquainted with the work of James Russell Lowell and James Whitcomb Riley (Wagner 75-76). During his days in the elevator, Dunbar began to emulate Riley's work by writing poems with "the everyday philosophy, the tearful sentimentality, the sighs for the good old days, the longing for the farm, all presented in ordinary colloquial speech." (Wagner 76) Some of these early poems include "A Banjo Song," "A Drowsy Day," "The Ol' Tunes," and "An Old Memory."
Dunbar's big break came in 1892, when a former teacher asked him to read a poem at the Western Association of Writers, which was holding its conference in Dayton. In this poetic opening address, Dunbar impressed the audience with both his poem and his delivery. His voice has been described as a "perfect musical instrument," which was "deep, resonant, mellow and beautifully handled." (Alexander 43) Comments on his opening poem were published in papers throughout the country, including New York and Denver (Wagner 76). The same year, Dunbar published his first collection of poetry, Oak and Ivy. He sold most of the copies himself and was able to recoup the publishing costs within two weeks (76). The following year, Dunbar became acquainted with Frederick Douglass when he went to Chicago to work in the Haitian pavilion. His second collection of poetry, Majors and Minors, was published in 1896 through the patronage of a Toledo doctor who had read Dunbar's earlier collection and had heard about his abject poverty. Majors and Minors received praise in a lengthy review by William Dean Howells in the June 27, 1896 edition of Harper's Weekly, and Dunbar suddenly found himself famous (Wagner 77). Dunbar attained a literary agent, moved to New York, and soon published his third collection of poems, Lyrics of Lowly Life, for which Howells wrote an introduction (77). In 1897, Dunbar traveled to England to give poetry readings from his latest collection. Upon his return to the United States, he began working in the Library of Congress.
In the early days of his fame, Dunbar fell in love with a photograph of author Alice Moore in the April 1895 edition of the Boston Monthly Review magazine (Alexander 44). Alice Moore was an educated biracial woman who was able to pass for a white woman when she wanted to attend white-only cultural events (47). Moore graduated from Straight University in New Orleans, and worked as a teacher, writer, and sometimes bookkeeper/stenographer (47). Dunbar and Moore corresponded through letters for two years before they finally met in person. They were engaged for two years before finally eloping on March 6, 1898. Many of Dunbar's biographers have glossed over their marital troubles. In the most recent biography, however, Eleanor Alexander examines the Dunbar marriage and the social influences on the couple. Alexander documents letters that indicate that Dunbar violently raped Moore in November 1897, a year before their marriage. The assault was so brutal that it left Alice "with internal injuries requiring medical treatment." (4) This violence manifested itself during their four years of marriage as well. On January 25, 1902, "an inebriated Paul physically assaulted Alice "and tried to kill her." (4) After this brutal beating, Dunbar left home and Alice slowly recovered, eventually resuming her teaching career. That was the last time the couple saw one another. Dunbar tried to reconcile with his wife through letters, but she refused to see him again (4-5). Dunbar died of tuberculosis on February 9, 1906.
| Top | Although Dunbar had achieved ten years of fame and success, he always felt that the 1896 review by Howells pigeon holed him as a poet of dialect. Howells wrote that Dunbar's plantation-dialect was "his real strength and that there was nothing 'especially notable' in Dunbar's standard English verse 'except for the Negro face of the author.'" (Braxton xvi) His praise of the plantation-dialect poems emphasized Dunbar's ability to "bring us nearer to the heart of the primitive human nature in his race than any one else has yet done." (xvi) Although the initial review boosted Dunbar's career, he would later realize the limitations it had placed on him: "One critic says a thing and the rest hasten to say the same things, in many cases using the identical words. I see very clearly that Mr. Howells has done me irrevocable harm in the dictum he laid down regarding my dialect verse." (xvii) Although the plantation-dialect stories and poems made him famous, Dunbar has been criticized for his idealized poems of plantation life. These works include stereotypical slave images such as the "faithful old servant, who feels a sense of loyalty" to his benevolent master, to the "black mammy who is devoted to the master's children and sings them lullabies," to the "uncle, who has the essential role" of telling the children tall tales "in which little animals use their cunning to defeat the stronger, bigger ones." (Wagner 81) Jean Wagner defends Dunbar's role in sentimentalizing slavery days because of his family's first hand experiences with slavery (80-81). Joanne Braxton comments on Dunbar's use of dialect and caricature: "The dual voice of Dunbar's poems is a natural result of the double vision that Dunbar inherited as a black and an American and that threatened to tear him apart. His creation of a double voice in his poetry allowed him to speak to two distinct audiences at once. In fact, Dunbar's use of caricature often renders whites more comic than blacks." (xxvi)
Dunbar published many works during the final ten years of his life. The semi-autobiographical novel The Uncalled, published in 1898, includes thinly veiled images of his father as an escaped slave who becomes a Civil War hero. Also in 1898, Dunbar published a collection of short stories entitled Folks from Dixie, an account of "former slaves living in Howard Town." (Wagner 77) By the end of 1898, Dunbar had resigned his position at the Library of Congress to "devote himself entirely to writing." (78) In 1899, after publishing a new collection of poems, Lyrics of the Hearthside, Dunbar became ill with pneumonia, and later was diagnosed with tuberculosis. In the last five years of his life, Dunbar published two novels, two collections of poetry, and four collections of short stories.
Modern critics have examined Dunbar's life and work through several lenses. He is often interpreted through a Marxist or historicist critique because the post-Civil War society of his era offered him very few opportunities to thrive in his field. Other critics prefer the psychoanalytic or feminist approach because of his conflicting self-image and his relationship with his mother and wife. And still others have examined Dunbar under the lens of semiotics because of his use of plantation dialects. Dunbar's works offer postmodern critics plenty of theoretical approaches in which to ply their trade.
Works Cited:
Alexander, Eleanor. Lyrics of Sunshine and Shadow: The Tragic Courtship and Marriage of Paul Laurence Dunbar and Alice Ruth Moore, A History of Love and Violence among the African American Elite. New York: New York UP, 2001.
Braxton, Joanne M., ed. The Collected Poetry of Paul Laurence Dunbar. Charlottesville: UP of Virginia, 1993.
Martin, Jay and Gossie H. Hudson. eds. The Paul Laurence Dunbar Reader. New York: Dodd, Mead, & Co., 1975.
Wagner, Jean. Black Poets of the United States: From Paul Laurence Dunbar to Langston Hughes. Kenneth Douglas, trans. Chicago: U of Chicago P, 1973.
For "Mr. Cornelius Johnson, Office-Seeker":
1. What did the Reconstruction Amendments to the U.S. Constitution (1865-70) accomplish? What did they fail to do?
2. Given the method of character presentation, do you--as the reader--sympathize with Cornelius Johnson? Do you find any weaknesses in him that might tend to explain his predicament?
For Dunbar's poetry:
1. By "scanning" Dunbar's poetry, does a reader learn anything about Dunbar's poetic technique?
2. Analyze Dunbar's representation of black southern life in "When Malindy Sings" and "An Ante-Bellum Sermon." In particular, consider the tactics he utilizes in attempting to undermine the stereotypes that his characterizations appear on the surface to endorse. How successful are these tactics? Examine the role of religion and the use of irony in both poems.
3. From your knowledge of Frederick Douglass, does Dunbar's poem entitled "Frederick Douglass" transmit important information about the nineteenth-century leader?
MLA Style Citation of this Web Page
Reuben, Paul P. "Chapter 6: Paul Laurence Dunbar." PAL: Perspectives in American Literature- A Research and Reference Guide. URL: http://www.paulreuben.website/pal/chap6/dunbar.html (provide page date or date of your login).

| Top |