Chapter 9: The Harlem Renaissance
(Also known as the "New Negro Movement")

Nella Larsen
1891 -1964

© Paul Reuben October 20, 2016 E-Mail
Page Links: |
Primary Works | Selected Bibliography 2000-Present | Study Questions | MLA Style Citation of this Web Page |
Site Links: | Chap. 9: Index | Alphabetical List | Table Of Contents | Home Page |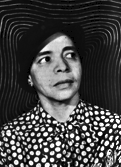 Source: PBS
" . . . on the whole, the best piece of fiction that Negro America has produced since the heyday of [Charles] Chesnutt" - W.E.B. DuBois
Larsen's importance as a writer is based upon her two novels; she was unable to complete a third one. She spent her last thirty years as a supervising nurse at a Brooklyn hospital. Both Quicksand and Passing are admired for their use of irony and symbolism dealing in themes of identity, `passing,' marginality, race consciousness, sexuality, and class distinction. Larsen became the first black woman to receive a Guggenheim fellowship for creative writing. Her novels place her as one of the best fiction writers of the 1920s.
Quicksand, 1928; Passing, 1929; "Sanctuary" (short story), 1930.

Larsen, Nella. An Intimation of Things Distant: The Collected Fiction of NL. Ed. Charles R. Larson. New York: Anchor Books, 1992.
Selected Bibliography 2000-Present
Calloway, Licia M. Black Family (Dys)Function in Novels by Jessie Fauset, Nella Larsen & Fannie Hurst. NY: Peter Lang, 2003.
Botshon, Lisa and Goldsmith, Meredith. eds. Middlebrow Moderns: Popular American Women Writers of the 1920s. Boston: Northeastern UP, 2003.
Champion, Laurie. ed. American Women Writers, 1900-1945: A Bio-Bibliographical Critical Sourcebook. Westport, CT: Greenwood, 2000.
Dagbovie-Mullins, Sika A. Crossing B(l)ack: Mixed-Race Identity in Modern American Fiction and Culture. Knoxville: U of Tennessee P, 2013.
Doyle, Laura. Freedom's Empire: Race and the Rise of the Novel in Atlantic Modernity, 1640-1940. Durham, NC: Duke UP, 2008.
Fabre, Geneviève and Feith, Michel. eds. Temples for Tomorrow: Looking Back at the Harlem Renaissance. Bloomington: Indiana UP, 2001.
Gutjahr, Paul C. and Benton, Margaret L. eds. Illuminating Letters: Typography and Literary Interpretation. Amherst: U of Massachusetts P, 2001.
Hinnov, Emily M. Encountering Choran Community: Literary Modernism, Visual Culture, and Political Aesthetics in the Interwar Years. Selinsgrove, PA: Susquehanna UP, 2009.
Hutchinson, George. In Search of Nella Larsen: A Biography of the Color Line. Cambridge, MA: Belknap, 2006.
Lackey, Michael. African American Atheists and Political Liberation: A Study of the Sociocultural Dynamics of Faith. Gainesville,: UP of Florida, 2007.
Margolies, Edward. New York and the Literary Imagination: The City in Twentieth Century Fiction and Drama. Jefferson, NC: McFarland, 2008.
Nelson, Emmanuel S. ed. African American Authors, 1745-1945: A Bio-Bibliographical Critical Sourcebook. Westport, CT: Greenwood, 2000.
Roffman, Karin. From the Modernist Annex: American Women Writers in Museums and Libraries. Tuscaloosa: U of Alabama P, 2010.
Soto, Michael. ed. Teaching the Harlem Renaissance: Course Design and Classroom Strategies. NY: Peter Lang, 2008.
Stringer, Dorothy. 'Not Even Past': Race, Historical Trauma, and Subjectivity in Faulkner, Larsen, and Van Vechten. NY: Fordham UP, 2010.
Watts, Eric K. Hearing the Hurt: Rhetoric, Aesthetics, and Politics of the New Negro Movement. Tuscaloosa: U of Alabama P, 2012.
West, Elizabeth J. African Spirituality in Black Women's Fiction: Threaded Visions of Memory, Community, Nature, and Being. Lanham, MD: Lexington, 2011.
Witalec, Janet, and Trudier Harris-Lopez. eds. Harlem Renaissance: A Gale Critical Companion. Detroit: Gale, 2002.
Ziarek, Ewa P. Feminist Aesthetics and the Politics of Modernism. NY: Columbia UP, 2012.
| Top | Nella Larsen (1891-1964) - A Brief Biography

A Student Project by Barbara Raven
Nella Larsen never revealed much about her life. Thadious M. Davis comments that "Implicit in her reticence about her background is some discomfort in being the only black member of her immediate family." (183) Her parents were Peter Walker and Mary Hanson Walker. Her mother was Danish and her father was "apparently" West Indian. She was born in Chicago, Illinois, on April 13, 1891. Her father died when she was two years old. Her mother then married Peter Larsen, "a man of her own race and nationality," (Davis 182) shortly afterwards. They had a daughter, Larsen's half-sister. According to Elizabeth Brown-Guillory, Larsen's stepfather "viewed her as an embarrassment." (696) Her education was at a private school in Chicago which she attended with her half-sister. "A lonely child," Larsen was "an avid reader of novels and travelogues and a keen observer of life around her" (Davis 1577). She was a sensitive person who chose not see her family very often because "it might make it awkward for them, particularly my half-sister." (T. Davis 183)
From 1909-10 Larsen studied science at Fisk University in Nashville. She then moved to Copenhagen from 1910-12 and audited classes at the University of Copenhagen. Larsen studied nursing from 1912-15 at Lincoln Hospital in New York City. She then spent two years as assistant superintendent of nurses at Tuskegee Institute. The next three years, from 1916-18, she worked as a nurse at her alma mater, Lincoln Hospital. It was while she was working as a Department of Health nurse for New York City from 1918-21 that she was first published in The Brownies' Book, a children's magazine edited by Jessie Redmon Fauset. She married physicist Elmer S. Imes on May 3, 1919.
Her love of books led her to take a job as a librarian in the Harlem Branch of the New York Public Library, first as assistant librarian from 1922-23 and then as children's librarian from 1924-26. Some of her favorite authors were James Joyce, John Galsworthy, Walter White, and Carl Van Vechten. Her short story "Correspondence" was published in September 1926, the same month she quit her job at the library. "As a socialite wife" (Brown-Guillory 696) Larsen fell in with the major Black authors of the Harlem Renaissance including James Weldon Johnson, Jessie Fauset, Jean Toomer, and Langston Hughes. Walter White and Van Vechten were instrumental in securing a contract [for Larsen]. . . from Alfred A. Knopf." (Brown-Guillory 696).
Larsen's first novel Quicksand "which is largely autobiographical," (Peters 278) was published in 1928 and won a Bronze medal from the Harmon Foundation that same year. Her second novel, Passing, followed in 1929. She was the first black woman to receive a Guggenheim fellowship for creative writing, which she received in 1930, the same year that she was accused of plagiarism. It seems her short story "Sanctuary," published in Forum magazine, bore a close resemblance to another story published in 1922. She was able to prove her innocence, but was not published again during her lifetime. Marital problems during this same time led to her "crudely sensationalized 1933 divorce." (Peters 279) The Afro-American press reported rumors that Imes was "having an affair with a white woman and that Larsen tried to kill herself by jumping out of a window." (Brown-Guillory 697)
Larsen, a very private person, was crushed by both the accusation of plagiarism and by the negative publicity during her divorce. She gradually drew away from her literary friends and worked as a nurse in Manhattan from 1941 until her death. Nella Larsen was found dead in her apartment at age 72 in March of 1964.
Achievements
" . . . on the whole, the best piece of fiction that Negro America has produced since the heyday of [Charles] Chestnutt" - W.E.B. DuBois

"Quicksand, then represents a new departure in the novels of Black women. It is written from within, transcending the formulaic novels before it. It also reflects the 'double consciousness' that DuBois spoke about." - Marianna W. Davis

"Novelist and short story writer Nella Larsen created images of Black women that dispelled the myth of the typical and simplistically caricatured tragic mulatto of American literature . . . . Literary critics and authors who were acquaintances of Larsen praised her for adeptly portraying the life of bourgeois African-Americans of mixed ancestry, a class for which a paucity of literature is extant." - Elizabeth Brown-Guillory

"Nella Larsen has earned a reputation as an important Afro-American novelist on the basis of two books, Quicksand (1928) and Passing (1929). Both novels show a skillful handling of narrative and symbolism, as well as a complexity of vision, that place them among the best fiction produced by New Negro authors in the 1920s." - Thadious M. Davis
Works Cited
Brown-Guillory, Elizabeth. "Nella Larsen (1891-1964)." Black Women and America: An Historical Encyclopedia. Vol I. Brooklyn: Carlson Publishing, Inc. 1993.
Davis, Marianna W. ed. Contributions on Black Women to America. Vol I. New York: Kenday Press, Inc. 1981.
Davis, Thadious M. "Nella Larsen." Dictionary of Literary Biography Vol. 51: Afro American Writers from the Harlem Renaissance to 1940. Detroit: Gale Research Co. 1987. 182-192.
- - -. "Nella Larsen." Encyclopedia of African-American Culture & History Vol 3. New York: Simon & Schuster. 1996.
Dickensen, Laurie. "Nella Larsen (1891-1964)." 8 Aug. 1996. Online posting. Voices From the Gaps: Women Writers of Color, Biography Section. http://english.cla.umn.edu/lkd/vfg/Authors/NellaLarson#Biography. 16 Apr. 1997.
Peters, Joanne M. "Nella Larsen 1891-1964." Contemporary Authors Vol 125. Detroit: Gale Research, Inc. 1989.
1. The metaphor of passing accrues several layers of meaning. What are they? How do they relate to each other?
2. Whose story is this? Clare's or Irene's?
3. What does this passage mean: "[Irene] was caught between two allegiances, different, yet the same. Herself. Her race. Race: The thing that bound and suffocated her. Whatever steps she took, or if she took none at all, something would be crushed. A person or the race. Clare, herself, or the race. Or, it might be all three."
4. It has been suggested that Passing uses race more as a device to sustain suspense than as a compelling social issue. What is the relation of race to subjective experience in the text?
5. What is the significance of narrative endings in Larsen? Why does Passing refuse to specify how Clare is killed and who is responsible?
MLA Style Citation of this Web Page
Reuben, Paul P. "Chapter 9: Nella Larsen " PAL: Perspectives in American Literature - A Research and Reference Guide. WWW URL: http://www.paulreuben.website/pal/chap9/larsen.html (provide page date or date of your login).

| Top |