Chapter 9: The Harlem Renaissance
(Also known as the "New Negro Movement")

Jean Toomer
1894-1967

© Paul Reuben October 21, 2016 E-Mail
Page Links: | Primary Works | Selected Bibliography 1980-Present | Study Questions | MLA Style Citation of this Web Page |
Site Links: | Chap. 9: Index | Alphabetical List | Table Of Contents | Home Page |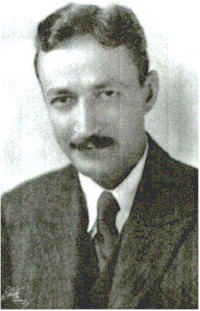 Source: Modern American Poetry
For many, the literary renaissance in Harlem began in 1923 with the publication of Toomer's Cane. It was hailed as a masterpiece, as a fresh voice from a very promising young writer. This publication also brought Toomer in contact with other black intellectuals. However, his spiritual quest took him away from race issues; he studied and converted to the spiritual thought of the Russian mystic Georgi Gurdjieff and spent his time lecturing on mystical doctrines. His racial ambivalence and involvement with mysticism could explain his inability to recapture the promise of Cane.
Cane, 1923; Essentials, 1931; An Interpretation of Friends Worship, 1947; The Flavor of Man, 1949; The Wayward and the Seeking (collection), 1980.

The Collected Poems of Jean Toomer. Eds. Robert B. Jones and Margery Toomer Latimer. Chapel Hill: U of North CarolinaP, 1988. PS3539 .O478 A17

The Letters of Jean Toomer, 1919-1924. Whalan, Mark (ed.); Foley, Barbara. Knoxville: U of Tennessee P, 2006.

Brother Mine: The Correspondence of Jean Toomer and Waldo Frank. Pfeiffer, Kathleen. ed. Urbana: U of Illinois P, 2010.

Cane. Byrd, Rudolph P. ed. NY: Norton, 2011.
| Top | Selected Bibliography 1980-Present
Akoma, Chiji. Folklore in New World Black Fiction: Writing and the Oral Traditional Aesthetics. Columbus: Ohio State UP, 2007.
Benson, Brian J., and Mabel M. Dillard. Jean Toomer. Boston: Twayne P, 1980. PS3539.O478 Z57
Byrd, Rudolph P. Jean Toomer's Years With Gurdjieff: Portrait of an Artist, 1923-1936. Athens: U of Georgia P, 1990.
Egar, Emmanuel E. The Poetics of Rage: Wole Soyinka, Jean Toomer, and Claude McKay. Lanham, MD: UP of America, 2005.
Ford, Karen J. Split-Gut Song: Jean Toomer and the Poetics of Modernity. Tuscaloosa: U of Alabama P, 2005.
Grant, Nathan. Masculinist Impulses: Toomer, Hurston, Black Writing, and Modernity. Columbia: U of Missouri P, 2004.
Guterl, Mattew P. The Color of Race in America, 1900-1940. Cambridge: Harvard UP, 2001.
Jones, Robert B. Jean Toomer and the Prison-House of Thought: A Phenomenology of the Spirit. Amherst: U of Massachusetts P, 1993.
- - -. ed. Jean Toomer: Selected Essays and Literary Criticism. Knoxville: U of Tennessee P, 1997.
Kerman, Cynthia E. and Richard Eldridge. The Lives of Jean Toomer: A Hunger for Wholeness. Baton Rouge: Louisiana State UP, 1987.
Larson, Charles R. Invisible Darkness: Jean Toomer & Nella Larsen. Iowa City: U of Iowa P, 1993.
McKay, Nellie Y. Jean Toomer, Artist: A Study of his Literary Life and Work, 1894-1936. Chapel Hill: U of North Carolina P, 1984. PS3539 .O478 Z78
O'Daniel, Therman B., ed. JT: A Critical Evaluation. Washington, D.C.: Howard UP, 1988.
Scruggs, Charles W. Jean Toomer and the Terrors of American History. Philadelphia: University of Pennsylvania Press, 1998.
Thompson-Cager, Chezia, and Dorothy Thomas-Matlock. Teaching Jean Toomer's 1923 Cane. NY: Peter Lang, 2006.
Turner, Darwin T., ed. The Wayward and the Seeking: A Collection of Writings by JT. Washington: Howard UP, 1980. PS3539.O478 W3
Vetter, Lara. Modernist Writings and Religio-Scientific Discourse: H. D., Loy, and Toomer. NY: Palgrave Macmillan, 2010.
Weaks-Baxter, Mary. Reclaiming the American Farmer: The Reinventing of a Regional Mythology in Twentieth-Century Southern Writing. Baton Rouge: Louisiana State UP, 2006.
Whalan, Mark. Race, Manhood, and Modernism in America: The Short Story Cycles of Sherwood Anderson and Jean Toomer. Knoxville: U of Tennessee P, 2007.
Witalec, Janet. ed. Harlem Renaissance: A Gale Critical Companion. Detroit: Gale, 2002.
Woodson, Jon. To Make a New Race: Gurdjieff, Toomer, and the Harlem Renaissance. Jackson: UP of Mississippi, 1999.
| Top |Jean Toomer (1894-1967): A Brief Biography
A Student Project by Stephanie Edwards
Nathan Eugene Toomer was born on December 26, 1894 in Washington DC to Nina Pinchback and Nathan Toomer. The presence of his father in Jean's life was to be short-lived, however; when Jean was just ten months old his father and mother separated, and the elder Toomer never assumed an active role in his son's life. His mother resumed the usage of her maiden name, and her son also used Pinchback throughout his childhood. Once he reached adulthood he began using the surname Toomer, and became Jean when he began to write.
Toomer grew up in the home of his maternal grandparents in an affluent white neighborhood. The Pinchbacks, a racially mixed family, were headed by the patriarch Pinckney Benton Stewart Pinchback, a man heavily involved in politics who once had ties to the Louisiana governor's office during the Reconstruction. PBS Pinchback maintained that he was not white, although his appearance belied this fact, and erected a career based upon this assertion. Conversely, his grandson would spend his life shrugging off the label of Negro, arguing that he "had at least seven bloodlines running through his veins, and his African heritage was a matter of hearsay." (McKay, Artist, 6)
Toomer spent the first dozen years of his life living in white neighborhoods, in both Washington DC as well as in New York, when his mother's remarriage to a white man relocated the family. It was only upon the death of his mother and the newly dire financial straits of the Pinchback family that "for the first time in his life he had real contact with the colored world," (McKay, Artist, 17) for his grandparents now lived in a less affluent neighborhood. Because he claimed residency in both white and black neighborhoods, Toomer was afforded a view of race that most people, white and black, were not privy to. In fact, later in his life he grew fond of saying that he had an "advantage over most other people in knowing the truth about race" because of this dual residency (McKay, DLB, 275).
His last year in high school brought him face to face with the issue of race. In choosing which college to attend, it became much more difficult for Toomer to remain ambivalent about his racial identity; if he claimed Negro lineage, in spite of his Caucasian appearance he would be labeled Negro by the white student body. Even though he claimed never to feel the effects of racism while living among whites or blacks, he nonetheless "had seen enough to know that America viewed life as if it were divided into white and black." (Toomer 91)
Toomer's college years, riddled with frustrations and unfinished semesters, nonetheless ushered him into the world of writers such as George Bernard Shaw, Dostoyevski, Walt Whitman, and Goethe. During this time he wrote, though he did not take seriously the idea of making a career out of writing until 1919. Dogged by his inability to achieve internal harmony, he wrote short stories, essays, and other works that ultimately failed to satisfy him; indeed, he attributed his "inability to capture his own literary voice" to "a lack of harmony between his mind, his emotions, and his body." (McKay, Artist, 29)
While spending time in rural Georgia, Toomer gained a new appreciation for folk culture, having opportunities to observe people singing spirituals, an antidote to lives that poverty and oppression would otherwise make unbearable. It was in this spiritual response that Toomer was able to write the first narratives of the work that some say marked the dawning of a new era in black literature in1923 with Cane. For Toomer, however, the work marked a departure; in his introduction to Toomer's The Wayward and the Seeking, Darwin T. Turner observes that he grew more concerned with spiritual reform, and less about his identity as a writer (3).
Toomer objected to his heralding as a brilliant black writer who wrote about black issues; cutting the ties with the literary circles in which he previously traveled, he became a student and later a teacher of the doctrine of George Ivanovitch Gurdjieff. In 1932 he married Margery Latimer, who sadly died less than a year later during childbirth. Two years later he married again, this time to Marjorie Content. He continued to write throughout the rest of his life, and although his body of work is large—four novels, four autobiographies, two collections of poems, and three full-length dramas make up but a part of it—none of his subsequent works ever reached the pinnacle of success of Cane. Plagued by health problems, Jean Toomer died in a nursing home in Pennsylvania on March 30, 1967.
Toomer's legacy, especially when compared to his peers, may seem questionable to some, especially since he abruptly cut ties with his fellow Renaissance artists and also considering his reluctance to refer to himself as black. However, he deserves a place among the other Planters of the New Negro Movement, for Cane is a work bearing characteristics previously unseen in black literature in 1923; its objectivity, artistry, and stylistic approach was new, breaking with tradition more cleanly than did any other work (Davis 44-45).
Toomer's work went unstudied for many years; however, during the sixties his name began to resurface as people began to reexamine issues of race and identity. However, Toomer is not only a Harlem Renaissance writer; his search for internal harmony transcends color. His depictions of black folk life in Cane are as revealing as are the Gurdjieffian influenced writings that followed; to dismiss the post-Cane works as simply exercises in race denial is, according to Robert B. Jones, doing Toomer an injustice. Jones asserts that "Toomer's significance must ultimately be evaluated in light of his contributions to both African American and Amercian literature." (xii)
Works Cited
Davis, Arthur P. From the Dark Tower: African-American Writers 1900-1960. Washington, DC: Howard UP, 1974.
Jones, Robert B., ed. Jean Toomer: Selected Essays and Literary Criticism. Knoxville: U of Tennessee P, 1997.
McKay, Nellie. "Jean Toomer." Dictionary of Literary Biography. Volume Fifty-one.Detroit: Gale, 1987. 274-288.
---. Jean Toomer, Artist: A Study of His Literary Life and Work,1894-1936. Chapel Hill: U of North Carolina P, 1984.
Turner, Darwin T. ed. The Wayward and the Seeking: A Collection of Writings by Jean Toomer. Washington: Howard UP, 1980.
1. What qualities do women have that are similar to those of the entire group of African-Americans - at least as Toomer saw them?
2. What is the nature of the richness as well as pain in the culture represented in Cane?
3. What are the symbolistic aspects of the northern and southern black experience?
MLA Style Citation of this Web Page
Reuben, Paul P. "Chapter 9: Jean Toomer" PAL: Perspectives in American Literature- A Research and Reference Guide. WWW URL: http://www.paulreuben.website/pal/chap9/toomer.html (provide page date or date of your login).
| Top |