Chapter 9: The Harlem Renaissance
(Also known as the "New Negro Movement")

Marita Bonner
1898-1971

© Paul Reuben October 20, 2016 E-Mail
Page Links: | Primary Works | Selected Bibliography 1980-Present | MLA Style Citation of this Web Page |
Site Links: | Chap. 9: Index | Alphabetical List | Table Of Contents | Home Page |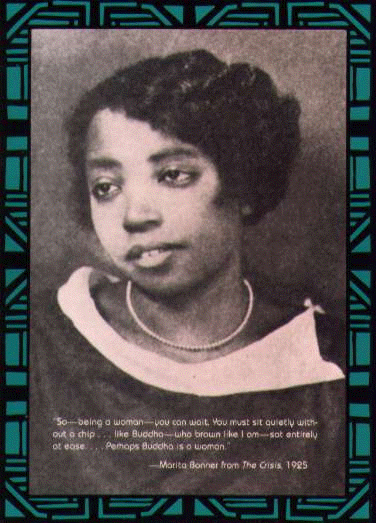 Source: Postcards from Helaine Victoria Press - Marita Bonner
Collection:

Frye Street and Environs: The Collected Works of Marita Bonner. Flynn, Joyce, and Joyce O. Stricklin. eds. Beacon: Boston, 1987.

Short Stories:

"The Hands - A Story." Opportunity 3 (Aug 1925): 235-237.

"The Prison-Bound." Crisis 32 (Sep 1926): 225-226.

"Nothing New." Crisis 33 (Nov 1926): 17-20.

"One Boy's Story." Crisis 34 (Nov 1927): 297-299, 316-320 (pseudonym used Joseph Maree Andrew).

"Drab Rambles." Crisis 34 (Dec 1927): 335-336, 354-356.

"A Possible Triad of Black Notes, Part One." Opportunity 11 (Jul 1933): 205-207.

"A Possible Triad of Black Notes, Part Two:Of Jimmie Harris." Opportunity 11 (Aug 1933): 242-244.

"A Possible Triad of Black Notes, Part Three:Three Tales of Living Corner Store." Opportunity 11 (Sep 1933): 269-271.

"Tin Can." Opportunity 12 (Jul 1934): 202-205, (Aug 1934): 236-240.

" A Sealed Pod." Opportunity 14 (Mar 1936): 88-91.

"Black Fronts." Opportunity 16 (Jul 1938): 210-214.

"Hate is Nothing." Crisis 45 (Dec 1938): 388-390, 394, 403-404 (pseudonym used Joyce M. Reed).

"The Makin's." Opportunity 17 (Jan 1939): 18-21.

"The Whipping." Crisis 46 (Jan 1939): 172-174.

"Hongry Fire." Crisis 46 (Dec 1939): 360-362, 376-377.

"Patch Quilt." Crisis 47 (Mar 1940): 71, 72, 92.

"One True Love." Crisis 48 (February 1941): 46-47, 58-59.

Essays:

"On Being Young - A Woman - and Colored." Crisis 31 (Dec. 1925): 63-65.

"The Young Blood Hungers." Crisis 35 (May 1928): 151, 172.

"Review of Autumn Love Cycle, by Georgia Douglas Johnson." Opportuntiy 7 (Apr 1929): 130.

Drama:

The Pot-Maker (A Play to be Read). Opportunity 5 (Feb 1927): 43-46.

The Purple Flower. Crisis 35 (Jan 1928): 202-07.

Exit - An Illusion. Crisis 36 (Oct 1929): 335-336,352.
Selected Biblioraphy 1980-Present
Allen, Carol. Black Women Intellectuals: Strategies of Nation, Family, and Neighborhood in the Works of Pauline Hopkins, Jessie Fauset, and Marita Bonner. NY: Garland, 1998.
Berg, Allison. "Marita Odette Bonner (1898-1971)." in Champion, Laurie. ed. American Women Writers, 1900-1945: A Bio-Bibliographical Critical Sourcebook. Westport, CT: Greenwood, 2000.
Flynn, Joyce, and Joyce O Stricklin. eds. Frye Street and Environs: The Collected Works of Marita Bonner. Beacon: Boston, 1987.
Kelly, Katherine E. ed. Modern drama by women, 1880s-1930s: an international anthology. NY: Routledge, 1996. PN6119.8 .M63
Major, Clarence. ed. Calling the wind: twentieth century African-American short stories. NY: HarperPerennial, 1993. PS647 .A35 C35
Meche, Jude R. "Marita Bonner." in Wheatley, Christopher J. ed. Twentieth-Century American Dramatists, Second Series. Detroit: Thomson Gale, 2000.
Mullen, Bill. ed. Revolutionary tales: African American women's short stories, from the first story to the present. NY: Laurel, 1995. PS647 .A35 R48
Perkins, Kathy A. ed. Black female playwrights: an anthology of plays before 1950. Bloomington: Indiana UP, 1989. PS628 .N4 B54
Shaheen, Aaron. Androgynous Democracy: Modern American Literature and the Dual-Sexed Body Politic. Knoxville: U of Tennessee P, 2010.
Spahr, Heather E. "Marita Bonner (1898-1971)." in Nelson, Emmanuel S. ed. African American Authors, 1745-1945: A Bio-Bibliographical Critical Sourcebook. Westport, CT: Greenwood, 2000.
Wall, Cheryl A. Women of the Harlem Renaissance. Bloomington: Indiana UP, 1995.
Wilks, Jennifer M. Race, Gender, and Comparative Black Modernism: Suzanne Lacascade, Marita Bonner, Suzanne Césaire, Dorothy West. Baton Rouge: Louisiana State UP, 2008.
| Top |Marita Bonner (1898-1971): A Brief Biography
A Student Project by Rebecca Snow
Marita Bonner, also referred to as Marita Odette Bonner Occomy (Odette being her middle name and Occomy her married name) was one of the many female writers who emerged during the time of the Harlem Renaissance, and according to some critics, Bonner deserves to be "placed in the company of such Harlem Renaissance figures as Nella Larsen, Jessie Fauset, and Zora Neale Hurston." (Roses 166)
According to the article "Marita Bonner: In Search of Other Mothers' Gardens," authors Lorraine Elena Roses and Ruth Elizabeth Randolph assert that Bonner's father did not finish high school and so pushed Bonner and her siblings to become educated (166). Bonner was the third of four children (the fourth passed away in early childhood), was highly educated (she graduated from Radcliffe in 1922), was an accomplished pianist, and could speak German fluently (167). Bonner commuted to Radcliffe because black students were not allowed to live on campus at the time. At Radcliffe, Bonner studied "English and comparative literature, was a member of a number of musical clubs, and twice won the Radcliffe song competition. [Bonner] founded the Radcliffe chapter of Delta Sigma Theta, a black sorority." (167) Bonner, deciding that she would like to become a writer, was accepted into a writing class that was limited on a "competitive basis" to only sixteen students where she was instructed to "write—but not be 'bitter'—a cliché to colored people who write." (167) Bonner's parents both died suddenly, her mother in 1924 from a brain hemorrhage and her father in 1926. She described herself as being "left alone and struggling" but her parents' deaths also "brought about recognition of her own strength and adversity." (167)
After graduating from Radcliffe, Bonner published her first essay, "On Being Young, a Woman, and Colored" in The Crisis in 1925. She also taught at Bluefield Colored Institute in Virginia from 1922-1924 and at Armstrong High School in Washington D.C. from 1924-1930. Soon after moving to D.C., Bonner met and married William Almy Occomy, a bright young man who held an MBA from Boston University. They moved to Chicago where Bonner's writing career took off and she published many short stories in The Crisis and Opportunity, the last being published in 1941 (168). That same year, Bonner and her husband joined the First Church of Christ Scientists. Roses writes that "the reason that Marita's joining the Church coincides with the cessation of her literary activity as a published author is unclear, since there is no conflict between writing and Church tenets." (168)
Bonner began teaching again in the 1940s and finally retired in 1963. She died in 1971 from smoke inhalation complications at a hospital after her apartment caught fire. Roses writes, "Marita Bonner was seventy-three at the time of her death. She had lived to see the flowering of the Civil Rights Movement and the airing of the issues of racism and sexism that she had explored decades earlier in her work." (168)
Bonner contributed much to the merit of African-American female authors. Not only did she publish essays, drama, and short stories relevant to the condition of black women of her time, but transcended periods of time. At her death, six new short stories were found that add even more to the breadth of her work. Bonner's earlier stories dealt with "passing, but her more memorable pieces [. . .] explored the dislocation southern blacks experienced in northern cities and the consequent disruption in family life" (Wall 5). Cheryl A. Wall writes in her book, Women of the Harlem Renaissance that Bonner was virtually unknown until 1987 when her collected works were published in Frye Street and Environs. The introduction is written by her daughter who had kept Bonner's previously unwritten pieces (5).
Perhaps Bonner's greatest contribution to the Harlem Renaissance was her emphasis on claiming not only a racial identity, but a gendered one as well (7). Wall compares Bonner's search for identity with Langston Hughes' discussion on racial identity. But, Wall states, unlike Hughes, Bonner is "never referring to herself as an artist, but more and more often toward the end of her essay referring to women." (8) Wall claims that Bonner's writing "anticipates themes and metaphors that inform much of the fiction written by women during the [Harlem] Renaissance." (9) Evidently Bonner was ahead of her time and sadly unrecognized for her contributions to African-American literature.
The latest critical exploration of Marita Bonner is dated 2000. Criticism of Bonner's work was at its peak in the late 1980s and seems to have slowed in the past few years. Modern critics may be putting Bonner on the back burner because she has been dealt with fairly thoroughly in the last decade. This seems regrettable because though critics may have exhausted explorations into Bonner, readership has not grown significantly.
Works Cited:
Roses, Lorraine Elena. "Marita Bonner: In Search of Other Mothers' Gardens." Black American Literature Forum 21 (1987): 165-183.
Wall, Cheryl A. Women of the Harlem Renaissance. Bloomington: Indiana UP, 1995.
MLA Style Citation of this Web Page
Reuben, Paul P. "Chapter 9: Marita Bonner." PAL: Perspectives in American Literature- A Research and Reference Guide. URL: http://www.paulreuben.website/pal/chap9/chap9/bonner.html (provide page date or date of your login).

| Top |