Chapter 8: American Drama

Lillian Hellman
1905-1984

© Paul Reuben October 20, 2016 E-Mail
Page Links: | Primary Works | Selected Bibliography 1980-Present | Study Questions | MLA Style Citation of this Web Page |
Site Links: | Chap. 8: Index | Alphabetical List | Table Of Contents | Home Page |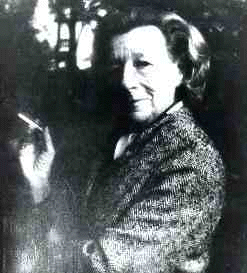 Source: Images of the Month
Born in New Orleans, Lillian Hellman moved to New York; she attended New York University and Columbia. She was twice awarded the New York Drama Critics Circle Prize and the Gold Medal for drama from the National Institute of Arts and Letters. Her plays are commonly described with labels such as "well-made play," "melodrama," "social protest." But her real achievement is an ironic look at life, at times funny, at times pathetic, and always incorporating a moral vision.
The Children's Hour, 1934; Days to Come, 1936; The Little Foxes, 1939; Watch on the Rhine, 1941; The Searching Wind, 1944; Another Part of the Forest, 1947; The Autumn Garden, 1951; Toys in the Attic, 1960; My Mother, My Father, and Me, (an adaptation of the Burt Blechman novel), 1963. Her non theatrical writing includes these autobiographical works: An Unfinished Woman, a Memoir, 1969; Pentimento, 1973; Scoundrel Time, 1976; and Maybe, 1980.
Selected Bibliography 1980-Present
Ackerman, Alan. Just Words: Lillian Hellman, Mary McCarthy, and the Failure of Public Conversation in America. New Haven, CT: Yale UP, 2011.
Adams, Timothy D. Telling Lies in Modern American Autobiography. Chapel Hill: U of North Carolina P 1990.
Austenfeld, Thomas C. American Women Writers and the Nazis: Ethics and Politics in Boyle, Porter, Stafford, and Hellman. Charlottesville, VA: UP of Virginia 2001.
Barranger, Milly S. Unfriendly Witnesses: Gender, Theater, and Film in the McCarthy Era. Carbondale: Southern Illinois UP, 2008.
Booker, Margaret. Lillian Hellman and August Wilson: Dramatizing a New American Identity. NY: Peter Lang 2003.
Dick, Bernard F. Hellman in Hollywood. Rutherford, N.J.: Fairleigh Dickinson UP, 1982. PS3515 .E343 Z63
Estrin, Mark W., ed. Critical Essays on Lillian Hellman. Boston: G.K. Hall, 1989. PS 3515 .E343 Z628
Estrin, Mark W. Lillian Hellman, Plays, Films, Memoirs: A Reference Guide. Boston: G.K. Hall, 1980. Z8395.52 .E86
Gallagher, Dorothy. Lillian Hellman: An Imperious Life. New Haven, CT: Yale UP, 2014.
Kessler-Harris, Alice. A Difficult Woman: The Challenging Life and Times of Lillian Hellman. NY: Bloomsbury, 2012.
McGraw, Eliza R. L. Two Covenants: Representations of Southern Jewishness. Baton Rouge: Louisiana State UP, 2005.
Melnick, Ralph. The Stolen Legacy of Anne Frank: Meyer Levin, Lillian Hellman, and the Staging of the Diary. New Haven: Yale UP, 1997.
Riordan, Mary M. Lillian Hellman, a Bibliography, 1926-1978. Metuchen, N.J.: Scarecrow P, 1980. Z8395.52 .R56
Vials, Chris. Realism for the Masses: Aesthetics, Popular Front Pluralism, and U. S. Culture, 1935-1947. Jackson: UP of Mississippi, 2009.
Wright, William. Lillian Hellman: The Image, The Woman. NY: Simon and Schuster, 1986. PS3515 .E343 Z96.
| Top |Lillian Hellman: A Brief Biography

A Student Project by Naharen Bela
Lillian Hellman was born in New Orleans to Julia Newhouse Hellman and Max Bernard Hellman on June 20, 1905. Due to her mother's fear of childbirth, she remained an only child. In 1911 the Hellmans moved to New York City and Lillian moved between it and New Orleans every six months, attending schools in both places. Her mother's family was part of the upper-middle class, which she and her parents did not belong to. This did not produce a close relationship with this side of the family and she said about them in An Unfinished Woman: "But that New York apartment where we visited several times a week, the summer cottage where we went for a visit each year as the poor daughter and granddaughter, made me into an angry child and forever caused in me a wild extravagance mixed with respect for money and those who have it." (Hellman 5) Hellman's relationship with her father's family was much more relaxed than this. When in New Orleans, Hellman stayed with her "humorous, practical likable" two aunts at the boardinghouse they ran (Falk 5). She was also close with her father yet said about the two families and her mother: "But as I made my mother's family all one color, I made my father's family too remarkable, and then turned both extreme judgments against my mother." (Unfinished 5) In her memoirs she speaks highly of her mother yet admits to being hard on her, stating: "My mother was dead for five years before I knew that I had loved her very much." (Hellman 7)
Between 1922 and 1924, Hellman attended New York University. She decided college was not for her and she left before her senior year. At nineteen, she started her first job working for Horace Liveright's publishing house as a manuscript reader. That same year, 1925, Hellman married her first husband, Arthur Kober. The two would divorce amicably in 1932. While still married, she wrote "lady-writer" stories which were published in The Paris Comet. She also wrote theatrical publicity, book reviews, and read plays. Interestingly, it was during this time she spotted the manuscript of what would become the film "Grand Hotel."
After a 1929 trip to Europe Hellman and Kober moved to Hollywood where she worked for Metro Goldwyn Meyer (MGM), reading and writing reports on manuscripts. During this time she made contacts that would last all her life. Close friends of hers from the time include humorist S. J. Perelman, novelist Nathanael West, and detective fiction writer Dashiell Hammett. Hammett was thirteen years older than Hellman and a successful writer and screenwriter, creating the book that would become The Thin Man film. The two lived together on and off for the next thirty-one years and he became a great many important things to her, including: "friend, companion, critic, disciplinarian, mentor." (Falk 8) During this time Hellman started work on The Children's Hour, her first serious play, which Hammett helped her with encouragement and criticism. Herman Shumlin decided to produce it even before having finished reading it, and the play became a long-running hit. Hellman also wrote two short stories for The American Spectator, "I Call Her Mama Now" (1933) and "Perberty in Los Angeles," (1934) and worked on the play Dear Queen with Louis Kronenberger.
Hellman was certainly a literary figure but the coming years would turn her into a political figure also. The world that Hellman lived in was one filled with tumultuous times. In her lifetime she saw Hitler rise, the Holocaust, World War II, and witnessed the rise in power of Russia and communism. In 1937 Hellman traveled to Spain where, with Ernest Hemingway and others, she took part in the struggle found there. She did many things, including visiting hospitals and a nursery, giving speeches to the International Brigade, recordings to be translated, and a radio broadcast to Paris. Earlier the same year she had agreed to do a documentary on Spain with Archibald MacLeish, Hemingway, and film director Joris Ivens. Although she could not complete it because of illness, she had wanted to be a part of raising awareness through what became a moving documentary entitled The Spanish Earth. Her many trips to Europe, especially this one, allowed her to see tragedy first hand. Her many experiences of this, in her own words, turned her "toward the radical movement of the late thirties." (Falk 13) This movement, among other choices of hers, would have tremendous repercussions later on in her life.
After her return from Europe, Hellman worked on ideas for what would become Watch on the Rhine and The Little Foxes, two of her most famous works. Watch on the Rhine opened in April 1941 at the Martin Beck Theatre, ran for 378 performances, and won the New York Drama Critics' Circle Award as best American play of the year. In 1943, its film version was selected as best movie of the year by the New York Film Critics. The Little Foxes opened in February 1939 at the National Theatre and ran for 410 performances, with a movie adaptation released in August 1941. The same year The Little Foxes opened, Hellman bought a 130-acre farm in Pleasantville, Westchester County, NY.
By 1948 rumors circulated that Hellman had been blacklisted in Hollywood and by May 1952, she was called to appear before the Un-American Activities Committee. Most people who spoke of their activities to the committee were obliged to speak of others' activities also, but Hellman refused. She pled the Fifth Amendment and in a letter to the committee stated: "I cannot and will not cut my conscience to fit this year's fashions." (Bryer 9) Hellman was not cited for contempt of court yet was blacklisted and unable to work openly in Hollywood until the 1960s. Subsequent to her appearance before the committee, an expensive error in her tax return was found by the IRS, and she was forced to sell her beloved Pleasantville farm to pay for it. During this highly political time, Hellmann had to take a part time job in a department store under an alias. Six months later, she received an inheritance from one of her aunts in New Orleans and began to write again.
During her career, Hellman created works that have endured the test of time, and for which she received many awards. The Little Foxes received The Pulitzer, and the New York Drama Critics Circle Award was given to Watch on the Rhine and Toys in the Attic. Her other honors include election to the American Academy of Arts and Science from 1960 to 1965, election as vice-president of the National Institute of Arts and Letters, invitation to be a member of the American Academy of Arts and Letters, and being awarded the gold medal by the Academy-Institute. Hellman received many honorary rewards, including the Brandeis University Creative Arts Award and the Achievement Award from the women's division of the Albert Einstein College of Medicine of Yeshiva University. On top of all this, she was rewarded advanced honorary degrees from Wheaton College, Tufts, Brandeis, and Douglass College of Rutgers University. Also, honorary degrees were given from Smith, New York University, Holyoke, Yale, Columbia, and more. Finally, she was inducted into the Theater Hall of Fame in 1973.
She taught at various schools, including Yale, Hunter College in New York, Massachusetts Institute of Technology, and the University of California at Berkeley. As a teacher, she had a reputation as a "tough critic of student writing" and "eclectic scholar." (Falk 24) She was sympathetic with the rebellious students during the 1960s, and spoke for the defense of student rioters there in 1969.
By 1968, Hellman was finishing her first memoirs, An Unfinished Woman which won the National Book Award in the Arts and Letters category in 1969. The second set of memoirs, Pentimento came in 1973 and the third, Scoundrel Time followed in 1976. The latter "not only recounted Hellman's experiences before the HUAC in that time of scoundrels, but also castigated those of her liberal acquaintances who, according to Hellman, did not oppose McCarthy or come to the rescue of his victims." (Falk 25) Scoundrel Time is a great example of how she continued to express herself politically for most of her life. Even though the first reception of the book was enthusiastic, controversy surrounded Hellman because of it, with counter-attacks from conservatives and the anticommunist left. In 1980, Hellman filed a defamation suit against Mary McCarthy and Dick Cavett for comments made about her by McCarthy on Cavett's TV show, but she passed away before it could come to any sort of conclusion.
Hellman drew extensively from her life for her work. For The Little Foxes she used her knowledge of the American South and her own family. She got even with the Newhouses (her mother's family), by depicting them as the Hubbards in both The Little Foxes and Another Part of the Forest. More seriously, she spent her life writing plays through which she tried to speak about problems found in her time. For example, The Children's Hour, with a plot about careers being ruined over lies, spoke to everything happening during the McCarthy Era. Days to Come from 1936, about unions and strikebreaking, was seen as political by audiences, even though Hellman said it was meant to depict the struggle between individuals. Either way, she used the entire world and its people as subject matter for her plays. Additionally, The North Star from 1943, was a film about Russia. Also, Watch on the Rhine and The Searching Wind (1944), spoke about the battle with fascism and the response (or lack thereof) to the issues of World War II by middle-class Americans. Hellman also took on this subject matter outside of writing, seeking contributions for the Emergency Anti-Fascist Refugee Fund and allowing the Joint Anti-Fascist Refugee Committee to publish a limited edition of Watch on the Rhine for its benefit. Later in her life, in 1970, she founded the Committee for Public Justice, which was to "create an early-warning system that would detect violations of constitutional rights and then alert citizens, the media, and legislators about them." (Falk 24)
Lillian Hellman died at Martha's Vineyard Hospital on June 30, 1984. She was an accomplished playwright with a career that spanned fifty years. A very outspoken woman, controversy was never far from her side, even towards the end of her life. Through her plays she spoke about many controversial matters, making her a big presence in the world she inhabited. Her great contribution to American theatre and films has continued to be recognized to this day. Hellman will always hold her place as one of America's greatest and most controversial woman playwrights and it is because of her courage that we can appreciate her work today.
Works Cited
Bryer, Jackson R. Conversations with Lillian Hellman. Jackson: UP of Mississippi, 1986.
Falk, Doris V. Lillian Hellman. New York: Frederick Ungar Publishing Co., 1978.
Hellman, Lillian. An Unfinished Woman. United States of America: 1969
1. What is Hellman's idea of history? Who makes history and how are events in history related? Why does she connect the events of the McCarthy Era to the Vietnam War?
2. What kind of credibility does an autobiographical memoir have as compared to a history or a political science book? Why does Hellman use the word scoundrel and what does she mean by it?
MLA Style Citation of this Web Page
Reuben, Paul P. "Chapter 8: Lillian Hellman." PAL: Perspectives in American Literature- A Research and Reference Guide. URL: http://www.paulreuben.website/pal/chap8/hellman.html (provide page date or date of your login).

| Top |