Chapter 7: Early 20th C. American Lit
and Modernism

Ernest Hemingway
1899-1961

© Paul P. Reuben September 13, 2017

E-Mail

Hemingway's six-toed cats survive Irma, still have nine lives

"Ernest Hemingway's long-lost Los Angeles visit, 80 years ago this week." by David Kipen. LA Times, 16Jul2017

Outside Links: | The National Portrait Gallery EH Exhibit | The Hemingway Society | Timeless Hemingway |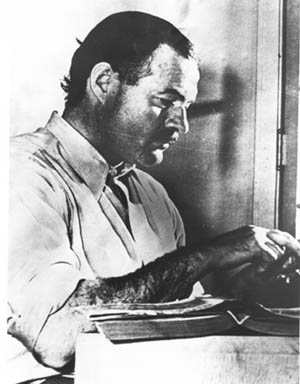 Source: EH Hall of Fame
"Certainly there is no hunting like the hunting of man and those who have hunted armed men long enough and liked it, never really care for anything else thereafter."
- EH, "On The Blue Water: A Gulf Stream Letter." Esquire, April, 1936
"If a writer of prose knows enough about what he is writing about he may omit things that he knows and the reader, if the writer is writing truly enough, will have a feeling of those things as strongly as though the writer had stated them. The dignity of movement of an iceberg is due to only one-eighth of it being above water."
- Death In the Afternoon, Scribner's, 1932, Chap. 16, 192.
"DP: `Exactly what do you mean by `guts'?'
EH: `I mean, grace under pressure.'"
--Ernest Hemingway, an interview with Dorothy Parker, New Yorker, 30 November 1929
Awarded the Nobel Prize for Literature in 1954 for his "mastery of the art of modern narration," Hemingway used a spare and tight journalistic type of prose. He used the objective, detached point of view and his vocabulary and sentence structure are deceptively simple. He has written about failure, moral bankruptcy, death, deception, and sterility in the post World War I society. His "code-heroes" are characters with inner moral discipline who are usually involved with rituals like bullfighting, big-game hunting, and fishing.
Three Stories & Ten Poems, Paris, 1923; in our time, Paris, 1924;In Our Time, 1925; The Torrents of Spring, 1926; The Sun Also Rises, 1926; Men Without Women, 1927; A Farewell to Arms, 1929; Death in the Afternoon, 1932; Winner Take Nothing, 1933; Green Hills of Africa, 1935; To Have and Have Not, 1937; The Fifth Column and the First Forty-Nine Stories, 1938; For Whom the Bell Tolls, 1940; Men at War: The Best War Stories of All Time, 1942; Across the River and Into the Trees, 1950; The Old Man and the Sea, 1952; A Moveable Feast; 1964; By-Line: Ernest Hemingway, 1967; Islands in the Stream, 1970; The Nick Adams Stories, 1972; The Garden of Eden, 1986; The Complete Short Stories of Ernest Hemingway, 1987; True at First Light, 1999.

(Except for the first two, all other titles were published in New York)

Ernest Hemingway's A Farewell to Arms: A Documentary Volume. Oliver, Charles M. ed. Detroit, MI: Gale, 2005.

The Letters of Ernest Hemingway, Volume 1: 1907-1922. Spanier, Sandra (ed., introd., and note). Cambridge, England: Cambridge UP, 2011.
From Hemingway. A Psychological Portrait (Hardy RE, Cull JG). NY: Irvington Publishers, 1988 (originally publsihed by Banner Books Int'l in 1977):
"In November 1960, Hemingway entered Mayo Clinic under a fictitious name. His BP was 220/125 and soon subsided to 138/80" (p. 79).

"Psychological Evaluation: Physical/Psychological Characteristics:
Born 7-21-99
6 feet tall
WT; 210 (avg) (generally overweight; up to 260)
brown eyes, ruddy complexion, very large feet, thick, straight brownish-black hair (younger years); in 50s was balding withthin, sparse, white hair. Beard: black to brown to white."
| Top | Selected Bibliography 2000-2005
Berman, Ronald. Fitzgerald, Hemingway, and the Twenties. Tuscaloosa: U of Alabama P, 2001.
- - -. Fitzgerald-Wilson-Hemingway: Language and Experience. Tuscaloosa: U of Alabama P, 2003.
- - -. Modernity and Progress: Fitzgerald, Hemingway, Orwell. Tuscaloosa: U of Alabama P, 2005.
Bruccoli, Matthew J. Classes on Ernest Hemingway. Columbia: U of South Carolina P, 2002.
Bruccoli, Matthew J., and Judith S. Baughman. eds. The Sons of Maxwell Perkins: Letters of F. Scott Fitzgerald, Ernest Hemingway, Thomas Wolfe, and Their Editor. Columbia: U of South Carolina P, 2004.
Bruccoli, Matthew J., and others. eds. The Only Thing That Counts: The Ernest Hemingway/Maxwell Perkins Correspondence, 1925-1947. Columbia: U of South Carolina P, 2003.
Cohen, Milton A. Hemingway's Laboratory: The Paris in our time. Tuscaloosa: U of Alabama P, 2005.
DeFazio, Albert J., and A. E. Hotchner. eds. Dear Papa, Dear Hotch: The Correspondence of Ernest Hemingway and A. E. Hotchner. Columbia: U of Missouri P, 2005.
Gajdusek, Robert E. Hemingway in His Own Country. Notre Dame: U of Notre Dame P, 2002.
Justice, Hilary K. The Bones of the Others: The Hemingway Text from the Lost Manuscripts to the Posthumous Novels. Kent, OH : Kent State UP, 2006.
Koch, Stephen. The Breaking Point: Hemingway, Dos Passos, and the Murder of José Robles. NY: Counterpoint, 2005.
Koloze, Jeff, and Anne B. Gardiner. An Ethical Analysis of the Portrayal of Abortion in American Fiction: Dreiser, Hemingway, Faulkner, Dos Passos, Brautigan, and Irving. Lewiston, NY: Mellen, 2005.
Lewis, Robert W., and Robert E. Fleming. eds. Under Kilimanjaro. Kent, OH: Kent State UP, 2005.
Ondaatje, Christopher. Hemingway in Africa: The Last Safari. Woodstock, NY: Overlook, 2003.
Pavloska, Susanna. Modern Primitives: Race and Language in Gertrude Stein, Ernest Hemingway, and Zora Neale Hurston. NY: Garland, 2000.
Rovit, Earl, and Arthur Waldhorn. eds. Hemingway and Faulkner in Their Time. NY: Continuum, 2005.
Stewart, Matthew. Modernism and Tradition in Ernest Hemingway's 'In Our Time.' Rochester, NY: Camden House, 2001.
Strychacz, Thomas F. Hemingway's Theaters of Masculinity. Baton Rouge: Louisiana State UP, 2003.
Vernon, Alex. Soldiers Once and Still: Ernest Hemingway, James Salter, and Tim O'Brien. Iowa City: U of Iowa P, 2004.
| Top | Selected Bibliography 2006-Present
Bak, John S. Homo Americanus: Ernest Hemingway, Tennessee Williams, and Queer Masculinities. Madison, NJ: Fairleigh Dickinson UP, 2010.
Bouchard, Donald F. Hemingway: So Far from Simple. Amherst, MA: Prometheus, 2010.
Broer, Lawrence R. Vonnegut and Hemingway: Writers at War. Columbia: U of South Carolina P, 2011.
Bruccoli, Matthew J. Hemingway and the Mechanism of Fame: Statements, Public Letters, Introductions, Forewords, Prefaces, Blurbs, Reviews, and Endorsements. Columbia: U of South Carolina P, 2006.
Cirino, Mark. Ernest Hemingway: Thought in Action. Madison: U of Wisconsin P, 2012.
Djos, Matts G. Writing Under the Influence: Alcoholism and the Alcoholic Perception from Hemingway to Berryman. NY: Palgrave Macmillan, 2010.
Donaldson, Scott. Fitzgerald & Hemingway: Works and Days. NY: Columbia UP, 2009.
Dudley, Mark K. Hemingway, Race, and Art: Bloodlines and the Color Line. Kent, OH: Kent State UP, 2012.
Flora, Joseph M. Reading Hemingway's Men Without Women: Glossary and Commentary. Kent, OH: Kent State UP, 2008.
Fruscione, Joseph. Faulkner and Hemingway: Biography of a Literary Rivalry. Columbus: Ohio State UP, 2012.
Grissom, C. Edgar. Ernest Hemingway: A Descriptive Bibliography. New Castle, DE: Oak Knoll, 2011.
Grissom, Candace U. Fitzgerald and Hemingway on Film: A Critical Study of the Adaptations, 1924-2013. Jefferson, NC: McFarland, 2014.
Hawkins, Ruth A. Unbelievable Happiness and Final Sorrow: The Hemingway-Pfeiffer Marriage. Fayetteville: U of Arkansas P, 2012.
Hays, Peter L. The Critical Reception of Hemingway's The Sun Also Rises. Rochester, NY: Camden House, 2011.
Hendrickson, Paul. Hemingway's Boat: Everything He Loved in Life and Lost, 1934-1961. NY: Knopf, 2011.
Lamb, Robert P. Art Matters: Hemingway, Craft, and the Creation of the Modern Short Story. Baton Rouge: Louisiana State UP, 2010.
- - -. The Hemingway Short Story: A Study in Craft for Writers and Readers. Baton Rouge: Louisiana State UP, 2013.
Larsen, Lyle. Stein and Hemingway: The Story of a Turbulent Friendship. Jefferson, NC: McFarland, 2011.
Mandel, Miriam B. Hemingway's The Dangerous Summer: The Complete Annotations. Lanham, MD: Scarecrow, 2008.
Ott, Mark P. A Sea of Change: Ernest Hemingway and the Gulf Stream: A Contextual Biography. Kent, OH : Kent State UP, 2008.
Plath, James. Historic Photos of Ernest Hemingway. Nashville, TN: Turner, 2009.
Stoltzfus, Ben. Hemingway and French Writers. Kent, OH: Kent State UP, 2010.
Strong, Amy L. Race and Identity in Hemingway's Fiction. NY: Palgrave Macmillan, 2008.
Strychacz, Thomas. Dangerous Masculinities: Conrad, Hemingway, and Lawrence. Gainesville: UP of Florida, 2008.
Trogdon, Robert W. The Lousy Racket: Hemingway, Scribners, and the Business of Literature. Kent, OH: Kent State UP, 2007.
Vernon, Alex. Hemingway's Second War: Bearing Witness to the Spanish Civil War. Iowa City: U of Iowa P, 2011.
Villarreal, René. Hemingway's Cuban Son: Reflections on the Writer by His Longtime Majordomo. Kent, OH: Kent State UP, 2009.
| Top | Ernest Hemingway: A Brief Biography
A Student Project by Scott Kaul (Winter Term 2005)

Note: Members of the online Hemingway List (heming-l@mtu-edu) have pointed out certain errors and inaccuracies in this student biography; some are eliminated and others are highlighted below - PPR, Jan. 2012
Ernest Miller Hemingway was born on July 21, 1899, in Oak Park, Illinois, to Dr. Clarence Hemingway and Grace Hall Hemingway. Oak Park was a mainly Protestant, upper middle-class suburb of Chicago that Hemingway would later refer to as a "town of wide lawns and narrow minds." (Gerogiannis 188) The second among six children, Ernest spent the first two years of his life dressed as a girl by his mother. She called him "Ernestine" and fantasized that he was the twin of his older sister, as she dressed them both in matching dresses and gave them similar hairstyles (Rozkis 233). As he grew older, however, his father stepped in and insisted that Ernest be "raised like a man," teaching him how to behave and introducing him at a young age to hunting, fishing, and boxing, all activities in which he would stay interested for the rest of his life (Gerogiannis).
Hemingway received his schooling in the Oak Park public school system. In high school he was mediocre at sports, joining the football, swimming, basketball, and water polo teams and serving as the track team manager (Nelson 5). He began his journalistic career writing for the school paper, the Trapeze, where he wrote his first articles and often humorous pieces in the style of Ring Lardner, a popular satirist of the time. After graduating in the spring of 1917, against the wishes of his parents, he took a job as a cub reporter for the Kansas City Star. It is here that the seeds of his unmistakable staccato writing style were planted as he followed the rules of the Star's stylebook exactly. "Use short sentences," it said. "Use short first paragraphs. Use vigorous English, not forgetting to strive for smoothness. Be positive, not negative." (Gerogiannis 201)
The allure of the war in Europe, however, was too strong for a young man looking to prove his manliness. After only six months on staff at the Star, Hemingway resigned and attempted to enlist in the army, only to be rejected because of poor vision. Determined to get involved in the war, he joined the Red Cross and was shipped off to Italy as an ambulance driver. His first day on the job, a munitions factory exploded and he had to carry the bodies and body parts of the women who worked in the factory to a makeshift morgue. Only a few weeks later, as he was distributing chocolate and cigarettes to Italian soldiers in the trenches near the front lines, Hemingway was seriously wounded by fragments from an Austrian mortar shell which had landed only a few feet away. Hemingway claimed, despite over 200 pieces of shrapnel being lodged in his legs and being shot in the legs several times, he managed to carry a wounded soldier back to the first aid station. For this feat, he was awarded the Silver Medal for Valor by the Italian government. Because of his tendency to exaggerate his heroism in telling of his own feats, however, some believe that Hemingway may have changed some details about the event in retelling it or fabricated it altogether (Rozkis 235).
After rehabilitating in Milan for a short time, Hemingway returned home and was celebrated as a war hero. He was nineteen years old and only a year out of high school, but his short experience in the war had matured him beyond his years. Living with his parents, who never quite appreciated what their son had been through, was difficult. His short story "Soldier's Home" reflects his feelings of frustration and shame upon returning home to a world that still has a romantic notion of war and fails to understand its psychological impact.
Shortly after meeting Hadley Richardson in early 1920 and marrying her in 1921, Hemingway was offered a job as European correspondent for the Toronto Star Weekly. Eager to return to Europe, he accepted and he and his new bride moved to Paris, where many budding writers were flocking and the living expenses were low, thanks to the skyrocketing value of the American dollar following the war. He soon began writing fiction earnestly and immersed himself in the local literary scene, becoming well acquainted with other writers such as Gertrude Stein, F. Scott Fitzgerald, and James Joyce. With Fitzgerald, he formed a close literary friendship, even to the point that Fitzgerald convinced him to remove the first chapter of The Sun Also Rises, which explains the backgrounds of all the characters (Gerogiannis 190). After months of intense writing in Paris, Hemingway had completed the manuscripts of several short stories, poems, and novels, including A Farewell to Arms and The Sun Also Rises, but, just before Christmas, Hadley put all of these manuscripts in a valise to bring them to him at a Lausanne Peace Conference, and they were stolen and never recovered. Luckily, two manuscripts that happened to be in other hands at the time were able to be published: Three Stories and Ten Poems, and the story "My Old Man," which was selected to appear in The Best Short Stories of 1923.
Hadley and Ernest moved from Paris to Toronto where there son was born in October of 1923. They landed in Quebec City and travelled from there to Toronto. I believe EH made a brief visit home to Oak Park in December 1923 before returning to Europe in Jan. 1924 and they caught the ship back to Europe from New York. While working for the Toronto Star, (Sept.-Dec. 1923) he also travelled to New York with Lloyd George but he and Hadley resided in Toronto, first at the Selby Hotel and then on Bathurst Street. My sources for this information are those referred to earlier by other members of the list, in particular Reynolds. - Marianne Miller.) In December of 1924 the collection of short stories in our times (characterized by its lowercase title) was published in Europe and almost a year later, the American version, In Our Times, which was expanded greatly from its European counterpart, was published by Boni and Liveright. He soon wrote a parody of his once friend Sherwood Anderson entitled The Torrents of Spring. Raymond S. Nelson writes that he wrote this "partly to vent his anger at what he felt was Anderson's compromising style and partly to break his contract with Boni and Liveright, Anderson's publisher." (7) The publishing house refused to publish it and Hemingway was free to have Charles Scribner publish not only Torrents, but also his first major novel, the second version of The Sun Also Rises.
| Top | In early 1925, the Hemingways met Pauline Pfeiffer, a fashion editor for Vogue magazine. She was intrigued greatly by Ernest and his writing and soon began spending a great deal of time with the family. By mid 1927, it became apparent, however, that the feelings between Pauline and Ernest were more than friendly and, after several months of fighting, Hadley set up a separate residence in Paris. Hadley made an agreement that if Ernest and Pauline could stay apart for one hundred days and were still in love after, she would grant a divorce so the two could be together. Pauline immediately left for the States. It is during these hundred days that Hemingway wrote most of the short story collection Men without Women. Having fulfilled the terms of the agreement, Pauline returned to Paris at which time Ernest divorced Hadley and promptly married Pauline (Nelson 6).
In 1928, seeking to start a new life, the Hemingway and his new bride moved to Key West, Florida, where he worked casually on A Farewell to Arms and spent most of his days fishing. Hemingway's second son, Patrick, and third son, Gregory Hancock, were born. The Hemingways took an extended visit to Ernest's parents' home and his parents scolded him for the subject matter of his writing. They said they "hoped that he would write about the joyous, and optimistic, and spiritual things in life." (Nelson 8) Shortly after the visit, suffering from countless physical ailments and a dismal financial situation after speculative real estate purchases in Florida never panned out, Hemingway's father shot himself in the head. Ernest claimed that his father was "the only one he ever really cared about," and his attitude toward his mother soured even further after his father's suicide, calling her "an All-American bitch." (Nelson 8)
After A Farewell to Arms Hemingway, published his 1932 Spanish bullfighting dissertation, Death in the Afternoon, an encyclopedic book on bullfighting with observations on Spanish culture, writers, food, people, politics, and history. Hemingway wrote about the purpose of the book, "It is intended as an introduction to the modern Spanish bullfight and attempts to explain that spectacle both emotionally and practically. It was written because there was no book which did this in Spanish or in English." Many critics slammed Hemingway's change from writer to actual character in one of his own works, taking issue with his blustery tone, particularly when criticizing writers. Laurie E. Rozkis writes that this "was the genesis of the public 'Papa' image that would grow over the remaining 30 years of his life, at times almost obscuring the serious artist within.'" (237) He followed with Winner Take Nothing, a volume of short stories that had a mediocre critical reception, but quickly returns to non-fiction. In the summer of 1933, Hemingway and Charles Thompson journeyed to Africa for a big game safari, inspired by Teddy Roosevelt's writing of African hunting exploits as a boy. Hemingway spent three months hunting on the Dark Continent and published all his observations in Green Hills of Africa. While the book contained some writing about Africa and its animals, it was overshadowed by Hemingway's digression into criticism of his friends and portrayal of himself as courageous and skillful while depicting others, including Thompson, as mean-spirited and selfish. In a review, the literary critic Edmund Wilson said of Hemingway "he has produced what must be the only book ever written which makes Africa and its animals seem dull." (Gerogiannis 203) Shortly after returning home, he published To Have and Have Not, which also did not fair well with critics.
In 1937 Hemingway traveled to Spain to cover the Spanish Civil War for the North American Newspaper Alliance. The civil war caused a marital war in the Hemingway household as well. Pauline sided with the Fascist Franco Regime in Spain because of is pro-catholic stance, while Hemingway supported the communist loyalists who in turn supported the democratically elected government. During this trip he met a young writer named Martha Gellhorn in Key West and the two conducted a secret affair for almost four years before Hemingway divorced Pauline and married Martha. Eventually the loyalist movement failed and the Franco led rebels won the war and installed a government in 1939. Though his side lost the war Hemingway used his experiences there to write the novel For Whom the Bell Tolls, a play titled "The Fifth Column" and several short stories. For Whom the Bell Tolls was hugely successful. Sinclair Lewis wrote that it was "the American book published during the three years past which was most likely to survive, to be know fifty years from now, or possibly a hundred...it might just possibly be a masterpiece, a classic." (Rozkis 240) It was unanimously voted the best novel of the year by the Pulitzer Prize committee, but was vetoed by the president of Columbia University because of its highly-political content; no prize was awarded that year (Gerogiannis 205).
Hemingway and Martha moved to a large house outside Havana, Cuba, and named it Finca Vigia ("Lookout Farm"). During this time, Ernest struggled with his writing. His notorious drinking increased as he worked on what would become the heavily edited and posthumously published novels Islands in the Stream and The Garden Of Eden, and later took on another assignment, covering the Chinese-Japanese war in 1941 for PM magazine. Being "unimpressed" with Asia, he quickly returned to Cuba, where he began a self-assigned undercover operation to hunt down German submarines in the Atlantic Ocean. Hemingway gathered some of his friends, a group he called the "crook factory," hoping that if he ever located a German sub he could get close enough to drop a bomb down the hatch. Rozkis writes that "Nothing ever came of their sub hunts except a good time fishing and drinking together, in the process irritating Martha who thought Hemingway was avoiding the responsibilities as a great writer to report the real war then raging in Europe." (243)
"My friend, scholar Frank DeMarco (of the list) points out that Spruille Braden, American ambassador in Havana at the time, relates the origin of Hemingway's crook factory in his memoir Diplomats and Demagogues: He invited Hemingway to recruit an informal "people's" intelligence network to gather the word from the street, so to speak, for him about the potential threat of 300,000 Spaniards in Cuba, a significant percentage of them considered by Cuban Prime Minister Carlos Saladrigos to be violent Falangists, who could be working subversibly for a Spanish government only nominally neutral in the war. Hemingway did so, and it operated until the first FBI agent appeared in Havana, assigned as "Legal Attache." That gentleman, Ray Leddy, considered Hemingway as a competitor and got Braden to shut down the crook factory, though he considered that it had done an outstanding job. Thereupon upon Hemingway proposed his patrols aboard Pilar of the Cuban north coast and Braden, agreeing, saw to its outfitting, manning, and operation. (P. 282 et seq.)
Note that the patrols were not part of the crook factory, but a separate operation. Your Laurie Rozkis source is going off half-cocked with the unfortunate cliche assertion that nothing ever came, etc., and paraphrase of Hemingway's disgruntled about-to-be-ex-wife's disparaging remark. See "A Sailor Looks at Hemingway's Islands," Walter Houk, North Dakota Quarterly, Vol. 73, Nos. 1 and 2, Winter/Spring 2006." - Walter Houk
"A good source for information about Hemingway's sub-hunting is The Hemingway Patrols by Terry Mort. One of the first things he points out is that there were many captains who were doing the same thing with their own boats, and that a few sightings, radioed to the Coast Guard resulted in at least the interception of a few U-Boats." - Peter Krynicki
"As Walter said, Ambassador Braden had no doubt of the worth of Hemingway's services. See attached scans of pages from Braden's book.
<http://www.hologrambooks.com>
www.hologrambooks.com/ <http://www.hologrambooks.com/>
<http://www.hologrambooks.com/> <http://www.hologrambooks.com/hologrambooksblog/> www.thehistoricalcontext.wordpress.com/ <http://www.thehistoricalcontext.wordpress.com/>" - Frank DeMarco
Frustrated, Martha left for London as a war correspondent for Collier's. Hemingway followed shortly. He first spent his time with the Royal Air Force and even participated in the D-Day invasion of France. Afterwards, he joined with the 22nd Infantry Regiment to follow them as they ousted German forced from Rambouillet and Paris. During these operations, Hemingway claims to have actually participated in the warfare, contrary to regulations for war correspondents, and many of his tales almost put him in violation of the Geneva Convention. However, because his stories did not match those of high-ranking officials, the matter was dismissed (Nelson 10).
During this time he met Mary Welsh, another correspondent for Time. She and Hemingway openly conducted a courtship in London and then in France. Hemingway wrote, "Funny how it should take one war to start a woman in your damn heart and another to finish her. Bad luck." (Rozkis 244) He once again divorced his wife for another woman, and he and Mary were married in March of 1946. With the war over, however, life seemed dull and Hemingway still struggled with his writing. He continued drinking more heavily and womanizing, as he began an affair with Adiana Ivancich. He struggled with, but finally finished The Old Man in the Sea in 1952, and secured a deal with Life to publish it. The story received immediate critical praise, winning him the Pulitzer Prize which had eluded him earlier.
In 1954 Hemingway and Mary vacationed in east Africa to take a tour of lakes and waterfalls. During one flight, the pilot dove to avoid a flock of birds and hit a telegraph wire. The plane was badly damaged and made a crash landing, but no one suffered any major injuries. (Actually, the plane hit a telegraph wire across the Nile just below Murchison Falls in Uganda. Rescued the next day by a tourist boat, they went down the Victoria Nile to Lake Albert and Butiaba (also in Uganda) nearby on the shore of the lake, where the second plane crashed and burned. They never came near Lake Victoria and so of course neither could they head toward Uganda. . . . My source for the plane crash information was Hemingway's article "The Christmas Gift," in Look Magazine, April 20, 1954, which has a map showing the entire flight from Nairobi. - Walter Houk) Hemingway, using his head as a battering ram, broke through the door to escape from the flaming plane (Rozkis 245). Jeffrey Meyer lists the various injuries Hemingway sustained in the crash and escape: "His skull was fractured, two discs of his spine were cracked, his right arm and shoulder were dislocated, his liver, right kidney and spleen were ruptured, his sphincter muscle was paralyzed by compressed vertebrae on the iliac nerve, his arms, face and head were burned by the flames of the plane, his vision and hearing were impaired." (173) Later that year Hemingway was awarded the Nobel Prize for Literature, but due to his injuries was unable to attend the ceremonies in Sweden.
In the late fifties, the Hemingways moved from Cuba to Ketchum, Idaho so Ernest could hopefully recover from his deteriorating health. He wrote A Moveable Feast, his memoirs. He checked twice into the Mayo Clinic to be treated for his physical ailments as well as depression, but was not helped much. He began receiving shock treatment but, as Meyers writes, "one of the sad side effects of shock therapy is the loss of memory, and for Hemingway it was a catastrophic loss. Without his memory he could no longer write, could no longer recall the facts and images he required to create his art." (205) Having lost his ability to write and still ailing physically, he lost the will to live. On July 2, 1961, three weeks before his 62nd birthday, Hemingway shot himself in the head with a shotgun.
Ernest Hemingway is one of the 20th century's most important and influential writers. His writings were often of stoic, macho, adventurous figures, and he often drew heavily on his own experiences for his writing. His writing also reflected his trouble with relating to women and his tendency to treat them as objects, as he had four marriages and countless affairs, highlighting his theme of alienation and disconnection. His recognizable prose style and innovative "iceberg theory," in which the author only gives the reader the necessary information and leaves the rest for the reader to figure out, have gained him an immovable place in American literature as he has never fallen out of favor with academic studies or critics. His biggest theme of "grace under pressure," keeping one's dignity in the face of extreme situations, is one he strove to keep in his own life, but found in the end that he, too, was only human.
Works Cited
Gerogiannis, Nicholas. "Ernest Hemingway." Dictionary of Literary Biography: American Authors in Paris. Vol. 4. Detroit: Gale, 1982. 187-211.
Meyers, Jeffrey. Hemingway: A Biography. New York: Harper & Row, 1985.
Nelson, Raymond S. Ernest Hemingway: Life, Work, and Criticism. Fredericton, N.B., Canada: York Press, 1984.
Rozkis, Laurie E. Macho, Macho Man: Ernest Hemingway. New York: Pearson Press, 1999.
"Hills Like White Elephants"
1. In "Hills Like White Elephants" what's the purpose of the trip the two travelers are taking? Why are the speakers only identified as "a man" and "girl"? How do these designations affect your reading of the story? What nickname does the man use for the girl?
2. How do the descriptions of the landscape relate to the conversation between the two travelers? What about the discussion of drink orders? The railroad station setting is important to the progress, the plot, of the story. How does this physical setting parallel the thematic concerns of the story as well? How does the title relate to the story?
3. The railroad station setting is important to the progress - the plot - of the story. How does this physical setting parallel the thematic concerns of the story as well?
A Farewell to Arms
1. What could Henry mean by thinking, "Abstract words such as glory, honor, courage, or hallow were obscene beside the concrete names of villages, the numbers of roads, the names of rivers, the number of regiments and the dates"? How does this statement relate to the ethics of the prose style of the story?
2. What is the effect of Henry's description of battle? What information do and don't we get? How does this statement compare with other descriptions of warfare you may be familiar with?
MLA Style Citation of this Web Page
Reuben, Paul P. "Chapter 7: Ernest Hemingway." PAL: Perspectives in American Literature- A Research and Reference Guide. URL: http://www.paulreuben.website/pal/chap7/hemingway.html (provide page date or date of your login).

| Top |