Chapter 8: American Drama

Sidney 'Paddy' Chayefsky
1923 - 1981

© Paul Reuben October 20, 2016 E-Mail
Page Links: | Primary Works | Awards | Selected Bibliography 1980-Present | MLA Style Citation of this Web Page |
Site Links: | Chap. 8: Index | Alphabetical List | Table Of Contents | Home Page |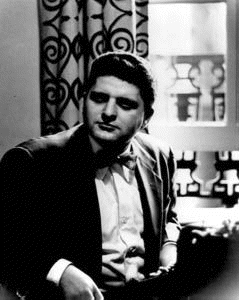 Source: Chayefsky, Paddy
True Glory; No T.O. For Love; True Glory, 1945; A Double Life, 1947; As Young as You feel, 1951; Marty, 1953; Middle of the Night, 1956; The Bachelor Party , 1957; The Goddess, 1958; The Tenth Man; Middle of the Night , 1959; Gideon, 1961; The Americanization of Emily ; The Passion of Josef D., 1964; The Latent Heterosexual, 1968; Paint Your Wagon , 1969; The Hospital, 1971; Network, 1976; Altered States, 1980.
Sylvania Television Award, 1953; Screen Writers Guild Award, 1954 and 1971; Palm d'Or, Cannes Film Festival, 1955; Look Magazine Award, 1956; New York Film Critics Award 1956, 1971 and 1976; Venice Film Festival Award, 1958; Edinborough Film Festival Awards, 1958; Critics' Prize, Brussels Film Festival, 1958; British Academy Award, 1976; Academy Award for Screenwriting for Marty (1953); Academy Award for Screenwriting for The Hospital (1971); Academy Award for Screenwriting for Network (1976)
Selected Bibliography 1980-Present
Clark, Randall. American Screenwriters: Second Series. Detroit: Gale Research Company, 1986.
Cohen, Sarah B. ed. From Hester Street to Hollywood: The Jewish-American Stage and Screen. Bloomington: Indiana UP, 1983.
Considine, Shane. Mad As Hell: The Life and Work of Paddy Chayefsky. Lincoln, Nebraska: Iuniverse.com Inc., 2000.
Itzkoff, Dave. Mad as Hell: The Making of Network and the Fateful Vision of the Angriest Man in Movies. NY: Times, 2014.
MacNicholas, John. Twentieth-Century American Dramatists: Part 1: A-J. Detroit: Gale Research Company, 1981.
Rood, Karen L and Jean W. Ross, and Richard Ziegfeid. Dictionary of Literary Biography: Yearbook:1981. Detroit: Gale Research Company, 1982.
| Top | Sidney 'Paddy' Chayefsky (1923 - 1981): A Brief Biography

A Student Project by Heather Parker
Sidney "Paddy" Chayefsky was a man who changed the television, play, and movie worlds. Many of his works were not a popular success, as his dark, satirical pieces were ahead of their time. However, Chayefsky is important, both because of his works and because he was a success in a time where it was hard for a screenwriter to succeed.
On January 29, 1923, Sidney Chayefsky was born in the Bronx to Harry and Gussie (Stuchevsky) Chayefsky, and he was the youngest of three boys. His parents had an enormous effect on his literary life and his personal development, especially his mother. Harry Chayefsky was a Jewish Russian immigrant who fled Moscow in 1907 to escape persecution. His father was a prosperous president of Dellwood Dairies, and a kind person. He instilled a love of Yiddish theater in Chayefsky. His father would also have Chayefsky sing popular songs in front of friends. His mother also encouraged the arts, but she elected to take a more refined approach. She gave Chayefsky piano lessons and she encouraged him to read, although he did not read conventional children's stories. Instead, he read classics and realistic novels and stories. His mother also passed on her intellect and her natural curiosity. However, his mother influenced him in a negative way as well (Considine 3-7).
His mother not only gave him the opportunity to excel, but in a way, she also forced him to excel. She used treats to bribe him to take on extra hours of piano lessons (Considine 6-7). The lessons tired him out to the point where he did rebel: "One day, prior to an important recital, he broke into an unexpected burlesque of his father's songs." (Considine 7) An analyst later in life reasoned that this early pushing to excel may have built up rage in Chayefsky, which was only expressed years later through his alter ego, "Paddy" because his love of his parents prevented him from directing any at them (Considine 153-154). Chayefsky also turned to words and writing to disperse some of his rage.
Chayefsky first found his gift for words and writing in school. When the Depression struck, he was forced to move and attend a new school. For a long time he would not step outdoors for fear of being picked on. His father eventually forced him to go outside, and he ended up meeting a group of tough-looking Irish and Italian boys. Without realizing it, Chayefsky broke into a tirade of remarks, satirizing all of the people on the street. The boys enjoyed his outburst, and he became friends with the group. This outburst was a sign of the persona he would later create to protect the sensitive person that lied inside Sidney Chayefsky. Chayefsky honed his writing skills by writing creative stories for the school newspaper, The Magpie. His inspirations were "dime-store novels, the slick magazines, and the classics." (Considine 15) After high school, he worked in his uncle's printing shop during the summer, and he joined City College in New York in the fall. He graduated in 1943 with a Social Sciences B.A., and was drafted by the army soon after. Being in the army gave his emerging persona an opportunity to override his true personality, and surprisingly, gave him a chance to further develop his creative skills (Considine 10-17).
| Top | In the army, Chayefsky received his nickname, "Paddy," which he kept and used professionally. The only one who refused to call him "Paddy" was his mother. Chayefsky did not want to be on K.P. duty, so he told his lieutenant that he had to attend Mass. The lieutenant pointed out that Chayefsky had previously stated that he was Jewish. Undeterred, Chayefsky told the lieutenant that his mother was Irish. The lieutenant gave in, and gave Chayefsky the nickname, "Paddy." Chayefsky became a completely different person using the nickname "Paddy." He started eating bacon, which was against his Jewish tenets. Sidney Chayefsky would not have done such a thing before (Considine 18-19). He rarely swore, but for Paddy Chayefsky, "obscenity soon became a second language." (Considine 19) Paddy was created to protect Sidney from his rage and just as he used his words, to protect him from other people:
Sidney had the talent, the genius. He was the silent creator, the one who thrived in isolation, until he was stuck, and then it was Paddy who would come to his aid, taking the unformed material and ramming it past friends and colleagues, to be discussed and fixed. Then he would retreat, leaving Sidney in peace to get the job finished, when he would reemerge as Paddy the producer, the protector, the agent, who wheeled and dealed and pushed to get the most money and the best creative terms for poor Sidney. (Considine 19)
In 1944, Chayefsky stepped on a land mine while out scouting for which he received a Purple Heart. This unfortunate incident turned out to be a blessing in disguise (Considine 22).
While in the infirmary, Chayefsky met Garson Kanin, a captain in the U.S. Army's Special Service Division. Chayefsky related his land mine incident to Kanin. Kanin enjoyed the humorous and witty way that Chayefsky related the tragic event and assigned Chayefsky to the Special Service Division. In the division, Chayefsky worked on a movie called True Glory with Kanin, and he wrote a few skits and jokes, including a play called No T.O. for Love (Considine 22-25).
In 1946, after he was discharged from the army, he worked in his uncle's print shop again, and Kanin gave him five hundred dollars to write a play called "Put Them All Together." It was not produced, but it did inspire him to go to Hollywood to write screenplays. During that year, Paddy's father died from a heart attack. His father's death inspired him to finish a play called M is for Mother. Movie director Michael Gordon from Universal Pictures saw the play and recommended that he be hired as an apprentice writer. In 1949 he wrote a screen treatment for a story called "The Great American Hoax." It was sold to Good Housekeeping, but it was never published. Paddy also worked for Twentieth Century Fox during his time in Hollywood, but he could not stand the assembly-line way that scripts were treated. His work would be touched by several other people and changed before it became a movie. He left Hollywood (Considine 25-38). Before leaving, however, he met and married Susan Sackler in 1949 with whom he later had a son, named Dan (Frank 85).
Chayefsky returned to New York and received a job writing for comedian Robert. Q. Lewis. He wrote a play called "The Man Who Made the Mountain Shake" which attracted the attention of Elia Kazzan, but the play was never produced. In the early 1950s, Chayefsky wrote radio scripts for the Theatre Guild of the Air and Cavalcade of America, and he also wrote television episodes for Danger and Manhunt. His work on the television episodes attracted the attention of Fred Coe, the producer of Philco-Goodyear Playhouse. In 1952, the producer gave him a short story to adapt, which Chayefsky turned into a teleplay called Holiday Song. The play was critically acclaimed, and it aired again in 1954. Chayefsky insisted that all of his work for Philco-Goodyear be original, which it was, and it was based on his own experiences. In 1953, six of his television plays were produced, including Printers' Measure, The Bachelor Party, and The Big Deal (Frank 85-86). "The highlight of 1953, the peak of Chayefsky's television career, and one of the most acclaimed of all live television dramas, was Marty." (Frank 86)
| Top | Marty struck a chord with viewers because of its universal theme. Two homely, lonely people, a butcher named Marty and a woman named Clara Davis, meet each other at a party. His friends tease him about going out with a "dog," and Marty suddenly explodes and informs his friends that he had a good time with the woman: "If we have enough good times, I'm going to go down on my knees and beg that girl to marry me." (qtd. in Frank 86) In 1955, Chayefsky wrote a screenplay for the movie version. Once again, Marty was a hit, winning three academy awards. Chayefsky won his first Oscar for best screenplay (Frank 86).
In 1955, Gore Vidal wrote the screenplay for Chayefsky's television play The Catered Affair, and in 1957, Chayefsky wrote the screenplay for Bachelor Party. Both movies were not as attractive to the mainstream audience because of their dark nature. For example, The Bachelor Party questioned the idea of marriage and commitment. As a one-hour television episode, it was tolerable, but the audiences of the fifties were not quite ready for those kinds of movies. In 1958, Chayefsky's screenplay, The Goddess, a film loosely based on the life of Marilyn Monroe, was produced and was neither a critical success nor a popular success. In 1959, Chayefsky's last television screenplay to turn into a movie was Middle of the Night. It was also a hit Broadway play. The movie was critically successful, but not publicly, again due to the dark nature and the questioning of marriage (Frank 86-88).
Chayefsky wrote a few more Broadway plays such as The Tenth Man (1959) and Gideon (1961). The Tenth Man ran for two years. He also wrote another screenplay, The Americanization of Emily, but audiences also found this film too irreverent since it questioned the military. In 1969, he adapted Paint Your Wagon, a musical by Lerner and Lowe. It flopped as well, but this time because "musical comedy was not Chayefsky's forte." (Frank 89) Finally, in 1971, he was able to capture the audience's attention again (Frank 88-89).
In 1971, Chayefsky's screenplay, The Hospital, a dark comedy about a big-city hospital where promiscuous interns are being killed by a maniac, was produced. The movie was both a critical and commercial success. Chayefsky received his second Oscar for screenwriting for the movie. Audiences liked it because "the public was ready for a sacred cow to be attacked." (Frank 89) He did not write any more screenplays until 1976, when his most powerful satire, Network was produced. Chayefsky received his third Oscar for screenwriting. This time, the television networks were attacked. Again, it was a critical and popular success. In 1980, Chayefsky's last film, Altered States, based on a novel he wrote that satirized the scientific research community, was produced, although it did not have the same success as the first two (Frank 89-90).
Chayefsky died on August 1, 1981 from cancer. His son recalls that his last moments seemed peaceful, almost as if he had reconciled the anger inside him (Considine 396). Chayefsky did not have many popular successes, but his works were very prolific, ranging from plays to television and from books to movies. Many of his movies were ahead of his time, and Chayefsky remains the only person to have received three Oscars for screenwriting. Ironically, he died a few weeks before his first big success, Marty, was rebroadcast by PBS for a second time.
Works Cited
Considine, Shane. Mad As Hell: The Life and Work of Paddy Chayefsky. Lincoln, Nebraska: Iuniverse.com Inc., 2000.
Frank, Sam. "Paddy Chayefsky." The Dictionary of Literary Biography Volume 44: American Screenwriters. Ed. Randall Clark. Ann Arbor, Michigan: Gale, 1986. 83-91.
MLA Style Citation of this Web Page
Reuben, Paul P. "Chapter 8: Sidney 'Paddy' Chayefsky." PAL: Perspectives in American Literature- A Research and Reference Guide. URL: http://www.paulreuben.website/pal/chap8/chayefsky.html (provide page date or date of your login).

| Top |