6: Late Nineteenth Century
and Naturalism

Charlotte Perkins Gilman
1860-1935

© Paul P. Reuben October 18, 2016 E-Mail
Translations of this Page: | German Translation | Russian Translation | Polish Translation |
Page Links: | Primary Works | Selected Bibliography 2000-Present | Study Questions | MLA Style Citation of this Web Page |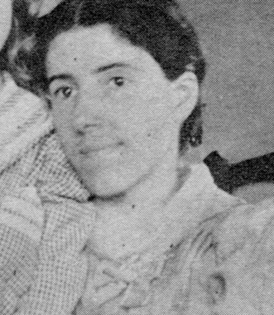 Source: Legacy Photo Gallery
The yellow wallpaper, 1892. Afterword by Elaine R. Hedges. NY: Feminist P, 1973. PS1744 G57 Y4

Women and economics; a study of the economic relation between men and women as a factor in social evolution, 1898. Edited by Carl N. Degler. NY: Harper & Row 1966. HQ1426 .G45

The home, its work and influence, 1903. NY: Source Book P 1970. HQ734 .G5

Forerunner, vols 1-7, 1901-1916. (Gilman's magazine which published nearly 200 of her short stories.)

The Man-Made World, 1911.

The Living of Charlotte Perkins Gilman; an autobiography, 1935. NY: Arno P, 1972. PS1744.G57 Z5

Nonfiction

"Women and Economics: A Study of the Economic Relation between Men and Women as a Factor in Social Evolution" (1898); "Concerning Children" (1900); "The Home: Its Work and Influence" (1903); "Human Work" (1904); "The Punishment That Educates" (1907); "Women and Social Service" (1907); "The Man-Made World: Or, Our Andocentric Culture" (1911); "His Religion and Hers: A study in the Faith Of Our Fathers and the Work of Our Mothers" (1923)

Novels

What Diantha Did (1910); Moving the Mountain (1911); The Crux (1911); Benigna Machiavelli (1914); Herland (1915); With Her in Ourland (1916)

The Crux: A Novel. Tuttle, Jennifer S. ed. Newark: U of Delaware P, 2002.

The Crux. Seitler, Dana. introd. Durham, NC: Duke UP, 2003.

Poetry

In This Our World (1893)

Short Stories

"The Yellow Wallpaper" (1892); "The Rocking Chair" (1893); "The Cottagette" (1910); "Making a Change" (1911); "Turned" (1911)

Charlotte Perkins Gilman's The Yellow Wall-Paper: A Sourcebook and Critical Edition. Golden, Catherine J. ed. NY: Routledge, 2004.

The Yellow Wall-Paper by Charlotte Perkins Gilman: A Dual-Text Critical Edition. St. Jean, Shawn (ed. and introd.). Athens, OH: Ohio UP, 2006.

Autobiography

The Living of Charlotte Perkins Gilman, an Autobiography (1935)
Selected Bibliography 2000-Present
Abate, Michelle A. Tomboys: A Literary and Cultural History. Philadelphia, PA: Temple UP, 2008.
Allen, Judith A. Feminism of Charlotte Perkins Gilman: Sexualities, Histories, Progressivism. Chicago, IL: U of Chicago P, 2009.
Beer, Janet. Kate Chopin, Edith Wharton and Charlotte Perkins Gilman: Studies in Short Fiction. NY: Palgrave Macmillan, 2005.
Davis, Cynthia J. Charlotte Perkins Gilman: A Biography. Stanford, CA: Stanford UP, 2010.
Fishkin, Shelley F. Feminist Engagements: Forays into American Literature and Culture. NY: Palgrave Macmillan, 2009.
Hill, Michael R. ed. Families, Marriages, and Children. New Brunswick, NJ: Transaction, 2011.
Horowitz, Helen L. Wild Unrest: Charlotte Perkins Gilman and the Making of the 'The Yellow Wall-Paper.' NY: Oxford UP, 2010.
Robbins, Ruth. Literary Feminisms. NY: St. Martin's, 2000.
Salazar, James B. Bodies of Reform: The Rhetoric of Character in Gilded Age America. NY: New York UP, 2010.
Shaheen, Aaron. Androgynous Democracy: Modern American Literature and the Dual-Sexed Body Politic. Knoxville, TN: U of Tennessee P, 2010.
Showalter, Elaine. ed. The Vintage Book of American Women Writers. NY: Vintage, 2011.
Sutton-Ramspeck, Beth. Raising the Dust: The Literary Housekeeping of Mary Ward, Sarah Grand, and Charlotte Perkins Gilman. Athens: Ohio UP, 2004.
Van Wienen, Mark. American Socialist Triptych: The Literary Political Work of Charlotte Perkins Gilman, Upton Sinclair, and W. E. B. Du Bois. Ann Arbor: U of Michigan P, 2012.
Weinstock, Jeffrey A. Scare Tactics: Supernatural Fiction by American Women. NY: Fordham UP, 2008.
| Top | Charlotte Perkins Gilman (1860-1935): A Brief Biography
A Student Project by Jeanna Fox
Charlotte Perkins Gillman was born in Hartford, Connecticut on July 3, 1860 to parents Fredrick Beecher Perkins and Mary (Wescott) Perkins. Her father, Fredrick, was a librarian, a writer, and a book editor. He was said to have learned nine languages before his marriage to Mary. Gilman was reported to be the last of three pregnancies for Mary. Upon Gilman's birth, the doctors told Mary that another pregnancy would kill her. Immediately after this announcement, Fredrick left the home. Gilman writes that she is unsure if the two events are related. It was reported that Mary later gave birth to a fourth child, but that child also died.
Mary raised Gilman and her brother Thomas A. Perkins in the brink of poverty after 1866 when her father abandoned them. Her mother, a talented musician, sold her piano when Gilman was three in order to pay the butcher. She never owned another one. The broken family was forced to move "nineteen times in eighteen years to fourteen difference cities." (Gilman vi) Gilman's father, who made infrequent visits, encouraged her education in the areas of reading in the sciences and history. Gilman was also an avid reader, and she credits her father saying that if ever she needed reading advice, he was the man to call for suggestions. Her formal education can be considered less than exemplary as she only attended a two-year course at the Rhode Island School of Design. She claimed that she had trouble in school because its ways and her ways didn't fit together. She once took a test in grammar in which she claims that she came her closest ever to getting a 100 percent, but her teacher removed half the points because she placed three curly lines under her name. Calisthenics was one of her most favored subjects and she later writes that she encouraged her former teacher to open a gym for girls. She attended this gym twice a week for three years taking dancing classes, playing the "racquet," and running.
Gilman's other interest at this young age was of her ancestry. At the age of fifteen Gilman began creating a list of famous ancestors. Among them was King Edward III who she quickly realized was also ancestor to 131,072 other members of the country (Gilman 2). To Gilman's list of famous ancestors, she was most proud to add the names of Lyman Beecher (her grandfather and a Calvinist preacher), Henry Ward Beecher (writer and clergyman) and Harriet Beecher Stowe (novelist). She credits this lineage for giving her the "Beecher urge to social service, the Beecher wit and gift of words." (Gilman 6)
Life for Gilman was, however, not all athletics and exploration of history. She had to work. To help support her family, she designed greeting cards, taught art, and was a governess. In 1884 she married an aspiring artist Charles Walter Stetson. In her early marriage, she writes that she developed a depression and an illness that left her very weak. A year later she gave birth to their only child, Katharine Beecher and now recognizing her condition as being with child, Gilman and Charles became hopeful that she would improve. Following the birth of Katharine, however, Gilman fell deeper into her depression. Her mother, being a consummate lover of babies, came to her rescue and took charge of Katharine's care. Gilman first attempted to recover from the depression by taking a long trip to California. She saw immediate results and was so hopeful that she anxiously returned home to her husband and baby where the depression also returned. Afterward, she voluntarily sought help from Dr. S. Weir Mitchell's famous "rest cure" spending months being cared for in his institute. Following her unsuccessful stay in the institute Dr. Mitchell sent her home and prescribed that she refrain writing and limit her reading time. Gilman later wrote about his advice saying that he told her to, "Live as domestic a life as possible. Have your child with you all the time. Lie down an hour after each meal. Have but two hours' intellectual life a day. And never touch pen, brush or pencil as long as you live." (World Authors 979) The "rest cure" nearly drove Gilman mad, and her time with Dr. Mitchell later inspired her to write "The Yellow Wallpaper," a story about a woman who, following the prescription, actually suffers from delusions. It was first published in the New England Magazine and later reprinted in Great Modern American Stories at the request of author and admirer William Dean Howells. This story brought her many good responses from women who had suffered from depression. She writes that she sent a copy of "The Yellow Wallpaper" to Dr. Mitchell and while she never heard a reply from him, she did later hear that he modified his "rest cure." For this change, Gilman felt some satisfaction.
In 1888 Gilman fled to California, later bringing Katherine to live with her. She supported Katherine, herself, and later her mother by running a boarding house. Her time in California was spent gaining status as a writer, social critic, and lecturer. She writes that, "With Pasadena begins my professional 'living.'" (Gilman 107) In what she calls her first "year of freedom," she wrote thirty-three short articles, twenty-three poems, and ten child verses. She lectured to women's clubs, men's clubs, labor unions, suffrage groups, church congregations, and Nationalist clubs. She writes that all these lectures were written down and that as of the time of her autobiography, she still had them. Gilman also became a Nationalist during this time.
| Top | Meanwhile, her marriage to Stetson had dissolved and they mutually agreed to a divorce in 1894. Stetson later married Gilman's closest friend, Grace Ellery Channing. The three agreed that Katharine would be best raised with her father and Grace. This decision caused much negative talk amongst society about Gilman as she was accused of "abandoning" her child and being an "unnatural mother." (Gilman viii) To cope, she left California in 1895 and from that time through 1900 Gilman lived a somewhat nomadic life as a voracious lecturer and writer. She also spent this time she writing her first book In This Our World a collection of poems with feminist themes. She also wrote Women and Economics about the "socioeconomic factors which force women into domestic slavery." (World Authors 979) Other social essays written over the next twenty years include Concerning Children, The Home, Human Work, and The Man-Made World. She single handedly wrote and edited a magazine called Forerunner in which she serialized her novels What Diantha Did, The Crux, Moving the Mountain, and Herland.
In 1900 she married her first cousin George Houghton Gilman. The two lived in New York until 1922 when they moved to Norwich, Connecticut where she wrote His Religion and Hers. George died in 1934, and two years later Gilman was diagnosed with inoperable cancer. Following her husband's death, she returned to Pasadena, California to be near her daughter. They were also joined by Grace Channing Stetson, now a widow. In 1935 Gilman finished her final piece, her autobiography, and on August 17, 1935 she committed suicide with a dose of chloroform that she had been accumulating for some time.
It appears that in her lifetime, Gilman was well respected among her peers and socialist circles. Her original attempt at publishing "The Yellow Wallpaper" failed as Horace Scudder, the editor of The Atlantic wrote, "that it was so terribly good that it ought never to be printed." (Howells 118) It was eventually published in New England Magazine and later reprinted by William Dean Howells in Great Modern American Stories. Regardless of the admiration of her ideas, it seems that there was notice of poor ability in some aspects of her work. Ann J. Lane wrote, "Many Gilman enthusiasts do not much like her fiction. They consider it too ideological, too didactic. Gilman mischievously used the commonly shared forms and structures of her day—farces, domestic novels, mysteries, adventure stories—and infused them with her own brand of feminism and socialism." (SSC 125) She also notes that, "Gilman gave little attention to her writing as literature, and neither will the reader. She wrote quickly, carelessly, to make a point." (SSC 125) Her socialist writings, however, seemed to be praised in all respects. She was noted for her dedication to feminism and social reform, and she was considered a pioneer in the feminist movement. One biography suggested that her concern for social issues and the human condition arose from her close contact with her socialist relatives Catherine Beecher, the prominent advocate of "domestic feminism," suffragist Isabella Beecher Hooker, and abolitionist and author Harriet Beecher Stowe (SSC 116). Gilman's work and popularity lay silent for thirty years after her death, but in 1960, with the feminist movement, came a revival of Charlotte Perkins Gilman, and her short stories such as "The Yellow Wallpaper" were revisited by feminist such as Sandra M. Gilbert and Susan Gubar for its symbolism and association with feminist issues.
Works Cited
Gilman, Charlotte Perkins. The Living of Charlotte Perkins Gilman: An Autobiography. New York: Arno Press, 1972.
Gilman, Charlotte Perkins. Herland. New York: Pantheon Books, 1979.
Pringle, Mary Beth. "Charlotte Perkins Stetson Gilman." American Women Writer.
Ed. Lina Mainiero. New York: Frederick Usher Publishing Co., 1980.
Martin Seymour-Smith and Andrew C. Kimmens, eds. World Authors. New York: The H.W. Wilson Company, 1996.
Kepos, Paula, ed. Twentieth Century Literary Criticism. Detroit: Gale Research International Limited, 1991.
Segal, David, ed. Short Story Criticism. V13. Detroit: Gale Research International Limited, 1993.
1. How does Gilman's realism differ from the realism of W. D. Howells? Does the narrator of The Yellow Wallpaper recognize any correspondence between her own perception and external reality? In what ways does Gilman violate Howells's proscriptions in Novel-Writing and Novel-Reading?
2. Consider The Yellow Wallpaper as Gilman's portrait of the American woman as writer. What does the story suggest about the literary authority of the woman writer? What obstacles stand in the way of her creation? What is her ultimate work of art?
3. Compare and contrast Gilman's narrator of The Yellow Wallpaper with James's governess in The Turn of the Screw. Are both women mad? If you argue that they are, evaluate James's and Gilman's differing perspectives on women's madness.
MLA Style Citation of this Web Page
Reuben, Paul P. "Chapter 6: Chorlette Perkins Gilman." PAL: Perspectives in American Literature- A Research and Reference Guide. URL: http://www.paulreuben.website/pal/chap6/gilman.html (provide page date or date of your login).

| Top |