Chapter 10: Late Twentieth Century and Postmodernism

James Baldwin
1924-1987

© Paul Reuben October 21, 2016 E-Mail
Page Links: |
Primary Works | Selected Bibliography 2000-Present | MLA Style Citation of this Web Page |
Site Links: | Chap. 10: Index | Alphabetical List | Table Of Contents | Home Page |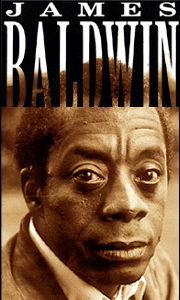 Source: Random House
Go Tell It on the Mountain, 1953; Notes of a Native Son, 1955; Giovanni's Room, 1956; Nobody Knows My Name, 1961; Another Country, 1962; The Fire Next Time, 1963; Blues for Mister Charlie (play); Nothing Personal (with Richard Avedon), 1964; Going to Meet the Man, 1965; The Amer Corner (play), 1968; Tell Me How Long the Train's Been Gone, 1968; A Rap on Race (with Margaret Mead), 1971; No Name in the Street, 1972; A Dialogue (with poet Nikki Giovanni), 1973; If Beale Street Could Talk, 1974; The Devil Finds Work, 1976; Just Above My Head, 1979; The Evidence of Things Not Seen, 1985.

Early Novels and Stories: Go Tell It on the Mountain; Giovanni's Room; Another Country; Going to Meet the Man. Morrison, Toni (ed.). NY: Library of America, 1998.
Awards and other honors
Eugene Saxton Fellowship, 1944; Rosen Fellowship, 1948; Guggenheim Fellowship, 1954; Partisan Review Fellowship, 1956; National Institute of Arts and Letters Award, 1956; Ford Foundation Grant, 1959; Certificate of recognition from the National Conference on Christians and Jews, 1961; George Polk Memorial Award, 1963.
Selected Bibliography 2000-Present
Anthony, Ronda C. Searching for the New Black Man: Black Masculinity and Women's Bodies. Jackson,: UP of Mississippi, 2013.
Blair, Sara. Harlem Crossroads: Black Writers and the Photograph in the Twentieth Century. Princeton: Princeton UP, 2007.
Blight, David W. American Oracle: The Civil War in the Civil Rights Era. Cambridge, MA: Belknap, Harvard UP, 2011.
Boyd, Herb. Baldwin's Harlem: A Biography of James Baldwin. NY: Atria, 2008.
Campbell, James. Exiled in Paris: Richard Wright, James Baldwin, Samuel Beckett, and Others on the Left Bank. Berkeley: U of California P, 2003.
- - -. Syncopations: Beats, New Yorkers, and Writers in the Dark. Berkeley: U of California P, 2008.
Clark, Keith. Black Manhood in James Baldwin, Ernest J. Gaines and August Wilson. Urbana: U of Illinois P, 2002.
Gerstner, David A. Queer Pollen: White Seduction, Black Male Homosexuality, and the Cinematic. Urbana: U of Illinois P, 2011.
Hardy, Clarence E., III James Baldwin's God: Sex, Hope, and Crisis in Black Holiness Culture. Knoxville: U of Tennessee P, 2003.
Johnson-Roullier, Cyraina E. Reading on the Edge: Exiles, Modernities, and Cultural Transformation in Proust, Joyce, and Baldwin. Albany: State U of New York P, 2000.
Kenan, Randall. ed. The Cross of Redemption: Uncollected Writings. NY: Pantheon, 2010.
Margolies, Edward. New York and the Literary Imagination: The City in Twentieth Century Fiction and Drama. Jefferson, NC: McFarland, 2008.
Miller, D. Quentin. A Criminal Power: James Baldwin and the Law. Columbus: Ohio State UP, 2012.
Murray, Rolland. Our Living Manhood: Literature, Black Power, and Masculine Ideology. Philadelphia: U of Pennsylvania P, 2007.
Muyumba, Walton M. The Shadow and the Act: Black Intellectual Practice, Jazz Improvisation, and Philosophical Pragmatism. Chicago: U of Chicago P, 2009.
Norman, Brian. The American Protest Essay and National Belonging: Addressing Division. Albany: State U of New York P, 2007.
Reid-Pharr, Robert. Once You Go Black: Choice, Desire, and the Black American Intellectual. NY: New York UP, 2007.
Relyea, Sarah. Outsider Citizens: The Remaking of Postwar Identity in Wright, Beauvoir, and Baldwin. NY: Routledge, 2006.
Scott, Lynn O. James Baldwin's Later Fiction: Witness to the Journey. East Lansing: Michigan State University, 2002.
Zaborowska, Magdalena J. James Baldwin's Turkish Decade: Erotics of Exile. Durham, NC: Duke UP, 2009.
| Top |James Baldwin (1924-1987): A Brief Biography
A Student Project by Marc Yonan
James Arthur Baldwin was born illegitimate (and the first of nine children) on August 2, 1924 in Harlem, New York. His mother, Berdis Jones was a domestic worker and devout Christian who had been a part of the northward drift that was sweeping many blacks from the segregated Southern states. Feeling as though young Baldwin had been conceived "in sin," Jones never revealed his father's name or identity. In a 1974 interview, Baldwin told a French reporter, "I never had a childhood." James Campbell has speculated in his biographical account of Baldwin, that "'I never had a childhood' means, partly, 'I never had a father.'" (3) If there ever was a lonely void that needed to be filled, Baldwin possessed a black hole of sorts. It is this void which catalyzed his powerfully eloquent yet provocative voice which spoke unyieldingly of the atrocities of the black American as well as the overall social underdogs of the time.
In 1927 Berdis Jones, when James was three, married David Baldwin, approximately forty-five years her senior, a man who Baldwin believed to be his biological father until his mid-teens. The senior Baldwin was a laborer and a preacher who had fled New Orleans primarily because he deemed it "a new-world Sodom and Gomorrah," (Campbell 4) but ultimately because he could not socially adjust. Despite providing young "Jimmy" with an adoption and surname, David Baldwin was cruel to the family, and amplified the already claustrophobic, nightmarish ghettoworld with his religious fanaticism and unwaning ramblings on of the injustice (and his hatred) of the white man. James recalls the terms on which the struggle for survival in the ghetto must depend in that "the nature of the ghetto is somehow ultimately to make those skills which are immoral the only skills worth having. You haven't got to be sweet to survive in a ghetto; you've got to be cunning. You've got to make up the rules as you go along; there aren't any others. You can't call the cops." (Pratt 15)
In Talking at the Gates- A Life of James Baldwin, Baldwin remembers his father "locked-up in his terrors; hating and fearing every living soul including his children... his long silences punctuated by moans and hallelujahs and snatches of old songs while he sat at the kitchen window." (Campbell 7) Despite his religious fervor, and rightly due to his overall (and clinically diagnosed) madness common to fanatics, the elder Baldwin hurled abuses in every form. He lived the irony in yearning to be the king of his domain in keeping repressive dominance of a submissive wife and children (Pratt 15), yet held the motto of "As for me and my house, we will serve the Lord." (Campbell 6) It is this man who not only shaped the religious and moral aspects of Baldwin's early self, but his self image as well in believing himself to be ugly simply because his father told him so, calling him "frog eyes." Baldwin also thought his mother to be ugly due to the insults imposed upon her. On one specific occasion, Baldwin summoned his mother to the window after spotting a woman with thick lips and big eyes on the street and proclaimed, "Look, there's someone who's uglier than you and me." (Campbell 7) Though militant racial and religious aspects were shaped by his stepfather, as carried out through his storefront preachings as an adolescent, Baldwin acquired a more positive, nurturing role in helping his mother as she brought each of her children into the world, providing balance in the good, the bad and the ugly of his self-identity.
Baldwin was born "in the church;" not only meaning that both parents were avid Christians, but that the foundations of his morality stemmed from generations of deep believers (Campbell 4). It is this foundation that can be credited with preventing Baldwin from becoming a victim of the street. He was shaped by his father's denunciation of the sins of the city; the junkies, the whores, the pimps, the winos that Harlem was comprised, and righteously spurned these pleasures. As a result, he left a lasting impression upon many of his schoolteachers. Campbell notes that at each of the three schools he attended in New York, he is remembered as having been exceptionally, even uniquely, intelligent. He saw his gift of intellect embodied in his sharp mind and clever tongue could help win his acceptance in the world outside Harlem. Gertrude Ayers, the Principal of his first school, Public School 24, remembers Baldwin as slim with "haunted eyes." She recalled too, "his mother above all other mothers" because "she had the gift of using language beautifully. Her notes and her letters, written to explain her son's absences, etc, were admired by the teachers and me. This talent transmitted through her is surely the basis of James' success." (Campbell 13)
Baldwin's passion for the written language was exemplified in his pre-teen readings of Dickens, Dostoevsky and Harriet Beecher Stowe's Uncle Tom's Cabin. In seeing his promise another of the Public School 24 faculty, Orilla Miller, gained his parent's permission to take Baldwin to see Macbeth and various other plays downtown. Above all, Baldwin was recognized, as recalled to the French interviewer in 1974, as being "doue" or gifted (Campbell 8). In 1936, he enrolled in Frederick Douglass Junior High where he was taught by poet Countee Cullen, and was especially recognized by Herman W. Porter as being able to write "better than anyone in the school- from the principal on down." (Campbell 13) Thusly, the thirteen-year-old Baldwin was deemed editor of the school's magazine, the Douglass Pilot, and wrote his first article "Harlem- Then and Now" under the periodical's 1937 theme "The School and the Community," which traced the roots of Harlem from the seventeenth century to the present.
This was the start of Baldwin's writing career. He later attended DeWitt Clinton High in the Bronx where he collaborated with fellow literati as Richard Avedon (later a collaborator with Baldwin in 1964's Nothing Personal) and Emile Capouya, who later became the literary editor of the Nation and a New York publisher, on the school newspaper the Magpie. Nonetheless, Baldwin won the reputation of being the brightest student as well as the poorest. During this time, Baldwin was winning praise through his moving rhetoric on the pulpit in front of stores, as well as in the Fireside Pentecostal Assembly in Harlem. It was here that he learned that he had authority as a speaker and a definite effect upon a crowd. However, the core of his sermons sprang not from his heart, but from vanity and ambition (Campbell 11). He saw his power over the audience as means to break free from the restraints of his father. Unbeknownst to Baldwin, he was living in the midst of the Harlem Renaissance. Langston Hughes wrote that "the ordinary Negroes hadn't heard of the Harlem Renaissance, and if they had, it hadn't raised their wages any." (Campbell 19) The Baldwin family was an example of the ordinary Negro, living under the regime of their patriarch.
Simultaneously, Baldwin was having battles with his own faith and was advised by Capouya that it was cowardly to remain in the church simply because he was afraid to leave it. In response, Baldwin delivered his last sermon and never returned to the Assembly. It was Capouya who introduced Baldwin to Beauford Delaney in 1940. At the time, Delaney was already an established and well respected black painter in Greenwich Village, however, he was the first genuine black artist Baldwin had met. Their relationship in regards to the renaissance was as schoolmaster to pupil, but ultimately, Delaney found in Baldwin a loyal pupil and lifelong friend. In speaking to a group of women prisoners at Riker's Island three decades later, Baldwin declared, "The most important person in my life was and is... Beauford Delaney." (Campbell 20) That same year, Richard Wright's The Native Son was published which was to be regarded in the literature as the first work of major significance during the Harlem Renaissance. It was the influence of these two men that opened the door for Baldwin, thusly catalyzing a turning point in his life. Delaney had personally exposed Baldwin to a more confident self in his way of living as a black man (contrary to the culture of David Baldwin), and Wright had given Baldwin the courage and esteem that he could persevere as a black writer.
After several odd jobs as a railroad worker for the army, a meat-packer and an elevator-boy, Baldwin met Richard Wright in 1944. Yet another teacher/pupil relationship was established and the two became friends. David Baldwin's concurrent death had left Baldwin (now in upstate New York) as the sole breadwinner for his family, forcing him to take on several jobs at once. This made it hard for him to write. However, Baldwin was awarded five hundred dollars from the Eugene Saxton Fellowship on the recommendation of Wright. For a while he began to use the money he had left to frequent bars, sometimes becoming drunk or belligerent (or both), and always broke. A friend's suicide, Eugene Worth in 1946, jolted him back to his senses, and caused him to address his questionable sexuality and ultimately is life's purpose.
Living in Greenwich Village, he became friends with artist Theodore Pelatowski, who had worked with Baldwin's old schoolfriend Richard Averton. The two collaborated on several artistic endeavors in photography and literature while Baldwin gained success as a reviewer for the Nation on a work entitled Mother by Maxim Gorki. This led to his position as a respected reviewer for The New Leader. Editors admired him because his reviews weren't "colored by color." (Campbell 40) The Commentary, edited by Elliot Cohen and Robert Warshow, picked up Baldwin as their reviewer and with the encouragement of Warshow, published "The Harlem Ghetto" in February of 1948. "Journey to Atlanta" and "Previous Condition" were published in October the same year, all the while working on what would be his masterpiece, Go Tell It On the Mountain. His work was becoming noticed due to its poignantly raw and realistic nature. Living in Greenwich Village and out with his homosexuality, Baldwin visited the Harlem ghetto less, and favored the Village little more. He was beginning to feel his individuality boil inside him and ultimately began to feel alienated from the Western world itself. Not only was Baldwin a black man in a society in which black was the less popular color, but resided in a country whose religious roots were so firmly planted in condemning the sexuality with which Baldwin was oriented. His alienation, both self-inflicted and societal, caused him to take the initiative to follow Wright and other "unordinary Negroes" to Europe.
| Top |In Paris, Baldwin worked as a waiter in several restaurants while trying to write. Because of his intelligence and charm he formed numerous relationships with the Europeans as well as the intellectual immigrants from the United States. Some were platonic, others romantic, both involving men and women. He met up with his mentor, Wright, and was introduced to Zero magazine editor, Themistocles Hoetis, who published Baldwin's "Everybody's Protest Novel" in spring of 1949. The article criticized Uncle Tome's Cabin in its inaccurate portrayal of blacks. Towards the end of the review, Baldwin also slammed Wright's protagonist, Bigger Thomas, calling him nothing more than an Uncle Tom descendant, "flesh of his flesh, so exactly opposite a portrait that when the books are placed together, it seems that the contemporary Negro novelist and the dead New England woman are locked together in a deadly, timeless battle; the one uttering merciless exhortations, the other shouting curses." (Campbell 63) This served as the basis for tension that existed between Wright and Baldwin for the rest of their lives. In 1951, Baldwin wrote Sonny's Blues, a story of the ills that Harlem provided its youth. The publication of Go Tell It On the Mountain in 1953, established Baldwin as a true writer and made his name known throughout Europe and the Americas due to its vivid, semi-autobiographical account of the culture of Harlem. Baldwin's work was so powerful because it stemmed from lived experiences in his own alienation. As Go Tell It On the Mountain dealt with the semi-autobiographical plights of the Harlem black, Giovanni's Room, published in 1956, dealt with semi-autobiographical plights of the homosexual white. According to author Lawrie Balfour in The Evidence of Things Not Said, when asked to pinpoint his vocation, Baldwin proclaimed himself "a witness to the truth." (14) Also noted, it is Baldwin's appreciation of his own singularity, no more singular than any other individual's but irreducible still, that enables Baldwin to call himself a witness (15). It is this singularity that Baldwin claims is the basis for a most accurate depiction of a single character due to lived experiences unique to that specific individual.
Balfour claims that Baldwin's artistic consciousness involves the cultivation of a unique form of alienation (50). This alienation enables him to hold a mirror to a society unwilling to acknowledge the ugly social truths deemed "normal." Not only was Baldwin a voice of the oppressed black man, along with the historical voices of Booker T. Washington, W.E.B. DuBois and Richard Wright, but also joined the voices of Radclyffe Hall and E.M. Forster in tackling the point of view of the societal plights of the homosexual. Balfour asserts that "in dismissing fixed notions of male and female identity, Baldwin attacks the impulse to naturalize the divisions his society has created." (53) That is to say, Baldwin addressed the fluidity in regards to one's gender and the sexuality deemed appropriate for that specific physical gender. Baldwin hoped that this fluidity in sexuality could be correlated with the fluidity of race in regards to societal appropriateness.
Nearly all of Baldwin's literary and political endeavors following Go Tell It On the Mountain dealt with either racial or sexual oppression. The Amen Corner was written in 1954 and edited in 1955 after its spring premiere at Howard University; along with Notes of a Native Son, a review and further discussion of Wright's earlier novel, he was awarded the Guggenheim Fellowship. Giovanni's Room appeared in 1956 and the following year Baldwin returned to the United States and published his oversea memoirs in Harper's and Partisan Review. In 1959 he was awarded the Ford Foundation Grant and returned to Paris briefly that November. He returned the following Spring in order to write for Esquire and Mademoiselle, then traveled to Tallahassee in August to participate in the CORE strategy session for student protests and sit-ins.
In 1961 Nobody Knows My Name, Baldwin's best-selling essay collection, was published. It discussed the race issue in the United States and won a certificate of recognition from the National Conference on Christians and Jews and was selected by the Notable Books Council of the American Library Association as one of the outstanding books of the year. In 1963, Baldwin wrote one of his most famous essays on the denunciation of black oppression, The Fire Next Time. From 1964 to 1968, Baldwin wrote several plays. Blues for Mister Charlie and The Amen Corner were both in production on both sides of the country, a collection of short stories in 1965's Going to Meet the Man, and a novel in 1968, Tell Me How Long the Train's Been Gone, dealing with racial injustice.
His discussions with world-renowned anthropologist, Margaret Mead appeared in "A Rap on Race," and his commentaries appeared in No Name in the Street. From 1974 to 1979, several novels were comprised: If Beale Street Could Talk, The Devil Finds Work and his longest novel Just Above My Head, the story of a gospel singer. In 1983, Baldwin became Five College Professor in the Afro-American Studies department of the University of Massachusetts at Amherst. Toward the end of his life, in 1985, he published a collection of essays in The Price of a Ticket, and wrote an analysis of the 1979-1980 murders of black Atlanta children in "The Evidence of Things Not Seen" for Playboy. He died on November 30, 1987 in St. Paul de Vence on the Riviera, France of stomach cancer.
Through his works, he will be remembered not only as a voice of the oppressed black homosexual, but rather a voice celebrating the separate individual within every human being.
Works Cited
Balfour, Lawrie. The Evidence of Things Not Said: James Baldwin and the Promise of Democracy. Ithaca: Cornell UP, 2001.
Campbell, James. Talking at the Gates: A Life of James Baldwin. NY: Penguin, 1991.
Pratt, Louis H. James Baldwin. Boston: Twayne, 1978.
MLA Style Citation of this Web Page
Reuben, Paul P. "Chapter 10: James Baldwin." PAL: Perspectives in American Literature- A Research and Reference Guide. URL: http://www.paulreuben.website/pal/chap10/baldwin.html (provide page date or date of your login).
| Top |