Chapter 9: The Harlem Renaissance
(Also known as the "New Negro Movement")

Countee Cullen
1903-1946

© Paul Reuben October 20, 2016 E-Mail
Page Links: | Primary Works | Selected Bibliography 1980-Present | Study Questions| MLA Style Citation of this Web Page |
Site Links: | Chap. 9: Index | Alphabetical List | Table Of Contents | Home Page |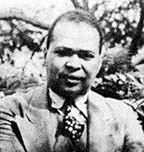 (photo by Carl Van Vechten,
source: The American Academy of Poets)
"... in spite of myself, I find that I am actuated by a strong sense of race consciousness. This grows upon me." - CC
Cullen was the leading writer of the Harlem Renaissance, a period of remarkable literary achievement by African-American writers in New York City during the 1920s. A dedicated craftsman, Cullen was criticized for being conventional, for using the British romantic poets as his models, and for insisting that poetry in general should be free of racial and political matters. But in his finest poem, "Heritage," he shows his relationship to Africa.
"Yet Do I Marvel"

I doubt not God is good, well-meaning, kind,
And did He stoop to quibble could tell why
The little buried mole continues blind,
Why flesh that mirrors Him must some day die,
Make plain the reason tortured Tantalus
Is baited by the fickle fruit, declare
If merely brute caprice dooms Sisyphus
To struggle up a never-ending stair.
Inscrutable His ways are, and immune
To catechism by a mind too strewn
With petty cares to slightly understand
What awful brain compels His awful hand.
Yet do I marvel at this curious thing:
To make a poet black, and bid him sing!

From Color by Countee Cullen. Copyright © 1925 Harper & Bros., renewed 1963 by Ida. M Cullen.
Color, 1925; Copper Sun, 1927; The Ballad of the Brown Girl, 1927; The Black Christ, 1929; One Way to Heaven (a novel), 1932; Euripides' Medea (a translation), 1935; The Lost Zoo, 1940; My Lives and How I Lost Them, 1942; St. Louis Woman (collaboration on a Broadway musical), 1946; On These I Stand (collected poems), 1947.
Selected Bibliography 1980-Present
Bernard, Patrick S. "Teaching Countee Cullen's Poetry." in Soto, Michael. ed. Teaching the Harlem Renaissance: Course Design and Classroom Strategies. NY: Peter Lang, 2008.
Early, Gerald., ed. My Soul's High Song: The Collected Writings of Countee Cullen, Voice of the Harlem Renaissance. New York: Doubleday, 1991.
Molesworth, Charles. And Bid Him Sing: A Biography of Countee Cullen. Chicago: U. of Chicago P, 2012.
Schwarz, A. B. Christa. Gay Voices of the Harlem Renaissance. Bloomington: Indiana UP, 2003.
Shucard, Alan R. Countee Cullen. Boston: Twayne, 1984. PS3505 .U297 Z88
Smethurst, James. "Lyric Stars: Countee Cullen and Langston Hughes." in Hutchinson, George. ed. The Cambridge Companion to The Harlem Renaissance. Cambridge, England: Cambridge UP, 2007.
Witalec, Janet, and Trudier Harris-Lopez. eds. Harlem Renaissance: A Gale Critical Companion. Detroit: Gale, 2002.
| Top |Countee Cullen (1903-1946): A Brief Biography
A Student Project by Tamara Warren
Harlem Renaissance poet Countee Cullen was born Countee Leroy Porter on May 30, 1903. The place of birth has been disputed due to misleading information given by Cullen himself. It is most widely accepted that he was born in Louisville, Kentucky, due to his second wife's conviction that what he admitted to her later in life was the truth. Cullen would spend his early career explaining that he had been born in New York City, later he would suggest that Baltimore was his place of origin (Shucard 6). Little is known about the early years of Cullen's life due to the tragic circumstances that directed his childhood.
Cullen's mother died while he was still a young boy. According to biographer Phillip Bader, in his study of African-American writers, at the age of nine Countee moved to New York City, where Elizabeth Porter, thought to be his grandmother, raised him until her death in 1918 (55). Cullen, now fifteen at the time of his Grandmother's death, was once again without a home.
He was taken in by the Reverend and Mrs. Frederick A. Cullen later that year, although they never formally adopted him. In another biographical account Margaret Perry asserts that Reverend Cullen was the founder and minister of the Salem Methodist Episcopal Church in New York City and that interestingly enough "in his own biography he never mentions his son's birth or adoption. Countee simply appears from time to time in this brief book as 'my son Countee Cullen.'" (4) The Cullens provided a stable and loving home, and Countee was equally grateful and devoted to them, ultimately choosing their surname as his own (Bader 55).
He attended public school for his early education and later distinguished himself while attending DeWitt Clinton High School. Cullen was one of few black students on campus; this however did not stop him from becoming very active in his campus community. Bader describes Cullen as an "outstanding student, orator, and burgeoning poet." (55) He was a member of the school's honor society, Arista, and he served as associate editor of the schools literary magazine, Magpie. Cullen was also editor of the Clinton News, the high school weekly, and vice-president of his senior class. By the time he graduated on January 26, 1922 he had achieved honors in Latin, Mathematics, History, English, French, and General Honors. He would enter adulthood, and New York University after receiving a State Regents Scholarship, having already distinguished himself as a voice of the intelligencia of the time (Perry 6).
Cullen's community involvement and activity would only expand while he attended New York University. As an undergraduate, he won second prize in the Walter Bynner Poetry Contest, which was open to all American undergraduate students, in 1923 and 1924. He also was invited to publish some of his poetry in such political magazines as the Crisis, and Opportunity, and in such literary journals as Poetry, Harper's, Bookman, and American Mercury. (Bader 56). By 1925 Cullen triumphs over all undergraduate students in America by winning first prize in the same Walter Bynner Poetry Contest that he had participated in the previous two years. In the same year he earns his degree from NYU, where he was elected to the academic honor society Phi Beta Kappa (Bader 56).
Cullen next endeavored to attain his graduate degree in English at Harvard University. It is while at Harvard that he published Color, his first volume of poetry. In a letter to Carl Van Vechten Cullen writes of his soon to be published work saying, "I am hoping the book will make at least a slight stir, which will help me get some readings to do while up here. . . . You see, I'd like to contribute something toward my expenses while here." (Perry 7) Cullen's work would do much more than cause a slight stir. He won several prizes from the publication including the John Reed Memorial Prize from Poetry Magazine as well as the Spingarn Medal from the Crisis (Bader 56). Color secured Cullen a reputation as one of the most promising and talented African-American poets of the Harlem Renaissance. Contemporary poets such as Langston Hughes remarked that Cullen's poem "Heritage" was the "most beautiful poem that he knew." (Bader 56)
Cullen graduated from Harvard in 1927. He continued to win numerous literary prizes while working as the associate editor of Opportunity in New York City, which he continued until 1928 when he was awarded a Guggenheim Fellowship; this granted him money to study abroad for a year (Bader 56). Cullen accepted, and was excited to dedicate the year to the sole purpose of his writing. He had since published his second book of poetry entitled Copper Sun that while much liked by critics drew attention to the notion that Cullen's poetic genius had not yet matured to its full potential (Perry 9). Before embarking for Europe Cullen would be center stage in the social event of the decade.
On April 10, 1928 Countee Cullen, Harvard graduate and distinguished poet, married Nina Yolande DuBois, daughter of W. E. B. DuBois, one of the most famous African-American voices in the world. Everybody who was anybody was in attendance at Reverend Cullen's Methodist Church to witness the alliance. Two months later Cullen left for France and was not joined by Yolande until some months later. Although the couple had been acquainted since 1923, the marriage quickly failed within the year (Perry 8-11). It was never clearly stated by either as to what went wrong. Later a note was found written in one of Cullen's French notebooks asking if he is in love and if so with whom and why. He also writes that, "For a long time I've had enough of love, enough of marriage. If I am wise, I won't take that up again." (Perry 11) Some assert that Cullen's hidden homosexuality was the cause for the failure. In any case he would not marry again until 1940, six years before his death.
Single again, Cullen was able to dedicate all his time to his writing. He stayed an extra year in France enjoying the liberal attitudes of the European atmosphere. While there he wrote articles for the Crisis that were later published in 1929 (Shucard 11). One friend and collaborator of Cullen's expressed that the extension of his stay in France was an attempt to rekindle his creative powers. Arna Bontemps wrote:
His stay in France was extended a year beyond his original plans, but that wasn't enough. His springtime leaves had fallen, and he was still waiting for a new season to bring another yield. (Perry 12)
Cullen later confided to Bontemps: "My muse is either dead or taking a twenty-year sleep." (Perry 12) It seemed that the giant expectations made about Cullen were never to be fully reached. This does not infer that the work Cullen produced in his literary career is not substantial, quite the contrary. Cullen achieved success in many literary and racial circles. Cullen's style was pleasing to both black and white critics due to his "conservative and erudite style [. . .] and the remarkable lyricism of his verse." (Bader 56).
Cullen did not want to be recognized as a "black" poet, but merely as an American poet. He used the conventions and style of the British Romantics, asserting that "Negro poets. . . may have more to gain from the rich background of English and American poetry than from any nebulous atavistic yearnings toward an African inheritance." (Bader 57) This of course caused an uproar among his contemporaries such as Hughes, McKay, and Hurston. Cullen would struggle against these assertations because he recognized that many of the issues discussed in his poetry were predominately black experiences (Jackson 46-47). While some used the sonnet and Keatsian ode on occasion, it has been said that Cullen, who had a strong affinity for Keats "never succeeded in liberating himself from the straightjacket of an alien and outworn style, although he does occasionally transfigure it with a blaze of passion." (Bigsby 71)
Cullen also fought against the idea of Western religion and Christianity because he felt that a white God was unable to understand the sufferings of a black people. His work Black Christ came out of these ideas, but in the end he was ultimately faithful to his families Methodist lifestyle (Turner 62-65). Cullen would remain loyal to family and country although he did explore Communism for a short time, never officially becoming a member of the party, he returned to the government programs set up for recovery from the depression as opposed to Communism.
Cullen would eventually dedicate the later part of his life to teaching English and French to primarily black students at a Junior High School. He continued to write, producing a novel and collaborating on a play, but he never achieved the success that was awarded to his earlier poetry. He died suddenly from uremic poisoning and high blood pressure on January 9, 1946. At the time of his death he had been compiling what he thought to be his best works. His widow published On These I Stand posthumously in 1947. Although he did not live up to critics expectations of his potential he is still an icon of the Harlem Renaissance and, not forgetting his extreme talent and creativity, is in a state of continual interest to scholars due to his involvement with the period.
Works Cited
Bader, Phillip. A to Z of African Americans: African American Writers. Facts on File Inc.: New York, 2004.
Bigsby, C.W.E. The Black American Writer: Volume II Poetry and Drama.Everett Edwards: Deland, 1969.
Jackson, Blyden and Louis D. Rubin, Jr. Black Poetry in America: Two Essays In Historical Interpretation. Louisiana State UP: Baton Rouge, 1974.
Perry, Margaret. A Bio-Bibliography of Countee P. Cullen 1903-1946. Greenwood: Westport, 1971.
Shucard, Alan R. Countee Cullen. Twayne: Boston, 1984.
Turner, David T. IN a Minor Chord: Three Afro-American Writers and Their Search for Identity. Southern Illinois UP: Edwardsville, 1971.
1. What is the psychological effect that Cullen is trying to achieve in "Incident"? What is the effect of the poem's title and the poem's content? Why does Cullen call the eight-year-old a "Baltimorean"? What is the source of racism? Is it more powerful for being less definite?
2. What is Cullen's attitude toward God in "Yet Do I Marvel"? Why should he marvel that God would make a poet black and bid him sing? Why does he imply a paradox between poetry and blackness?
3. What happened at Scottsboro? Why does Cullen link the incident to the one that involved Sacco and Vanzetti? What is he saying when he notes that the poets sang for Sacco and Vanzetti but have not for Scottsboro? What is the wrong that Cullen implies has happened at Scottsboro?
4. Cullen grew up in a Methodist parsonage as the adopted son of a prominent Harlem pastor. Might the use of paradox about Christian religion and its practices in some of his poetry reflect his home experience? Which works and in which references?
5. In the poem "Yet Do I Marvel," Cullen makes an implicit comparison between black poets and the mythical figures of Tantalus and Sisyphus. Explain how this comparison functions within the world of the poem.
6. Lying behind Cullen's title choice for "From the Dark Tower" is the phrase "ivory tower." How does this fact help explain the poem as well as its dedication to Charles S. Johnson?
MLA Style Citation of this Web Page
Reuben, Paul P. "Chapter 9: Countee Cullen." PAL: Perspectives in American Literature- A Research and Reference Guide. URL: http://www.paulreuben.website/pal/chap9/cullen.html (provide page date or date of your login).

| Top |