Chapter 10: Late Twentieth Century and Postmodernism

Maya Angelou
1928-2014

© Paul Reuben October 21, 2016 E-Mail
Maya Angelou Obituary May 28, 2014, NY Times
Page Links: | Primary Works | Selected Bibliography 1980-Present | MLA Style Citation of this Web Page |
Site Links: | Chap. 10: Index | Alphabetical List | Table Of Contents | Home Page |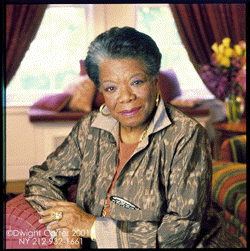 Source: Maya Angelou: The Official Website
I know why the caged bird sings. NY: Random House, 1970. PS3551 .N464 Z466 (see Dunbar for the title source)

Just give me a cool drink of water 'fore I diiie; the poetry of Maya Angelou. NY: Random House, 1971. PS3551 .N464 J8

Gather together in my name. NY: Random House, 1974. PS3551 .N464 Z464

Oh pray my wings are gonna fit me well. NY: Random House, 1975. PS3551 .N464 O5

Blacks, blues, black! Summary videorecording; produced by KQED. Washington, D.C.: PBS Video, 1975. Video Cassette E185.86 .B542x

African cultural carryover-positive. videorecording; produced by KQED. Alexandria, Va.: PBS Video, 1975. Video Cassette E185.86 .A47x

Singin' and swingin' and gettin' merry like Christmas. NY: Random House, 1976. PS3551 .N464 Z475

And still I rise. NY: Random House, 1978. PS3551.N464 A8

The heart of a woman. NY: Random House, 1981. PS3551.N464 Z465

Shaker, why don't you sing? NY: Random House, 1983. PS3551 .N464 S52

All God's children need traveling shoes. NY: Random House, 1986. PS3551 .N464 Z463

Maya Angelou videorecording. produced and directed by David Grubin ; directed by Sydney Smith ; a production of the Corporation for Entertainment & Learning, Inc. in association with WNET/Thirteen. Washington, D.C.: PBS Video distributor, 1982. Video Cassette PS3551 .N464 Z56x

I shall not be moved. NY: Random House, 1990. PS3551 .N464 I17

Wouldn't take nothing for my journey now. NY: Random House, 1993. PS3551 .N464 W68

Phenomenal woman: four poems celebrating women. NY: Random House, 1994. PS3551 .N464 P48

Even the stars look lonesome. NY: Random House, 1997. PS3551 .N464 E94

Phenomenal woman. paintings by Paul Gauguin; edited by Linda Sunshine. NY: Random House, 2000. PS3551 .N464 P48
Selected Bibliography 1980-Present
Bloom, Harold. ed. Maya Angelou's I Know Why the Caged Bird Sings. Philadelphia, PA: Chelsea House, 1998.
Bomarito, Jessica, Jeffrey W. Hunter, and Amy Hudock. eds. Feminism in Literature: A Gale Critical Companion. Detroit: Thomson Gale, 2004.
Elliot, Jeffrey M. ed. Conversations with Maya Angelou. Jackson: UP of Mississippi, 1989.
Harris, Jessica B. High on the Hog: A Culinary Journey from Africa to America. NY: Bloomsbury, 2011.
Higashida, Cheryl. Black Internationalist Feminism: Women Writers of the Black Left, 1945-1995. Urbana: U of Illinois P, 2011.
McPherson, Dolly. Order Out of Chaos: The Autobiographical Works of Maya Angelou. NY: Peter Lang, 1990.
Ryan, Judylyn S. Spirituality as Ideology in Black Women's Film and Literature. Charlottesville: U of Virginia P, 2005.
MLA Style Citation of this Web Page
Reuben, Paul P. "Chapter 10: Maya Angelou." PAL: Perspectives in American Literature- A Research and Reference Guide. URL: http://www.paulreuben.website/pal/chap10/angelou.html (provide page date or date of your login).

| Top |