Chapter 1: Early American Literature to 1700
and Puritanism

John Winthrop
1588-1649

© Paul P. Reuben October 13, 2016 E-Mail
Outside Link: | The Winthrop Society | The Winthrop Fleet of 1630 |
Page Links: | A Brief Chronology | Primary Works | Selected Bibliography 1980-Present | Two Important New England Settlements | The Arbella Covenant | MLA Style Citation of this Web Page |
Site Links: | Chap 1 - Index | Alphabetical List | Table Of Contents | Home Page |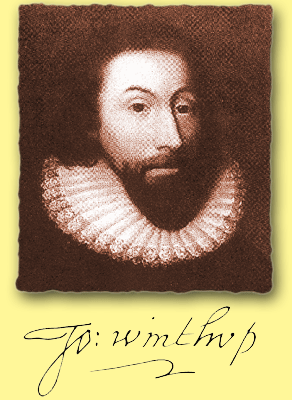 Source: The Winthrop Society
One of the founders of the Massachusetts Bay Colony, Winthrop arrived in 1630 aboard the flagship Arbella. As governor of the Colony, he established the center of government at Boston. Winthrop began writing his Journal in 1630 and continued it till his death. On board the Arbella, he prepared and delivered his famous sermon "A Model of Christian Charity." In this speech, without using those words, Winthrop introduces the concept of Manifest Destiny:
"For wee must consider that wee shall be as a citty upon a hill. The eies of all people are uppon us."
| Top | A Brief Chronology
1588 John Winthrop is born.

1602 Admitted to Trinity College.

1605 Leaves Cambridge; marries Mary Forth.

1613 Studies law at Gray's Inn in London.

1615 Mary Forth dies in June; Winthrop marries Tomasine Clopton.

1616 Tomasine Clopton dies.

1618 Winthrop marries Margaret Tyndall.

1630 Sails for New England; writes first journal entry of Bay Colony; delivers his lay-sermon, "Modell of Christian Charity," aboard the Arbella.

1634 Voted out of the governorship.

1637 Reelected governor.

1640 Voted out of governorship.

1642 Reelected governor.

1645 Stands trial, having been accused for overstepping authority.

1646 Reelected governor and serves until his death.

1647 Margaret Tyndall dies.

1648 Winthrop marries Martha Rainsborough Coytmore.

1649 Winthrop dies in Boston on 26 March.
Primary Works (John Winthrop's journal and other works have been published several times):
Antinomians and Familists condemned by the synod of elders in New England: with the proceedings of the magistrates against them, and their apology for the same. 1644.

Republished as A Short Story of the rise, reign, and ruin of the Antinomians, Familists, and libertines. 1644.

A Declaration of Former Passages and Proceedings of Betwixt the English and the Narrowgansets, with Their Confederates, Wherein the Grounds and Justice of the Ensuing Warre are Opened and Cleared. 1645.

A Journal of the Transactions and Occurrences in the Settlement of Massachusetts and the Other New-England Colonies, from the Year 1630 to 1644. 1790.

Reedited as The History of New England from 1630to 1649, two volumes. Volume 1, 1825. Volume 2, 1826.

Winthrop Papers, 5 volumes. 1929-1947.
| Top | Selected Bibliography 1980-Present
Carpenter, Geoffrey P. A Secondary Annotated Bibliography of John Winthrop, 1588-1649. NY: AMS, 1999.
Colacurcio, Michael J. Godly Letters: The Literature of the American Puritans. Notre Dame, IN: U of Notre Dame P, 2006.
Elliott, Emory. ed. American Colonial Writers 1606-1734. Detroit: Gale, 1984.
Schweitzer, Ivy. Perfecting Friendship: Politics and Affiliation in Early American Literature. Chapel Hill: U of North Carolina P, 2006.
Schweninger, Lee. John Winthrop. Boston: Twayne, 1990. F 67 .W79 S39
Wilson, Clyde N. ed. American Historians, 1607-1865. Detroit: Gale, 1984.
Woodward, Walter W. Prospero's America: John Winthrop, Jr., Alchemy, and the Creation of New England Culture, 1606-1676. Chapel Hill, NC: U of North Carolina P, 2010.
Two Important New England Settlements

The Plymouth Colony
Flagship Mayflower arrives - 1620
Leader - William Bradford
Settlers known as Pilgrims and Separatists
"The Mayflower Compact" provides for
social, religious, and economic freedom,
while still maintaining ties to Great Britain.

The Massachusetts Bay Colony
Flagship Arbella arrives - 1630
Leader - John Winthrop
Settlers are mostly Puritans or Congregational Puritans
"The Arbella Covenant" clearly establishes
a religious and theocratic settlement,
free of ties to Great Britain.
| Top | From The Arbella Covenant or "A Modell of Christian Charity" (1630)
God Almighty in His most holy and wise providence, hath so disposed of the condition of mankind as in all times some must be rich, some poor; some high and eminent in power and dignity, others mean and in subjection. First, to hold conformity with rest of His works, ... Secondly, that He might have the more occasion to manifest the work of His spirit, ... Thirdly, that every man might have need of other, ... All men thus (by divine providence) ranked into two sorts, rich and poor, under the first are comprehended all such as are able to live comfortably by their own means duly improved, and all others are poor, according to the former distribution. There are two rules whereby we are to walk, one toward another; justice and mercy. ... There is likewise a double law by which we are regulated in our conversation, one towards another; in both the former respects, the law of nature and the law of grace, or the moral law of the Gospel. (1) For the persons, we are a company professing ourselves fellow members of Christ; (2) the care of the public must oversway all private respects by which not only conscience but mere civil policy doth bind us; (3) the end is to improve our lives to do more service to the Lord, the comfort and increase of the body of Christ whereof we are members; (4) for the means whereby this must be effected, they are twofold: a conformity with the work and the end we aim at. ... Thus stands the cause between God and us: we are entered into covenant with Him for this work; we have taken out a commission, the Lord hath given us leave to draw our own articles, ... if we shall neglect the observation of these articles ... the Lord will surely break out in wrath against us. ... Therefore, let us choose life, that we, and our seed may live; by obeying. His voice and cleaving to Him, for He is our life and our prosperity.
(John Winthrop is the author of the Covenant)

| Top |John Winthrop (1588-1649): A Brief Biography
A Student Project by Tyleen Williams
On January 22, 1588, John Winthrop was born in Groton England to a prosperous farming family. Like most young males with money at the time, he was sent away to various schools. At the age of fourteen he went to Trinity College and later went to Cambridge University from 1603-1604. It was at his stay at Cambridge that "a young John Winthrop became deathly ill and had his first religious experience that converted him into the Puritan group within England." (Elliott 354) He later went on to school at Gray's Inn in London during 1613 and studied law.
After his first year at Cambridge, Winthrop moved back home and married Mary Forth in 1605. They had six children and the record of his time with Mary is known through his section of "Experiencia" in 1607-1613 where Winthrop discusses his devotion to the Puritan way of life. Mary Forth, after ten years of marriage, died in 1616. Winthrop married again in 1616 to Thomasine Clopton who died a year later. It is John Winthrop's third wife, Margaret Tyndal, who he spends most of his life with for almost thirty years; she who died in 1647. He would then remarry that same year Martha Rainsboro, even though he still deeply mourned Margaret, due to his Puritan belief that no man was meant to live life alone.
In the 1620s, realizing he had mouths to feed and going through England's economic depression, Winthrop turned to law more and more in London (Baym 101). It was during this period that Winthrop in 1627 was appointed attorney to His Majesty's Court of Ward and Liveries and served also as justice of the peace. All was not well for the Winthrops in 1629; Charles I ascended the throne in England and had very little, if any, patience for the Puritans.
Feelings of discontentment took over and in April 1630 Winthrop and three of his sons set off onboard the Arbella for America with two hundred colonists calling themselves "Massachusetts Bay Company." It was during this time while Winthrop was crossing the Atlantic that he began his writing of A Journal of the Transactions and Occurrences in the Settlement of Massachusetts and the Other New-England Colonies, from the Year 1630 to 1649. It was aboard the Arbella that Winthrop delivered his famous sermon "Christian Charitie. A Modell Hereof." It was this sermon that helped define the power and charisma that would lead Winthrop to become "the first and most important governor of Massachusetts Bay colony." (Wilson 341)
Upon arriving in America, Winthrop became governor establishing the "freemen" who were men who shared governing powers. He dealt with many problems from Indians to the right price for services and other commodities. It was in 1634 that Winthrop had a real problem. Anne Hutchinson preached against the basic principles of the Puritan society. She and her followers were considered not only enemies of Christ but of society. In 1637 Winthrop was reelected as governor and during this same year he tried and banished Anne Hutchinson. Winthrop had very little controversy after that. Some people criticized him for his role in the trial of Anne Hutchinson, but no one took serious notice of these complaints.
John Winthrop was a great political and religious leader for New England at that time. He died in office on March 26, 1649. John Winthrop was never really considered a literary figure. Winthrop wrote his journal not for publication, but for a diary which would later become a important artifact for history. He was more of a historian of the Puritan way of life.
John Winthrop's journal can be broken into two parts. First there are his adventures on board the Arbella and traveling the coast of New England. It tells of their obstacles and how they got through these obstacles through God's guiding hand. Then there is the second part that is not so uplifting but more of a warning to people. Winthrop tells of stories of men and women punished by God in the second part of his journal. Winthrop's journal is widely acclaimed not only during his lifetime but today due to his stories of the Puritan way of life and views of that era.
Works Cited
Baym, Nina, Wayne Franklin, et.al. The Norton Anthology of American Literature: Shorter Fourth Edition. New York: W. W. Norton & Company, 1995.
Elliott, Emory, ed. Dictionary of Literary Biography Volume Twenty-four: American Colonial Writers, 1606-1734. Detroit: Gale Research Co., 1984.
Wilson, Clyde N., ed. Dictionary of Literary Biography Volume Thirty: American Historians, 1607-1865. Detroit: Gale Research Co., 1984.
MLA Style Citation of this Web Page:
Reuben, Paul P. "Chapter 1: John Winthrop." PAL: Perspectives in American Literature- A Research and Reference Guide. WWW URL: http://www.paulreuben.website/pal/chap1/winthrop.html (provide page date or date of your login).

| Top |