Chapter 1: Early American Literature to 1700
and Puritanism

William Bradford
1590-1657

© Paul P. Reuben October 12, 2016 E-Mail
Page Links: | Primary Works | Selected Bibliography 1980-Present | Two Important Settlements | The Mayflower Compact | List of the Compact Signatories | List of the Mayflower Passengers | MLA Style Citation of this Web Page |
Site Links: | Chap 1 - Index | Alphabetical List | Table Of Contents | Home Page |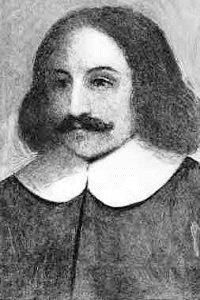 Source: William Bradford
One of the leaders of colonial America, Bradford arrived at Cape Cod on November 11, 1620, on the flagship Mayflower. He was one of the authors of The Mayflower Compact. His greatest contribution to early writing is his History of Plymouth Plantation, 1620-1647.
History of Plymouth Plantation. Edited by Charles Deane in Collections of the Massachusetts Historical Society, 4th series, no. 2 (1856); republished as Of Plymouth Plantation, 1620-1647, edited by Samuel Eliot Morison (New York: Knopf, 1959.)

Mourt's Relation. A journal by William Bradford and Edward Winslow. Edited by Henry Martyn (New York: Garrett Press, 1969).

William Bradford: The Collected Verse. Edited by Michael G. Runyan (St. Paul: John Colet Press, 1974).
| Top | Selected Bibliography 1980-Present
Amory, Hugh, and David D. Hall. eds. A History of the Book in America. Volume 1: The Colonial Book in the Atlantic World. Worcester, MA: American Antiquarian Society, 2000.
Anderson, Douglas. William Bradford's Books: Of Plimmoth Plantation and the Printed Word. Baltimore: Johns Hopkins UP, 2003.
Baker, William A. The Mayflower and other colonial vessels. Annapolis, Md.: Naval Institute P, 1983. VM383 .M348 B34
Colacurcio, Michael J. Godly Letters: The Literature of the American Puritans. Notre Dame: U of Notre Dame P, 2006.
Donohue, Betty B. Bradford's Indian Book: Being the True Roote & Rise of American Letters as Revealed by the Native Text Embedded in Of Plimouth Plantation. Gainesville: UP of Florida, 2011.
Gomez-Galisteo, M. Carmen. Early Visions and Representations of America: Alvar Núñez Cabeza de Vaca's Naufragios and William Bradford's Of Plymouth Plantation. NY: Bloomsbury, 2013.
Gunn, Giles, ed. Early American Writing. New York: Penguin Books, 1994.
Habich, Robert D. ed. Lives Out of Letters: Essays on American Literary Biography and Documentation. Madison, NJ: Fairleigh Dickinson UP, 2004.
Ogburn, Floyd Jr. Style as Structure and Meaning: William Bradford's Of Plymouth Plantation. Washington, D.C.: University Press of America, 1981.
Philbrick, Nathaniel. Mayflower: A Story of Courage, Community, and War. NY: Viking, 2006.
Read, David. New World, Known World: Shaping Knowledge in Early Anglo-American Writing. Columbia: U of Missouri P, 2005.
Two Important New England Settlements

The Plymouth Colony
Flagship Mayflower arrives - 1620
Leader - William Bradford
Settlers known as Pilgrims and Separatists
"The Mayflower Compact" provides for
social, religious, and economic freedom,
while still maintaining ties to Great Britain.

The Massachusetts Bay Colony
Flagship Arbella arrives - 1630
Leader - John Winthrop
Settlers are mostly Puritans or Congregational Puritans
"The Arbella Covenant" clearly establishes
a religious and theocratic settlement,
free of ties to Great Britain.
| Top | The Mayflower Compact (1620)
(The Mayflower Compact and the Arbella Covenant shaped the politics, religion, and social behavior of those who first landed and settled in the New England. These were the early constitutions and they will eventually influence the shape, style, and content of the U. S. Constitution.)
In the name of God, Amen. We, whose names are underwritten, the Loyal Subjects of our dread Sovereign Lord King James, by the Grace of God, of Great Britain. France, and Ireland, King, Defender of the Faith, & etc. Having undertaken for the Glory of God, and the advancement of the Christian Faith, and the Honour of our King and Country, a Voyage to plant the first Colony in the northern parts of Virginia; do by these Presents, solemnly and mutually in the Presence of God and one another, covenant and combine ourselves together in a civil body politick, for our better ordering and preservation, and the of the ends aforesaid: and by virtue hereof do enact, constitute, and frame such just and equal laws, ordinances, acts, constitutions, and offices, from time to time, as shall be thought most meet and convenient of the general good of the Colony; unto which we promise all due submission and obedience. In witness whereof we have hereunto subscribed our names at Cape Cod, the eleventh of November, in the reign of our Sovereign Lord King James of England, France, and Ireland, the eighteenth, and of Scotland, the fifty-fourth. Anno Domini 1620.
| Top | The 41 Signatories of the Mayflower Compact (alphabetized for this page, this list is available at many websites and in Henry Steele Commager's Documents of American History listed above. The prefix "Mr." was probably used for those who were church separatists; others were called commoners or recruits.):
| | | | |
| --- | --- | --- | --- |
| John Alden | Francis Cooke | John Howland | John Tilly |
| Mr. John Allerton | John Craxton | Edward Liester | Thomas Tinker |
| Isaac Allerton | Edward Doten | Edmond Margesson | John Turner |
| John Billington | Francis Eaton | Mr. Christopher Martin | Mr. Richard Warren |
| Richard Bitteridge | Thomas English | Mr. William Mullins | Mr. William White |
| Mr. William Bradford | Moses Fletcher | Digery Priest | Thomas Williams |
| Mr. William Brewster | Edward Fuller | John Rigdale | Mr. Edward Winslow |
| Peter Brown | Mr. Samuel Fuller | Thomas Rogers | Gilbert Winslow |
| Mr. John Carver | Richard Gardiner | George Soule | |
| James Chilton | John Goodman | Miles Standish | |
| Richard Clark | Mr. Stephen Hopkins | Edward Tilly | |
| Top |A Brief Biography of William Bradford

A Student Project by Megan Barstow
A boy child was born to William Bradford and Alice Hanson in 1590. Their son's name was William Bradford. He was born in Austerfield, Yorkshire which is about one hundred and fifty miles from London. William was baptized in the parish church on March 29, 1590. He had two sisters Alice and Margaret. Margaret would pass away young.
William lived on his family's farm and helped with chores. He learned how to cord and spin wool as well as tend the sheep. By age seven he had lost both of his parents and would live with his two uncles, Robert and Thomas. When he became ill he saw it as a blessing because he was able to learn to read and write instead of doing farm chores. Because William learned to read he started to read the Bible and by age twelve he "was deeply immersed in the Scriptures." (Schmidt 7)
When William was born, England was ruled by Queen Elizabeth and she only allowed Anglican churches. Because William was able to read the bible he started to question if the Queen's church was the only right one. Because of this thinking William walked sixteen miles to another church and became a Separatist. This new religion angered the new ruler of England, King James I. Since William did not want to be imprisoned for his beliefs, like a large number of the believers had been, he moved to Amsterdam in 1608 along with some fellow Separatists. After living there for nine months he moved to the city of Leyden.
At the age of twenty-one the land he inherited in England was sold because he could not go home and manage it. To make a living William became a weaver. He married Dorothy May in 1613 and had a son named John in 1614 and when the Separatists moved to the New World, John was left behind.
The Mayflower set sail in 1620 bound for Virginia. The people ended up at Cape Cod instead on November 10, 1620. His wife Dorothy fell over the side of the Mayflower shortly after reaching land and died.
Because the boat didn't make it to Virginia the people believed that their patent was no longer valid so they couldn't legally govern this new colony. Because of this worry the Mayflower Compact was written and was signed by the leaders of each house hold. The original was some how destroyed but because William made a copy people even today can read it. The people from Leyden and the Strangers were given equal responsibility in the colony. The first governor was John Carver who would later die leaving William Bradford to be the new governor.
William would govern the Plymouth colony for the next thirty years. He was a good governor and was able to establish relative peace with the natives. He also had to see to the trading of the colony as well. Even though he had many responsibilities as a governor he also wrote. William Bradford is well known even today for his works. He started writing what was later called Of Plymouth Plantation in 1630 where such things as births and deaths were recorded. He stopped writing it in 1646 when he wrote an account of the Plymouth pilgrims who were alive then. William and a man named Edward Winslow wrote Mourt's Relation in 1622 which is a "very optimistic account of the colony." (Schmidt 113) This was written to try to get more people to come to Plymouth and was published the next year in London. He also wrote poems and letters.
William married Alice Southworth in 1623. He eventually had a daughter named Mercy. They had her sons named William and Joseph. He seemed really happy with his wife and left a will for her and his children. William Bradford died on May 9, 1657. He was sixty-nine years old. His wisdom and fairness allowed him to govern the Plymouth colony. His literary works allow readers today to see how he and the others that survived the trip to the New World, disease, and starvation in the 17th century.
Works Cited
Schmidt, Gary D. William Bradford Plymouth's Faithful Pilgrim. Michigan: Eerdmans Books for Young Readers, 1999.
Young, Alexander. Chronicles of the Pilgrim Fathers of the Colony of Plymouth. 1602-1625. New York: Da Capo Press, 1971.
MLA Style Citation of this Web Page
Reuben, Paul P. "Chapter 1: Early American Literature to1700 - William Bradford." PAL: Perspectives in American Literature- A Research and Reference Guide. WWW URL: http://www.paulreuben.website/pal/chap1/bradford.html (provide page date or date of your login).
| Top |