Chapter 10: Late Twentieth Century and Postmodernism

Toni Cade Bambara
1939-1995

© Paul Reuben October 21, 2016 E-Mail
Page Links: | Primary Works | Selected Bibliography 1980-Present | MLA Style Citation of this Web Page |
Site Links: | Chap. 10: Index | Alphabetical List | Table Of Contents | Home Page |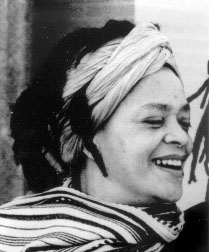 Source: NNDB
The Black Woman, 1970 (An anthology); Tales and Stories for Black Folks, 1971 (An anthology); Gorilla, My Love, 1972 (Short stories) "The Lesson," 1972 (short story); The Seabirds Are Still Alive, 1977 (Short stories); The Salt Eaters, 1980 (A novel); If Blessing Comes, 1987; Raymond's Run, 1990; Deep Sightings and Rescue Missions: Fiction, Essays, and Conversations, 1996; These Bones Are Not My Child, 1999.

Screenplays: Epitaph for Willie; Tar Baby.

The Black woman; an anthology. NY: New American Library, 1970. E185.86 C28

The sea birds are still alive: collected stories. NY: Random House, 1977. PS3552 A473 S4

The salt eaters. NY: Random House, 1980. PS3552.A473 S3
Selected Bibliography 1980-Present
Butler-Evans, Elliott. Race, gender, and desire: narrative strategies in the fiction of Toni Cade Bambara, Toni Morrison, and Alice Walker. Philadelphia: Temple University Press, 1989. PS374 .N4 B8
Denard, Carolyn. ed. What Moves at the Margin: Selected Nonfiction. Jackson: UP of Mississippi, 2008.
Fallon, Erin, R. C. Feddersen, James Kurtzleben, Maurice A. Lee, and Susan Rochette-Crawley. eds. A Reader's Companion to the Short Story in English. Westport, CT: Greenwood, 2001.
Holmes, Linda J. Wall, Cheryl A. eds. Savoring the Salt: The Legacy of Toni Cade Bambara. Philadelphia: Temple UP, 2008.
Major, Clarence. ed. Calling the wind: twentieth century African-American short stories. NY: HarperPerennial, 1993. PS647 .A35 C35
Meanor, Patrick, and Gwen Crane. eds. American Short Story Writers since World War II: Second Series. Detroit: Thomson Gale, 2000.
Mullen, Bill. ed. Revolutionary tales: African American women's short stories, from the first story to the present. NY: Laurel, 1995. PS647 .A35 R48
Parini, Jay. ed. American Writers: A Collection of Literary Biographies, Supplement XI: Toni Cade Bambara to Richard Yates. NY: Scribner's, 2002.
Romero, Channette. Activism and the American Novel: Religion and Resistance in Fiction by Women of Color. Charlottesville: U of Virginia P, 2012.
Thorsson, Courtney. Women's Work: Nationalism and Contemporary African American Women's Novels. Charlottesville: U of Virginia P, 2013.
| Top |Toni Cade Bambara (1939-1995): A Brief Biography
A Student Project by Joe Laswell
Toni Cade Bambara, an American fiction writer, scriptwriter and essayist, is known for her rich usage of words to create portraits of black life (Kerr). She was born on March 25, 1939 in New York City. Her mother's name was Helen Brent Henderson Cade; she also had a brother. Bambara was raised in Harlem, Bedford Stuyvesant, Queens and Jersey City, New Jersey. As a young girl, Bambara was encouraged to be creative, to follow her inner spirit and motives. Toni Cade Bambara credits writings to her mother for giving her a home full of love, understanding and encouragement (Contemporary Authors 12).
The name, "Bambara," which later became her own was discovered as part of a signature on a sketchbook Toni found in her great-grandmother's trunk. Toni had her name legally changed in 1970 and became Tony Cade Bambara. In 1959, Bambara received a bachelor degree in Theater Arts and English from Queens College. Shortly after, she published her first short story named "Sweet Town" in the magazine called Vendome. Throughout the 1960s she served as a social worker and director of neighborhood programs in her hometown of Harlem and Brooklyn. Meanwhile she was publishing short stories in periodicals, and directed a theater program. Toni had various publications founded by the City College SEEK program, where she earned a Master's Degree. She continued to teach at the City College in New York until 1969. Through this time she was very active in many social and political programs and became known as an educator with various community and arts organizations (Contemporary Authors 12).
Gorilla, My Love published in 1972 included fifteen stories, mostly written between 1959 and 1970. This was the best known and most widely acclaimed book that Bambara ever published. Her writings in Gorilla, My Love was praised for capturing the essence of real events and real people. In a review of Gorilla, My Love, a writer remarks in the Saturday Review that the stories "are among the best portraits of black life to have appeared in some time. Written in a breezy, engaging style that owes a good deal to street dialect." (Contemporary Authors 12 ).
Bambara's published her first novel called The Salt Eaters, in 1980; it was a well-received work. (Dictionary of literary biography, vol. 49) John Leonard, who describes the book as "extraordinary," writes in the New York Times that The Salt Eaters "is almost an incantation, poem-drunk, myth-happy, mud-caked, jazz-ridden, prodigal in meanings a kite an a mask." The Salt Eaters, won the American Book Award and the Langston Hughes Society Award in 1981. Later that same year, Bambara was given a National Endowment for the Arts Literature Grant. Much of her time during the 1980s was dedicated to moviemaking, a genre she had favored since her theater work two decades before and she produced almost yearly movies for video and television until 1988. Her work on the television documentary, The Bombing of Usage Avenue (1986), for which she wrote the script and narrated, earned her the Best Documentary Award form the Pennsylvania Association of Broadcasters and a Documentary Award from the National Black Programming Consortium, both in 1986 (Doerksen 9).
Throughout Bambara's life she has enjoyed using her art of writing and teaching, to convey social and political messages about the welfare of the African-American community and of African-American women especially. According to Alice A. Deck (Dictionary of Literary Biography) "Bambara is one of the best representatives of the group of Afro-American writers who, during the 1960s, became directly involved in the cultural and sociopolitical activities in urban communities across the country." Bambara had an objective goal to describe the urban black community without using any stereotypes, while having a deep understanding of the complications in the Afro-American life (Contemporary Authors 12 ). Bambara's emotional language of her characters is one of the most distinctive qualities of her writing. A Newsweek reviewer explains, "In terms of plot, Bambara tends to avoid linear development in favor of presenting situations that build like improvisations of a melody." Bambara with her leadership characteristic stood as an academic, political and social role model for more than just the black community.
In 1993 Toni Cade Bambara got the disappointing news that she had colon cancer. She said that the diagnosis did not surprise her: "for several years I had been stuck-spiritually, financially, psychically and physically. Finally my intestines were blocked. I knew I had been blocked because I couldn't feel my spirit guides around me…" Toni Cade Bambara died December 9, 1995. Some of her last works which were yet to be published were gathered by her daughter, Karma and her life long friend and editor Toni Morrison, in the collection Deep Sightings and Rescue Missions. This last portrait of Bambara's work comprised of six stories, the 1994 Messiah interview and essays about movies and literature. Her friend Toni Morrison also edited a remaining novel uncompleted, Those Bones Are Not My Child, 1999 (Doerksen 9).
Works Cited:
Alice A. Deck "Toni Cade Bambara" Dictionary of Literary Biography, V.38. Detroit: Gale Research Company, 1985.
Doerksen, Teri Ann, "Toni Cade Bambara, Dictionary of Literary Biography, v.218. Detroit: The Gale Group, 2000.
"Bambara, Toni Cade" Contemporary Authors New Revision Series v.24 Gale Researh , 1988
"Bambara, Toni Cade" Contemporary Authors New Revision Series v.49 Gale Researh , 1995
MLA Style Citation of this Web Page
Reuben, Paul P. "Chapter 10: Toni Cade Bambara." PAL: Perspectives in American Literature- A Research and Reference Guide. URL: http://www.paulreuben.website/pal/chap10/bambara.html (provide page date or date of your login).
| Top |