Chapter 9: The Harlem Renaissance
(Also known as the "New Negro Movement")

George Samuel Schuyler
1895-1977

© Paul Reuben October 21, 2016 E-Mail
Outside Links: | GSS Papers | Heath Anthology Introduction |
Page Links: | Primary Works | A Brief Chronology | Selected Bibliography 10980-Present | MLA Style Citation of this Web Page |
Site Links: | Chap. 9: Index | Alphabetical List | Table Of Contents | Home Page |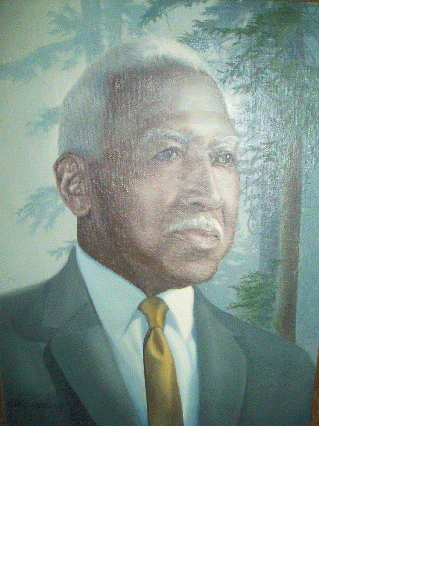 Pianted by Daniel Canavan and used as the cover to the May 1970 issue of American Opinion magazine.
Sent via email by Harold Shurtleff January 21, 2008
"Negro-Art Hokum." The Nation, June 16, 1926.

Racial Intermarriage in the United States: One of the Most Interesting Phenomena in Our National Life. According to my research so far, it was first published as an article in The American Parade in 1928, then (c. 1929) as a Little Blue Book, some time before his Black No More. (contributed by Virginia Berger, May 17, 2003)

Slaves Today: A Story of Liberia, 1930

Black no more: a novel (1931). New York: Modern Library, 1999. PS3537 .C76 B56

Black Empire, An Imaginative Story of a Great New Civilization in Modern Africa, 1937-38

Fifty Years of Progress in Negro Journalism, 1950.

Black and Conservative (autobiography), 1966.

"The Reds and I." American Opinion, March 1968.

"The Negro-Art Hokum." Within the Circle: An Anthology of African American Literary Criticism from the Harlem Renaissance to the Present. Ed. Angelyn Mitchell. Durham, NC: Duke UP, 1994. 51-54.

"Phylon Profile, XXII: Carl Van Vechten." Remembering the Harlem Renaissance. Ed. Cary D. Wintz. NY: Garland, 1996. 154-60.
| Top |Chronology of Schuyler's Work (from Michael W. Peplow)
1926 "The Negro-Art Hokum" in The Nation and "Seldom Seen" in The Messenger
1927 "Blessed are the Sons of Ham" in The Nation, March 23; "Our White Folks" in The American Mercury, December; and "Our Greatest Gift to America" in Ebony and Topaz: a Collectanea, ed. Charles S. Johnson, (New York: Opportunity; National Urban League, 1927), 122-24.
1928 "Woof" in Harlem, November; "Racial Intermarriage in the United States" in The American Parade, Fall
1929 "Keeping the Negro in His Place" in The American Mercury, August; "Emancipated Woman and the Negro" in The Modern Quarterly, Fall
1930 "A Negro Looks Ahead" in The American Mercury, February; "Traveling Jim Crow" in The American Mercury and Reader's Digest; "Black Warriors" in The American Mercury, November and in Slaves Today: A Story of Liberia
1931 Black No More, his novel, is published.
1932 "Black Art" and "Black America Begins to Doubt" in The American Mercury
1934 "When Black Weds White" in The Modern Monthly and Die Auslese
1937 Black Empire, An Imaginative Story of a Great New Civilization in Modern Africa is published
1944 "The Caucasian Problem" in What the Negro Wants, Rayford Logan, ed. U of North Carolina, 1944
1951 "The Phantom American Negro" in The Freeman, April 23
1956 "Do Negroes Want to be White?" in The American Mercury, June 1956
1959 "Krushchev's African Foothold" in The American Mercury
1966 Black and Conservative, his autobiography, is published.
1968 "The Reds and I." American Opinion, March 1968.
1973 "Malcolm X: Better to Memorialize Benedict Arnold" in American Opinion, February 1973
Selected Bibliography 1980-Present
Ferguson, Jeffrey B. The Sage of Sugar Hill: George S. Schuyler and the Harlem Renaissance. New Haven: Yale UP, 2005.
Keresztesi, Rita. "Teaching George S. Schuyler's Black No More." in Soto, Michael. ed. Teaching the Harlem Renaissance: Course Design and Classroom Strategies. NY: Peter Lang, 2008.
Leak, Jeffrey B. ed. Rac[e]ing to the Right: Selected Essays of George S. Schuyler. Knoxville: U of Tennessee P 2001.
Nelson, Emmanuel S. "George Samuel Schuyler (1895-1977)." in Nelson, Emmanuel S. ed. African American Autobiographers: A Sourcebook. Westport, CT: Greenwood, 2002.
Peplow, Michael W. George S. Schuyler. Boston: Twayne, 1980. PS3537.C76 Z83
Retman, Sonnet. Real Folks: Race and Genre in the Great Depression. Durham, NC: Duke UP, 2011.
Thompson, Mark C. Black Fascisms: African American Literature and Culture between the Wars. Charlottesville: U of Virginia P, 2007.
Watts, Eric K. Hearing the Hurt: Rhetoric, Aesthetics, and Politics of the New Negro Movement. Tuscaloosa: U of Alabama P, 2012.
| Top |George Schuyler (1895-1977): A Brief Biography

A Student Project by Leslie Mefford
He wrote the first full length satire by a Black American; he was one of the most distinguished, productive and controversial black newspapermen; he was a muckraking journalist, international correspondent, a critic and book reviewer; he was George S. Schuyler, and his accomplishments are very impressive (Peplow, 9). However, even with all of his endeavors, Schuyler has almost vanished from history. He is missing from the Contemporary Black Biography, Who's Who Among African-Americans, and the Dictionary of American Negro Biography. There is only one copy of his autobiography, Black and Conservative, in all of Washington D.C.'s public libraries, and numerous bookstore have never even heard of George S. Schuyler (Judge, policy). It is remarkable how a man that carries so many fascinating life achievements seems to have never existed; but he did.
George S. Schuyler was born on February 25, 1895 in Rhode Island. He grew up in Syracuse, New York with his parents who taught him self-discipline, independence , thrift and industry (Peplow, 18). Schuyler was quick to learn and knew how to read and write before he began school. At a young age he was a booklover; he "was a tireless worker with an intellect invigorated by books, ideas and learning." (policy) His father died when Schuyler was about three, and his mother remarried. He attended school in Syracuse until 1912 when he joined the army at age seventeen. Schuyler was assigned to the segregated Twenty-fifth U.S. Infantry Regiment stationed in Seattle (Reed, introduction, Black No More). He stayed with the army for seven years, and it is during these years that he developed his journalism skills. He would later write of his army days in "Woof," "Black Warriors" and Black and Conservative (19). He came back to New York and was involved with the black socialist group Friends of Negro Freedom (v).
Schuyler married Josephine E. (Lewis) Cogdell in 1928. She was a wealthy white woman who came from a distinguished family in Texas. The Schuyler family had one child -- a daughter named Philippa. She was a child prodigy with an IQ of 158. She could read and write at the age of two and a half, and by the time she was four she was composing classical music for piano, which she had played since she was three (policy). Philippa died in 1967, and her death devastated Schuyler. It is ironic that she died in Vietnam during the war since Schuyler completely disagreed with communist ideas and committed his life to fighting it. She was killed in a helicopter accident while she was transporting Catholic children to safety (policy). Schuyler's wife died shortly after in 1969.
A. Philip Randolph and Chandler Owen, who also led the socialist group Friends of Negro Freedom, claim to have revealed Schuyler to the world with their publication The Messenger (Peplow,21); it published Schuyler works for five years. Schuyler was gaining a reputation; and his work caught the attention of Ira F. Lewis, the manager of the Pittsburgh Courier, had a job for Schuyler with that paper until 1966 (policy); Schuyler worked in publication almost his entire life. With his name out in the public eye, he decided to become part of the Harlem Renaissance and began publishing work "supporting the new 'radical' ideas of immediate manhood rights, equal consideration before the law, and an end to lynchings, Jim Crow, and second class citizenship (21). He was known as an iconoclast which is someone who degrades anything others may hold as sacred or condemns respected values or societies; satire came second nature to Schuyler, and he made a good living at it. Schuyler makes this statement about his work, and why he writes: "Whatever I think is wrong, I shall continue to attack. Whatever is right, I shall continue to laud....I have always been more concerned with being true to myself than to any group....I shall continue to pursue this somewhat lonely and iconoclastic course." Black organizations were not happy with Schuyler's attitude and often called him an Uncle Tom. He infuriated enough people to let everything he had done in his life be forgotten: his work, contributions of satire in literature, his journalism, everything, and perhaps this is why finding out about him is so difficult; nobody cared to hear him anymore.
| Top | Schuyler's work grabbed the interest of H. L. Mencken who worked as a "lampooning social critic" for American Mercury (Reed, vi) and would later be Schuyler's mentor. Schuyler was called "the black Mencken;" he was harsh, convincing, posh, amusing, and brutally honest. Mencken would publish several of Schuyler's works in American Mercury. The two became life-long friends; "they were not afraid of the nuts and bolts of good journalism." (policy) Mencken referred to his friend as "'perhaps the best of all the Aframerican journalists.'" (policy) Mencken was not the only one to find Schuyler's writing appealing; W. E. B. Du Bois found the "thinly disguised caricatures of black leaders" (including himself) amusing in Schuyler's novel Black No More a book that established a "mythical solution to the race problem." (Reed, vi) Black No More was published in 1931.
Schuyler had become completely conservative by the 1960s and started to publish his controversial works like "The Reds and I" in American Opinion which was a publication put out by the John Birch Society. During this time Schuyler was attacked by The Crisis for statements he made criticizing Martin Luther King. He also was nominated, at this time, to run against Adam Clayton Powell in the 1964 Congressional elections, although unsuccessful (vi).
Schuyler did not completely aggravate everyone, and in fact, he pleased the black community with his talent; from 1937 to 1944 he was the business manager of the NAACP, which he never hesitated to criticize (policy).
The man had a lot to say and had a style all his own. He wrote about his life in his autobiography Black and Conservative which was published in 1966. Schuyler had strong beliefs and he dedicated his life to those beliefs. William Loeb states: "'My impression of George is one of a greatly balanced individual whose judgment and dedication and devotion to principle is so strong that he has no intention of being swayed by praise or criticism. An iconoclast. Lonely, perhaps, but a man we should listen to.'" (Peplow, 30) "John Henrik Clarke perhaps best explained Schuyler's life when he observed: 'I used to tell people that George got up in the morning, waited to see which way the world was turning, then struck out in the opposite direction. He was a rebel who enjoyed playing that role.'" (Reed, vii) George Schuyler died in New York in 1977.
Works Cited
Judge, Mark Gauvreau. "Justice to George S. Schuyler." Policy Review, April 5, 2001. http://www.policyreview.com/aug00/Judge_print.html
Lewis, David Levering, ed. The Portable Harlem Renaissance Reader. New York: Penguin Books, 1994. 654.
Peplow, Michael W. George S. Schuyler. Boston: Twayne Publishers, 1980. Whole book used.
Schuyler, George S. Black No More. New York: The Modern Library, 1999. v-xiii.
MLA Style Citation of this Web Page
Reuben, Paul P. "Chapter 9: George Schuyler." PAL: Perspectives in American Literature- A Research and Reference Guide. URL: http://www.paulreuben.website/pal/chap9/schuyler.html (provide page date or date of your login).
| Top |