Chapter 9: The Harlem Renaissance
(Also known as the "New Negro Movement")

Mary White Ovington
1865-1951

© Paul Reuben October 21, 2016 E-Mail
Outside Link: | Creators of the NAACP |
Page Links: | Primary Works | Selected Bibliography 1980-Present | MLA Style Citation of this Web Page |
Site Links: | Chap. 9: Index | Alphabetical List | Table Of Contents | Home Page |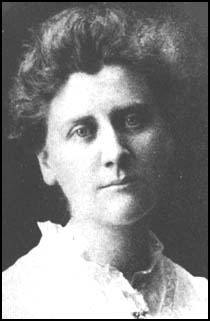 Source: MWO
Famous as one of the principal founders of the NAACP, Ovington was a social activist, a writer, and a contributor to The Crisis.
Half a Man: The Status of the Negro in New York, 1911; Portraits in Color, 1927; The Walls Came Tumbling, 1947.

Half a man, the status of the Negro in New York. Foreword by Franz Boas. NY: Schocken Books, 1969. F128.9 .N3 O9

The walls came tumbling down. With a new introd. by Charles Flint Kellogg. NY: Schocken Books, 1970. E185.5 .N276 O9

The awakening; a play. Freeport, NY: Books for Libraries Press, 1972. PS3529 V53 A9
Selected Bibliography 1980-Present
Luker, Ralph E. ed. Black and White Sat Down Together: The Reminiscences of an NAACP Founder. NY: Feminist P, 1995.
Wedin, Carolyn. Inheritors of the spirit: Mary White Ovington and the founding of the NAACP. NY: John Wiley, 1997
MLA Style Citation of this Web Page
Reuben, Paul P. "Chapter 9: Mary White Ovington." PAL: Perspectives in American Literature- A Research and Reference Guide. URL: http://www.paulreuben.website/pal/chap9/ovington.html (provide page date or date of your login).

| Top |