Chapter 9: The Harlem Renaissance
(Also known as the "New Negro Movement")

Richard Bruce Nugent
1906-1987

© Paul Reuben October 21, 2016 E-Mail
Page Links: | Primary Works | Selected Bibliography 1980-Present | MLA Style Citation of this Web Page |
Site Links: | Chap. 9: Index | Alphabetical List | Table Of Contents | Home Page |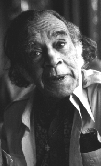 Source: African American Registry
"Bruce Nugent took it [FIRE!!] around New York on foot and some of the Greenwich Village bookshops put it on display, and sold it for us. But then Bruce, who had no job, would collect the money and, on account of salary, eat it up before he got back to Harlem." - Langston Hughes, The Big Sea
"Sadhji," in The New Negro, edited by Alain LeRoy Locke. New York: Boni, 1925. 113-114.

"Smoke, Lilies, and Jade," in Fire!! (November 1926): 405-408.

1928 Associate Editor, Harlem: A Forum of Negro Life
Gerstner, David A. Queer Pollen: White Seduction, Black Male Homosexuality, and the Cinematic. Urbana: U of Illinois P, 2011.
Sample, Maxine J. "Richard Bruce Nugent (1906-1987)." in Nelson, Emmanuel S. ed. African American Authors, 1745-1945: A Bio-Bibliographical Critical Sourcebook. Westport, CT: Greenwood, 2000.
Schwarz, A. B. Christa. Gay Voices of the Harlem Renaissance. Bloomington: Indiana UP, 2003.
Wirth, Thomas H. ed. Gay Rebel of the Harlem Renaissance: Selections from the Work of Richard Bruce Nugent. Durham: Duke UP, 2002. PS3527 .U34 G39
Witalec, Janet. ed. Harlem Renaissance: A Gale Critical Companion. Detroit, MI: Gale, 2002.
MLA Style Citation of this Web Page
Reuben, Paul P. "Chapter 9: Richard Bruce Nugent (1906-1987)." PAL: Perspectives in American Literature- A Research and Reference Guide. URL: http://www.paulreuben.website/pal/chap9/nugent.html (provide page date or date of your login).
| Top |