Chapter 8: American Drama

Luis Valdez
1940 -

© Paul Reuben October 20, 2016 E-Mail
Outside Links: | Internet Movie Database: LV | Pachucos | The Sleepy Lagoon Case | Zoot Suit Riots |
Page Links: | Primary Works | Awards and Honors | Selected Bibliography 1980-Present | MLA Style Citation of this Web Page |
Site Links: | Chap. 8: Index | Alphabetical List | Table Of Contents | Home Page |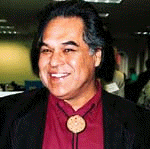 Source: CSU, Monterey Bay
Aztlan: an anthology of Mexican American literature. Edited by Luis Valdez and Stan Steiner. New York, Knopf, 1972. E185 .M5 V3

Pensamiento serpentino: a Chicano approach to the theater of reality. Cucaracha Publications, 1973. PS3572.A387 P4

Actos, by Luis Valdez y El Teatro Compesino. Fresno, CA: Cucaracha Press, 1971. PS628 .M4 V2

Luis Valdez, early works: Actos, Bernabe, and Pensamiento serpentino. (1971) Houston: Arte Publico Press, 1990. PS3572 .A387 A6

Zoot suit [videorecording] / a Luis Valdez film ; directed by Luis Valdez ; a Mark Taper Forum presentation ; a Universal Picture. Universal City, CA : MCA Universal Home Video, 1991. Video Cassette PN1995.9 .M49 Z66x

Zoot suit and other plays. Houston: Arte Publico P, 1992. PS3572 .A387 Z6

Theft, 1961; The Shrunken Head of Pancho Villa, 1963; Las dos caras del patroncito (The Two Faces of the Owner), 1965; La quinta temporada (The Fifth Season), 1966; Los vendidos (The Sellouts), 1967; La Conquista de Mexico (The Conquest of Mexico), 1968; No saco nada de la escuela (I Don't Get Anything Out of School), 1969; The Militants, 1969; Bernabe, 1970; Huelguistas (Strikers), 1970; Vietnam Campesino (Vietnam Peasant), 1970; Soldado Razo (Chicano Solider), 1971; Dark Root of a Scream, 1971; La gran carpa de la Familia Rascuachi (The Great Tent of the Rascuachi Family), 1971; El fin del mundo (The End of the World), 1972; Pensamiento Serpentino (Serpentine Thought), 1973; El baile de los gigantes (The Dance of the Giants), 1974; Zoot Suit, 1978; Bandido (Bandit), 1981; Corridos (Ballads), 1982; I Don't Have to Show You No Stinking Badges, 1986.

Zoot Suit. Huerta, Jorge (introd.); Ochoa, Edna. Publication: Houston, TX : Arte Público 2004
Among awards Valdez has received are Los Angeles Drama Critics, 1969 and 1972, special Emmy Award for directing from KNBC-TV in 1973, award from Los Angeles Drama Critics Circle in 1978 for "Zoot Suit", grant from Rockefeller Foundation in 1978, Golden Globe in 1981, and award for best musical from San Francisco Bay Critics Circle in 1983 for "Corridos".

1968 Obie Award given to El Teatro Campesino

1969 Los Angeles Drama Critics Award

1972 Los Angeles Drama Critics Award

1978 Los Angeles Drama Critics award for "Zoot Suit"

1981 Awarded Golden Globe and eleven Bay Area Critics Awards including Best Musical for Corridos: Tales of Passion and Revolution

1983 Honored by President Reagan's Committee on Arts and Humanities

1987 In association with KQED/San Francisco, won the George Peabody Award for Excellence in Television for its adaptation of Corridos for television.

1994 Awarded Mexico's prestigious Aguila Azteca Award

Honorary doctorates from Columbia College, San Jose State University, and the California Institute of the Arts
Selected Bibliography 1980-Present
Elam, Harry J., Jr. Taking It to the Streets: The Social Protest Theater of Luis Valdez and Amiri Baraka. Ann Arbor: U of Michigan P, 1997.
Herrera-Sobek, María. "Luis Valdez's La Pastorela: 'The Shepherd's Tale': Tradition, Hybridity, and Transformation." in Espinosa, Gastón and García, Mario T. eds. Mexican American Religions: Spirituality, Activism, and Culture. Durham, NC: Duke UP, 2008.
Jiang, Tsui-fen. The American Dream in African American, Asian American, and Hispanic American Drama: August Wilson, Frank Chin, and Luis Valdez. Lewiston, NY: Mellen, 2009.
Nigro, Kirste. "Luis Valdez (1940-)." in West-Durán, Alan, María Herrera-Sobek, and César A. Salgado. eds. Latino and Latina Writers, I: Introductory Essays, Chicano and Chicana Authors; II: Cuban and Cuban American Authors, Dominican and Other Authors, Puerto Rican Authors. NY: Scribner's, 2004.
Noriega, Chon A. Chicanos and Film: Representation and Resistance. Minneapolis: U of Minnesota P, 1992.
O'Connor, Jacqueline. "Facts on Trial: Documentary Theatre and Zoot Suit," in Demastes, William W. and Fischer, Iris Smith. eds. Interrogating America through Theatre and Performance. NY: Palgrave Macmillan, 2007.
Stoudt, Charlotte. ed. "Border Crossings: Theatre, Tribalism and Twenty-First-Century America. Luis Valdez at San Diego Repertory Theatre and William Yellow Robe, Jr., at Trinity Repertory Company." in Stages of Transformation: Collaborations of the National Theatre Artist Residency Program. NY: Theatre Communications Group, 2005.
| Top | Luis Valdez (1940 - ): A Brief Biography

A Student Project by Michael Boroff
Luiz Valdez is one of the great dramatists in American history. Though frequently marginalized, Valdez' plays are significant enough for him to be labeled as the father of Chicano theater. His plays have been extremely popular and have made drama a meaningful genre for the Chicano population. And not only is he a playwright, but also a screenwriter, actor, director, and civil rights activist. Valdez is a fascinating human being whose contributions to American drama should not be overlooked.
Luis Valdez was born on June 26, 1940, in Delano, California. Valdez was the second of ten children belonging to Armida and Francisco Valdez, who were migrant farmworkers. Growing up in a large family would give Luis a sense of the importance of family values, a theme that would become prominent in his plays. Valdez began to work in the fields with his family at the age of six. This fact made getting an education quite difficult, but he still managed to graduate from high school and then move on to San Jose State College. At San Jose State, Valdez majored in English and began pursuing his interest in drama. In 1963, the San Jose State drama department performed his first significant play, The Shrunken Head of Pancho Villa. A classic piece of drama, The Shrunken Head of Pancho Villa beautifully captures the Chicano experience and deals with many of the themes that would become trademarks of Valdez' writing (Kanellos 282).
Valdez graduated from San Jose State in 1964, and he then joined the San Francisco Mime Troupe. In 1965, Valdez came back to Delano in order to aid Cesar Chavez' fight for farmworker rights. It was here that Valdez discovered the value of drama as propaganda. He convinced some of the workers to act in plays that would illustrate their plight. Thus began Valdez' theater company, El Teatro Campesino. The brief plays Valdez wrote for the troupe helped their civil rights struggles. Not only that, but Valdez and the troupe became responsible for creating a specific form of drama, called the acto. The acto became a genuinely Mexican-American form defined by its brief, flexible sketches relating to working class Chicanos. These sketches also carried with them a social or political message. They also usually contain satirical humor that attacks the opposition (Kanellos 283).
Kanellos sites Valdez and El Teatro Campesino's greatest contribution as their creation of a "true grass-roots theater movement" (284). Valdez asked that the drama the troupe produced always be about la raza. The plays they produced dealt with the Chicano culture and milieu. In 1971, Valdez published a book called Actos. It is a collection of the best actos created and performed by his troupe. Two of the more highly regarded of these are Las dos caras del patroncito (The Two Faces of the Owner) and La Quinta temporada (The Fifth Season). Both stuck to the themes previously mentioned (Kanellos 284).
In 1967, Valdez moved his troupe to Del Rey, California, and they continued to perform plays. Their first play at the new location was Los vendidos (The Sellouts). Kanellos says that of all Chicano plays, this one has been performed most by the greatest variety of playhouses. The play was eventually aired on the Public Broadcasting channel and received an Emmy award. The troupe also began to tour the country in 1967. Through their travels, the troupe expanded drama audiences and earned a reputation for being innovative and making political comments (Kanellos 284). Valdez wrote two plays dealing with the Chicano experience in the Vietnam War. They are called Vietnam Campesino (1970) and Soldado Razo (1971). Both are included in Valdez' collection Actos. Also included in this book are La Conquista de Mexico (1969), No saco de nada de la escuela (1969), The Militants (1969), and Huelgistas (1970) (Kanellos 284-285).
The troupe later moved to San Juan Batista, California. They have remained in this location since the early 1970's. Each year, they perform one of Valdez' religious plays, Las cuatro apariciones de la Virgen de Guadalupe. In a 1974 version of this play, Valdez caused a great deal of controversy by deifying the Virgin of Guadalupe next to Jesus Cristo-Quetzalcoatl. Anti-religious factions of the Chicano theater groups criticized Valdez heavily. This criticism, thrown his way by companies that he helped to found, shook Valdez greatly. His troupe then withdrew from the other theater groups and worked independently (Kanellos 286).
In 1977, Valdez and members of El Teatro Campesino appeared in the Richard Pryor film Which Way is Up? In 1978, Valdez' play Zoot Suit made a successful run at the Mark Taper Forum in Los Angeles. The play was so successful that it was moved to a larger venue. It received numerous drama awards. Based on these achievements, Valdez' play was given a chance on Broadway in New York City. However, the critics and audiences of New York City were critical of the play. To this day, no Valdez play has gone over well with the residents of New York City, even the Hispanic population. Despite its poor showing in New York, the play was made into a movie in 1981, directed and written by Valdez. The movie was nominated for a Golden Globe award and was highly successful. However, the critics never liked the movie (Kanellos 287-288).
In 1981, El Teatro Campesino performed Valdez' play Bandido. In 1982, they performed Corridos, which dramatized the famous Mexican ballads. This play was so successful that it was aired on PBS in 1987. However, Corridos, and many of Valdez' other works have been attacked for the way they treat women. Most of his plays deal mostly with male characters. When women do appear, they often are depicted as either virgins or whores. They are stereotyped and treated from a macho perspective. However, this treatment of women may be as much a statement about Chicano culture as it is about Valdez' values. He has always believed in accurately portraying Chicano culture (Kanellos 289).
In 1986, Valdez wrote the play I Don't Have to Show You No Stinking Badges, a play which would run for four and a half years at the Los Angeles Theater Center. This play once again deals with the theme of family dynamics. Just as this play was being rehearsed, Valdez was busy writing another screenplay. It is titled La Bamba and deals with the life of Chicano rocker Ritchie Valens. This movie would become a box office smash and help to further Valdez' reputation in the film industry. However, the film was attacked by critics and many members of the Chicano theater movement. They felt that Valdez made the movie too politically correct by not showing the barriers that Valens must have faced as a Chicano (Kanellos 290).
Despite the criticisms of Valdez, no other person has made as huge an impact on Chicano drama. He has influenced every Chicano dramatist, either directly or indirectly. Valdez worked hard to establish Chicano theater and to set guidelines for what Chicano drama should consist of. He has made drama relevant for Chicanos, and through his work in film, has brought Chicano issues and personalities into the mainstream. Luis Valdez has managed to accomplish the near impossible: He has altered the way in which his people are viewed by society. He has come a long way since his childhood years spent as a migrant farmworker. Luis Valdez is an important dramatist and a positive role model for Chicanos.
Work Cited
Kanellos, Nicolas. "Luis Miguel Valdez." Dictionary of Literary Biography Volume 122: Chicano Writers, Second Series. Ed. Francisco Lomeli. Detroit, Michigan: Gale, 1981. 281-291
MLA Style Citation of this Web Page
Reuben, Paul P. "Chapter 8: Luis Valdez." PAL: Perspectives in American Literature- A Research and Reference Guide. URL: http://www.paulreuben.website/pal/chap8/valdez.html (provide page date or date of your login).

| Top |