Chapter 8: American Drama

Willis Richardson
1889-1977

© Paul Reuben October 20, 2016 E-Mail
Page Links: | Primary Works | Selected Bibliography 1980-Present | MLA Style Citation of this Web Page |
Site Links: | Chap. 8: Index | Alphabetical List | Table Of Contents | Home Page |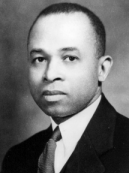 Source: The African American Registry
"The Hope of a Negro Drama," Crisis, 1919; The Kings Dilemma,1920; Mortgaged; The Chip Woman's Fortune, 1923; The Broken Banjo; Plays and Pageants from the Life of the Negro , 1930; Negro History in Thirteen Plays, 1935.
Gray, Christine R. Willis Richardson, Forgotten Pioneer of African-American Drama. Westport, Conn: Greenwood, 1999.
Harris, Trudier, and Thadious M. Davis. eds. Afro-American Writers from the Harlem Renaissance to 1940. Detroit: 7Letras, 1987.
Hill, Errol. ed. The Theater of Black Americans: A Collection of Critical Essays. NY: Applause, 1987.
Witalec, Janet and Harris-Lopez, Trudier. eds. Harlem Renaissance: A Gale Critical Companion. Detroit: Gale, 2002.
Willis Richardson (1889-1977): A Brief Biography
A Student Project by Lisa Moua
Willis Richardson, a dramatist, was not excelling financially and academically as desired. With only a diploma from M Street High School, Richardson quickly got a job as a clerk at the U.S. Bureau of Engraving and Printing in 1910-1954 (LDB 237). While in high school, Richardson became academically inspired by his English teachers, Mary Burill and Angelina Grimke. Rachel, a play by Grimke provoked an impetuous career change from poet to dramatist for Richardson. It became an inner challenge to provide an exquisite play. He answered the challenge with The Chip Woman's Fortune and The Broken Banjo.
"Truly a pioneer, he was the first black to have a Broadway production of a nonmusical, one-act play -The Chip Woman's Fortune (produced in 1923)." (Literary Biography 236) The play ran for a period of two weeks at the Frazee Theatre in New York.
Richardson was born in Wilmington, North Carolina on November 5, 1889. There seemed to be a discrepancy of paternity on behalf of his biological mother. There are some beliefs from his family that his mother was his grandmother and his older sister was his mother. Willis Wilder was his father but his biological father was supposedly a rich white man by the name of McKoy (Gray 2/8). Confused? Well, until further clarification, I will refer to Agnes Harper Richardson and Willis Wilder as Willis Richardson's mother and father.
Willis was the father of three daughters: Jean Paula born in 1916; Shirley Antonella born in 1918; Noel Justine born in 1920 (LDB 237). He died on November 7,1977 from Padgett's Disease. He was buried beside his wife, Mary Ellen Jones and his daughter, Noel.
The plays of Richardson didn't focus on racism but the portrayal of unique characters within the black community. He wanted his audiences to share the experiences of his characters. Richardson wrote The Hope of a Negro Drama, published by Crisis in 1919, and The Kings Dilemma (1920). W. E. B. Du Bois edited both of these works for Crisis and was also the founder of The Brownies' Book, for children. Du Bois's philosophies greatly influenced Richardson and he based his play, Mortgaged, on Du Bois's tenth philosophy (DLB 239).
Richardson reached his peak during the New Negro or the Harlem Renaissance in the 1920s. Various playwrights, Langston Hughes, Du Bois, May Miller, (naming only a few) met every Saturday and discussed past, present, and future plans for drama and the theatre. Richardson's plays were being staged and produced at Howard University in Washington. He felt for the first time that he was going to achieve the recognition he desired. All too soon the Theater Department disintegrated. The Drama Department at Howard University closed in 1929 (Gray 5/8). The outcome of the institution's decision to end the program was due to the job change of Montgomery Gregory, a major promoter of Richardson's. Montgomery Gregory headed the Howard University Players.
It seemed everything from that point on started on a downhill slide for Richardson. His plays were being produced without his consent. His dreams and hopes faded with The Great Depression. On March 7, 1947 his daughter, Noel, committed suicide leaving behind two children which were officially adopted by Richardson in 1952 (Gray 6/8). Trends and styles in theatre were quickly passing him by. He tried to make a come back with The Broken Banjo but no agent would represent him. His wife became blind and his health was failing him miserably. His wife donated his home library without his consent. After many disappointments, he isolated himself throughout the years. He felt alone and very lonely.
Shortly after his death, his dream of recognition was achieved. The Audience Development Committee (AUDELCO) recognized him as an "Outstanding Pioneer" in Black theatre. Other outstanding achievements consisted of Richardson winning the Edith Schwab Cup at Yale University in 1928 for the play Broken Banjo (Gray 2/8); and Howard University's production of a non-student Black play by Richardson, Mortgaged in 1924 (Gray 4/8). Richardson composed and edited two successful anthologies: the first one was Plays and Pageants from the Life of the Negro in 1930 and Negro History in Thirteen Plays in 1935.
Richardson was like a voice that wanted and needed to be heard. No one heard him at first and when they did, they suppressed him. But he spoke even louder and commanded attention. Finally, everyone heard him and embraced the talents he had to offer. Even though the only "existing records were. . . scrawled on . . . envelopes and legal pads" his contribution to African American Drama has labeled him as "the father of Black drama."(Gray 6/8)
Works Cited
Gray, Christine R: On Recovering a Pioneer American Playwright. WWW URL: http://www.bobwest.com/ncaat/crgray.html (March 3,1998).
Perry, Patsy B. "Afro-American Writers from the Harlem Renaissance to 1940." Dictionary of Literary Biography. ed. Harris, Trudier and Davis, Thadious M. 51 vols. Michigan: Layman, 1987.
MLA Style Citation of this Web Page
Reuben, Paul P. "Chapter 8: Willis Richardson." PAL: Perspectives in American Literature- A Research and Reference Guide. URL: http://www.paulreuben.website/pal/chap8/richardson.html (provide page date or date of your login).

| Top |