Chapter 8: American Drama

Anna Cora Mowatt
1819-1870

© Paul Reuben October 20, 2016 E-Mail
Outside Link: | Anna Cora Mowatt -- The Lady Actress |
Page Links: | Primary Works | Selected Bibliography 1980-Present | MLA Style Citation of this Web Page |
Site Links: | Chap. 8: Index | Alphabetical List | Table Of Contents | Home Page |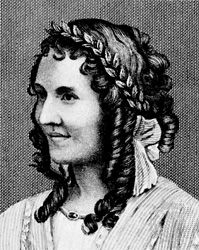 Source: Encyclopedia Britannica
Pelayo, or, The Cavern of Covadonga, 1836 (verse romance, pen name "Isabel"); The Fortune Hunter, 1844 (novel); Evelyn, 1845 (novel); Fashion; or, Life in NY: 1845 (play; social satire); Armand, the Child of the People, 1847 (play); Autobiography of an Actress, 1854; Mimic Life; or, Before and Behind the Curtain, 1856 (novella); The Mute Singer, 1866; The Clergyman's Wife and Other Sketches, (1867); Italian Life and Legends, 1870.

Autobiography of an actress; or, Eight years on the stage. Boston: Ticknow, Reed, and Fields, 1854. PS2717 .A3

Mimic Life; or, Before and Behind the Curtain. Ed. Jeffrey H. Richards. Copley Pub, 2001 (ISBN 1-58390-013-6) includes "Stella," "The Prompter's Daughter," and "The Unknown Tragedian."
Selected Bibliography 1980-Present
Barlow, Judith E. ed. Plays by American women: the early years. NY: Avon Books, 1981. PS628 W6 P59
Fowler, Lois J., and David H. Fowler. Revelations of Self: American Women in Autobiography. Albany: State U of NY P, 1990.
Meserve, Walter J. ed. On stage, America!: a selection of distinctly American plays. NY: Feedback Theatrebooks & Prospero Press, 1996. PS625 .O5
Piepmeier, Alison. Out in Public: Configurations of Women's Bodies in Nineteenth-Century America. Chapel Hill: U of North Carolina P, 2004.
Scullion, Adrienne. ed. Female playwrights of the nineteenth century. Rutland, Vt.: C.E. Tuttle, 1996. PR1246 .W65 F46x
Taylor, Kelly S. The Lady Actress: Recovering the Lost Legacy of a Victorian American Superstar. Los Angeles: Wapshott P, 2009.

Turner, Mary M. Forgotten leading ladies of the American theatre: lives of eight female players, playwrights, directors, managers, and activists of the eighteenth, nineteenth, and early twentieth centuries. Jefferson, NC: McFarland, 1990. PN2285 .T8
Zanzucchi, Anne. "Anna Mowatt Ritchie." in Lujungquist, Kent P. ed. Antebellum Writers in New York. Detroit: Gale, 2002.
| Top |Anna Cora Mowatt (1819-1870): A Brief Literary Biography

A Student Project by Adele Anderson
The Lady on Stage: A Biography of Anna Cora Ogden Mowatt Ritchie
Until June 6, 1845, the stage was no place for a lady. That evening's performance of Bulwer's Lady of Lyons at New York's Park Theatre, with Anna Cora Ogden Mowatt in the leading role, proved that being a lady and an actress were not mutually exclusive. It was, by all accounts, a rousing success. Mowatt's acting career continued for another eight years, to overwhelmingly favorable reviews.
Who was this woman who single-handedly turned the tide of public perception towards a more favorable view of actors in general, and actresses in particular, and brought respectability where none had been given?
Anna Cora Ogden was the ninth child of Samuel Gouverneur Ogden and Eliza Lewis. There seems to be some disagreement as Anna Cora's exact date of birth. In The Lady of Fashion: The Life and the Theatre of Anna Cora Mowatt (Scribner's Sons, New York, 1954), Eric Wollencott Barnes gives September 12, 1819, while other sources, the Encyclopedia Britannica among them, lists March 5, 1819. Mowatt herself does not provide an exact date in her Autobiography of an Actress; or, Eight Years on the Stage (Boston: Tichnow, Reed, and Fields, 1854).
Samuel Ogden was the eldest son of Uzal Ogden, an Episcopal minister often at odds with his superiors. Uzal Ogden eventually left the Episcopal Church and became a Presbyterian. Samuel Ogden became a successful merchant. In 1806, he furnished $40,000 and a ship to Francisco de Miranda, in support of the latter's plan to liberate Venezuela from Spanish rule. The plot did not succeed, the ship and money were lost, and Samuel Ogden was tried for his part in the campaign and acquitted. He quickly restored his finances and became one of the principal distributors of Bordeaux wines in the country. The success of his business eventually necessitated his leaving New York for Bordeaux. His by then sizable family accompanied him, and they spent several years in France.
Eliza Lewis, Anna Cora's mother, seems to have been a very kind and gentle person. She gave birth to fourteen children, of whom Anna Cora was the ninth. Quite early in her marriage, Eliza Lewis declared that she would not live past fifty, and indeed died around her fiftieth birthday. (Barnes, 2). Like her husband, Eliza Lewis came from an old family. Her grandfather, Francis Lewis, was one of the signers of the Declaration of Independence.
In 1826, the Ogden family returned to New York. At the beginning of their journey, their ship was severely damaged by a storm, and one of the children, a son by the name of Gabriel, perished at sea. The rest of the family spent a few agonizing days on board the disabled ship, wet, miserable and stricken with grief at the loss of Gabriel. In later years, Mowatt would blame this experience for the recurrent respiratory troubles that plagued her throughout her life, and curtailed her acting career. The family finally arrived in New York after a trans-Atlantic journey plagued by incessant bad weather.
After some initial misgivings on the part of the younger children, who did not speak English, only French, the family settled into a mostly happy life. Anna Cora and some of her sisters attended various schools for girls. At home, their chief amusement was staging plays for family and friends. Since the sibling comprised the acting troupe, changes often had to be made to the play to accommodate the cast. Their most memorable performance, of Voltaire's Alzire, was given on the occasion of Samuel Ogden's birthday. Anna Cora, fourteen at the time, played the title role. According to Barnes, "in it, Anna Cora demonstrated as never before her own talents as an actress." (11)
| Top | Ironically, Anna Cora had developed a distaste for the theatre as a result of the sermons of the Reverend Doctor Manton Eastburn, who was at that time rector at Grace Church, where the Ogdens were parishioners. The rest of the family did not share her views, and often attended plays "at the Park of the National." (Barnes, 11) Curiosity, however, undermined Anna Cora's determination and she joined other family members for the farewell performance of Fanny Kemble. As Barnes points out, Anna Cora lost her distaste for the theatre that evening.
Soon afterwards, Anna Cora's life took a rather melodramatic turn. She had been courted for some time by James Mowatt, a successful New York lawyer. Mowatt was thirteen years older than the object of his affections. He was steadfast and quite persistent in his pursuit of Anna Cora, whose father agreed to their marriage if the two still wanted to marry when Anna Cora turned seventeen. Mowatt, so patient and persistent until then, began to persuade his young fiancée to elope with him. Anna Cora held fast for some months, but soon after her fifteenth birthday, she agreed. The two were married by a French minister on October 6, 1834. In her Autobiography, Mowatt says:
What could a girl of fifteen know of the sacred duties of a wife? With what eyes could she comprehend the new and important life she was entering? She had known nothing but childhood &emdash; had scarcely commenced her girlhood. What could she comprehend of the trials, the cares, the hopes, the responsibilities of womanhood? I thought of none of these things. I had always been lighthearted to the point of frivolity. I usually made a jest of everything &emdash; yet I did not look on this matter as a frolic. I only remembered I was keeping a promise. I had perfect faith in the tenderness of him to whom I confided myself. I did not in the least realize the novelty of my situation.
As he had done before their marriage, James Ogden continued to direct Anna Cora's education. She read an astonishing number of books, between ninety and one hundred a year under Mowatt's tutelage. Anna Cora also began to write. Her first work, published by James Mowatt in 1836, was a verse romance titled Pelayo, or The Cavern of Covadonga, written under the pseudonym "Isabel."
Prompted by a return of Anna Cora's respiratory ailments, the Mowatt's began travelling through Europe, including Germany, from 1837 &emdash; 1840. During this time, Anna Cora began taking voice and German lessons. She also wrote several articles which were published in magazines back home, Godey's Lady's Book among them (Encyclopedia Britannica). James Mowatt became temporarily blind due to an eye ailment, prompting the couple's eventual return to New York. It was during this time that Anna Cora wrote Gulzara, or The Persian Slave, a play in six acts.
| Top | James Mowatt's vision continued to deteriorate, forcing him to retire from his law practice. The couple's finances became tight, and they were forced to sell Melrose, their beloved estate in Flatbush, Long Island. James Mowatt's attempt at a partnership in a printing business failed, despite the fact that Anna Cora published several works with the firm, including a biography of Goethe and two novels, one under the pseudonym Helen Berkley. Anna Cora decided to do something to improve their financial situation, and so became a public reader. Her first performance took place October 28, 1841, at the Masonic Temple in Boston. Among her audience was Edgar Allan Poe, who wrote quite a favorable review of the evening's entertainment, saying, among other things, that "a more radiantly beautiful smile is quite impossible to achieve." Although Anna Cora was successful, it was not enough to improve the Mowatt's finances. Her career as a public reader was cut short by another recurrence of respiratory problems, which turned her into an invalid for almost four years.
During these years of severe health problems, Mowatt began a course of mesmeric treatments at the hands of Dr. William Francis Channing, an experience she describes in detail in Chapter IX of her Autobiography. It seems that in the course of these treatments, she developed a sort of second personality, the Gypsy, capable of inexplicable feats (embroidering in complete darkness, for example). This Gypsy is said to have debated for hours with James Mowatt and family friend Epes Sargent. Eventually, the Mowatts converted to Swedenborgianism.
It was while convalescing that Anna Cora Mowatt wrote Fashion, or Life in New York. Written in 1845, it became her best-known work, garnering high praise and rave reviews. Shortly after the publication of Fashion, Anna Cora Mowatt made her debut as an actress, causing quite an uproar. Intense curiosity helped fill the Park Theatre to capacity, not with the usual spectators, but with the best and finest New York high society had to offer. By all accounts, Anna Cora Mowatt was a sensational success, made even more amazing by the fact that she had no formal training whatsoever, aside from her earlier public readings and the voice and German lessons of some years prior. Her acting career flourished as she brought to life characters from Shakespeare's plays, popular melodramas and her own plays. Mowatt's second play, Armand, the Child of the People published in 1847, was also successful. Her career took her all the way to London in 1847, where she enjoyed as much success as she had in New York. The death of James Mowatt on February 15, 1851, brought Anna Cora Mowatt's career to a halt. The tragedy was compounded by the bankruptcy and subsequent suicide of her London manager. Yet another recurrence of respiratory problems completed Mowatt's misery. She returned to America in 1851, and resumed her acting career after her recovery. Anna Cora Mowatt published her autobiography in December, 1853, and ended her career as an actress a few months later, in June, 1854.
A new chapter in her life began with her June 7, 1853 marriage to William Foushee Ritchie, who had been courting her for some time. Mowatt's second wedding was the complete opposite of her first &emdash; lavish, elaborate, planned. Mowatt's new husband was the son of Thomas Ritchie and served as editor of the Richmond Enquirer. After her marriage, Mowatt continued to write, publishing one work (Mimic Life; or, Before and Behind the Curtain) in 1855 and Twin Roses; a Narrative in 1857. Mimic was Mowatt's autobiography in the form of a novel; in it she related experiences she had had as an actress.
Mowatt's second marriage does not seem to have been happy. She left Richmond and her husband in 1860. She never returned. Until her father's death April 5, 1860, she remained with him. A few months later, she visited her ailing sister in Europe. Barnes, in Lady of Fashion, claims that political differences caused the Ritchies' marital rift, and also hints that Ritchie might have had a black mistress. Mowatt makes no mention of any such entanglement in her writings. She spent two years in Paris (1861-63), where she wrote The Mute Singer, published in serial form in The New York Ledger¸ between January and March 1861. Like so many of her works, this, too, was a success.
Mowatt moved to Florence in 1863. She wrote another novel, Fairy Fingers, in 1865. There was some controversy surrounding the source of the novel's plot, which bore rather strong resemblance to a 1858 play by Eugene Scribe titled Les Doigts de fee. Mowatt, however, uses the story to illustrate the plight of women and to address some of the issues concerning women. In the same year, Mowatt returns to England and attempts to resume her acting career, but failed, in part due to the respiratory condition that had plagued her since childhood. The once celebrated actress and author spent the remaining years of her life ill and alone, writing articles about London society for American journals in order to earn some money.
According to one of her biographers:
Anna Cora Ogden Mowatt Ritchie died in Twickenham, England, on July 21, 1870. She was fifty-one years old. Her body was buried in Kensall Green Cemetery in London beside her first husband, James Mowatt.

(http:// www.comm.unt.edu/hisofperf/ACM6.htm) - this site is now defunct. PPR: 07/05/2016.

Anna Cora Mowatt does not have an overwhelming Internet presence. There are no e-zines dedicated to her life and works, but there are several sites containing relevant information, both biographical and scholastic. In the last few years, ten dissertations have been written on subjects relating to Mowatt, focusing on her in particular as well as in conjunction with other writers. Mowatt's signature work, the play Fashion, has been presented sporadically, especially during the twentieth century. The Lookingglass Theatre staged the play recently, to mixed reviews. One critic, Adrienne Onofri, objected to director Justine Lambert's "fragmented updating" of the play, because it "gave [those] scenes a contrived and confused feel."
Mowatt's work does not seem to be in a state of excavation at this time, but rather in a continuous, though obscure presence, especially in the field of theatre history.
WORKS CITED
http://www.comm.unt.edu/histofperf/ACM.htm. 04/06/2001 - this site is now defunct. PPR: 07/05/2016.
Onofri, Adrienne "Always in Style: Fashion." URL: http://www.oobr.com/top/volFour/nine/fashion.html 04/08/2001
Encyclopedia Britannica. "Mowatt, Anna Cora." URL: http:// women.eb.com/women/articles/Mowatt_Anna_Cora_Ogden.html
Barnes, Eric Wollencroft. The Lady of Fashion: The Life and Times of Anna Cora Mowatt. New York: Charles Scribner's Sons: 1954
Mowatt, Anna Cora. Autobiography of an Actress; or Eight Years on the Stage. Boston: Ticknow, Reed, and Fields, 1854.
MLA Style Citation of this Web Page
Reuben, Paul P. "Chapter 8: Anna Cora Mowatt." PAL: Perspectives in American Literature- A Research and Reference Guide. URL: http://www.paulreuben.website/pal/chap8/mowatt.html (provide page date or date of your login).
| Top |