Chapter 8: American Drama

Arthur Miller
1915-2005

© Paul Reuben October 20, 2016 E-Mail
Outside Links: | Kazan and Miller | The American 1950s Page |
Page Links: | Primary Works | Selected Bibliography 1980-Present | Study Questions | MLA Style Citation of this Web Page |
Site Links: | Chap. 8: Index | Alphabetical List | Table Of Contents | Home Page |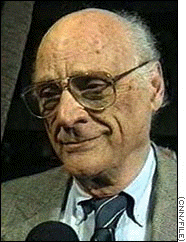 w
Source: CNN
". . . the tragic feeling is evoked in us when we are in the presence of a character who is ready to lay down his life, if need be, to secure one thing - his sense of personal dignity." - AM in "Tragedy and the Common Man" 1949 (E-Text)
Winner of many literary and dramatic award, Miller is an important force in American drama. His major characters are ordinary and suffering individuals seemingly trapped by naturalistic circumstances. And yet, Miller points out, they have dignity if not human greatness. Critical debate centers on the use or misuse of applying the norms of Aristotelian tragedy to a twentieth century democratic society. Miller has argued forcefully that a "lowman" is capable of a heroic status.
The Golden Years, 1939-40; The Man Who Had All the Luck, 1944; Focus (a novel), 1945; All My sons, 1947; Death of a Salesman, 1949; An Enemy of the People (Ibsen adaptation), 1950; The Crucible, 1953; A View from the Bridge, 1956; The Misfits, 1961; After the Fall, 1964; Incident at Vichy, 1964; I Don't Need You Any More (short stories), 1967; The Price, 1968; The Creation of the World and Other Business, 1972; The Archbishop's Ceiling, 1977; Playing for Time, 1980; The American Clock, 1980; Timebends (autobiography), 1987; Everybody Wins (screenplay), 1990; The Ride Down Mt. Morgan, 1991; The Last Yankee, 1993; Broken Glass, 1994.

"Tragedy and the Common Man." The New York Times Feb 27, 1949, II, 1, 3.
"Broadway from O'Neill to Now." The New York Times Dec 21, 1969, 1, 7.
"Why I Wrote The Crucible." New Yorker 21 Oct. 1996: 158-60, 162-64.
Echoes down the corridor: collected essays, 1944-2000. edited by Steven R. Centola. NY: Viking, 2000. PS3525 .I5156 A6

Focus. London: Gollancz, 1949. PS3525 .I5156 F6

Death of a salesman; certain private conversations in two acts and a requiem. NY: Viking Press, 1949. PS3525 .I5156

A view from the bridge, A play in two acts; with a new introduction. NY: Viking Press, 1960. PS3525.I5156 V5

After the fall; a play. NY: Viking Press, 1964. PS3525.I5156 A66

Incident at Vichy; a play. NY: Viking Press, 1965. PS3525.I5156 I5

I don't need you any more; stories. NY: Viking Press, 1967. PS3525.I156 .I2

The price; a play. NY: Viking Press, 1968. PS3525 .I5156 P7

The theater essays of Arthur Miller. edited and with an introd. by Robert A. Martin ; foreword by Arthur Miller. NY: Viking Press, 1978. PS3525 .I5156 T5

The American clock: a play. NY: Dramatists Play Service, 1982. PS3525 .I5156 A75

Two-way mirror. London: Methuen, 1984. PS3525 .I5156 T9

Salesman in Beijing. NY: Viking P, 1984. PS3525 .I5156 D4356

The Archbishop's ceiling. London: Methuen, 1984. PS3525 .I5156 A88

Timebends: a life. NY Grove Press, 1987. PS3525 .I5156 Z477

Danger, memory!: two plays. Ny: Dramatists Play Service, 1987. PS3525 .I5156 D3

The ride down Mt. Morgan. NY: Penguin Books, 1992. PS3525 .I5156 R5

The last Yankee: with a new essay about theatre language. NY: Penguin Books, 1994. PS3525 .I5156 L37

Broken glass. NY: Penguin Books, 1994. PS3525 .I5156 B76

Videorecording

Death of a salesman. a CBS Television Network production; produced by David Susskind & Daniel Melnick; directed by Alex Segal. West Long Branch, NJ : Kultur, 2002. Video DVD PN1997 .D374x

Arthur Miller's adaptation of An enemy of the people by Henrik Ibsen. a production of National Educational Television; directed by Paul Bogart ; produced by Jack Landau. West Long Branch, NJ: Kultur Video, 2002. Video DVD PN1997 .E628x
| Top | Selected Bibliograph1980-Present
Abbotson, Susan. Student Companion to Arthur Miller. Westport, CT : Greenwood, 2000.
Adler, Stella. Stella Adler on America's Master Playwrights: Eugene O'Neill, Clifford Odets, Tennessee Williams, Arthur Miller, Edward Albee, et al. NY: Knopf, 2012.
Bigsby, C. W. E. The Cambridge companion to Arthur Miller. NY: Cambridge UP, 1997.
Bigsby, Christopher. Arthur Miller. Cambridge: Harvard UP, 2009.
Bigsby, Christopher. Arthur Miller, 1962-2005. Ann Arbor: U of Michigan P, 2011.
Brater, Enoch. Arthur Miller: A Playwright's Life and Works. NY: Thames and Hudson, 2005.
---. ed. Arthur Miller's America: Theater & Culture in a Time of Change. Ann Arbor: U of Michigan P, 2005.
Gottfried, Martin. Arthur Miller: His Life and Work. Cambridge, MA: Da Capo, 2003.
Griffin, Alice. Understanding Arthur Miller. Columbia: U of South Carolina Press, 1996.
Hughes, Evan. Literary Brooklyn: The Writers of Brooklyn and the Story of American City Life. NY: Holt, 2011.
Kouvaros, George. Famous Faces Yet Not Themselves: The Misfits and Icons of Postwar America. Minneapolis: U of Minnesota P, 2010.
Margolies, Edward. New York and the Literary Imagination: The City in Twentieth Century Fiction and Drama. efferson, NC: McFarland, 2008.
Marino, Stephen A., and A Steven R. Centola. Language Study of Arthur Miller's Plays: The Poetic in the Colloquial. Lewiston, NY: Mellen, 2002.
Martin, Robert A. AM: New Perspectives. Englewood Cliffs, NJ: Prentice-Hall, 1982. PS3525 I5156 Z52
Mason, Jeffrey D. Stone Tower: The Political Theater of Arthur Miller. Ann Arbor: U of Michigan P, 2008.
Meyers, Jeffrey. The Genius and the Goddess: Arthur Miller and Marilyn Monroe. Urbana: U of Illinois P, 2009.
Moss, Leonard. AM. Boston: G. K. Hall, 1980. PS3525.I5156 Z77
Otten, Terry. The Temptation of Innocence in the Dramas of Arthur Miller. Columbia: U of Missouri P, 2002. PS3525 .I5156 Z84
Schlueter, June. AM. NY: Ungar, 1987. PS3525 .I5156 Z88
Schwartz, Bonnie N. Voices from the Federal Theatre. Madison: U of Wisconsin P, 2003.
| Top |Arthur Miller (1915-): A Brief Biography

A Student Project by Mary Collins
The celebrated American playwright Arthur Miller has enriched American theater for several decades, and is the recipient of three New York Drama Critics Awards, a Pulitzer Prize for Death of a Salesman, an Emmy, and a Tony Award. His dramas often take place in familial settings where he deals with contemporary political and moral issues.
Hailing from a middle class background, Miller was born in New York City on October 17, 1915 to Isidore and Augusta Barnett Miller. Isidore, Arthur's father, suffered tremendous financial loss prior to the Depression, causing the family to relocate to Brooklyn. There, Miller enrolled at James Madison and Abraham Lincoln high schools, and was known to be an average student. He showed little interest in reading until the age of seventeen saying, "I never read a book weightier than Tom Swift and The Rover Boys, and only verged on literature with some Dickens." (Helterman 87) Miller graduated from Abraham Lincoln in 1932 in the midst of the Great Depression, applied to University of Michigan, and was not accepted because of his mediocre grades. The young Miller worked two and a half years at menial jobs, saving most of his paychecks for his college education. Miller developed an enthusiasm for perusing famous Russian author Dostoevsky's novels, enabling him to gain acceptance into the University of Michigan in 1935.
While studying in Michigan, Miller worked on campus to enhance his income, going from mouse tender in a University laboratory to night editor for the Michigan Daily newspaper. The genesis of Miller's play writing occurred at this time, and for his efforts was granted two five-hundred dollar Hopwood Playwriting awards for Honors at Dawn (1936) and No Villain (1937), (which was revised as They Too Arise, then later as The Grass Still Grows). No Villain also won the Theater Guild Award in 1938, along with a monetary bonus of $1250. This ample recognition boosted Miller's confidence, leading him to propose to and later wed, Mary Grace Slatterly in 1940.
Miller became temporarily connected to the Federal Theater Project "which paid promising young playwrights a wage for working on plays." (Helterman 88) The program was terminated before Miller could produce a play. Next, Miller expanded his writing abilities by creating radio scripts for half-hour shows like "Cavalcade of America" and the "Columbia Workshop." Even though radio plays improved his ability for crafting dialogue, Miller was disheartened by his producers' insistence of omitting "subtlety of characterization" (Helterman 88) because they felt the audience lacked the ability to interpret sophisticated dialogue. Miller needed a different medium which could offer him more creative freedom and remuneration in the expression of his strong literary talent.
In 1944 Miller visited American army camps to gather realistic material for the filming of Ernie Pile's Story of GI Joe (1945). He transformed his research notes into a "wartime journal" called Situation Normal, published in 1945. He helped the soldiers express their feelings about fighting in the war, and strove to "keep his journal free of the flag-waving patriotism that was the stuff of most Hollywood treatments of the war effort." (Helterman 88)
In the same year, Miller's Broadway premiere, The Man Who Had All the Luck opened, but lasted only four performances. Almost every critic harshly condemned the play, but many saw potential in Miller if he could keep his characters' inclination to deliver speeches under control. In The Man Who Had All the Luck, Miller introduces a common plot to many of his plays: "the rivalry of two brothers for the affection of the father." (Helterman 88) This form of quarreling is most dramatically seen in The Creation of the World and Other Business (1972), "where the ultimate fraternal rivals, Cain and Abel, struggle because Eve loved Abel best." (Helterman 88)
In 1945 Miller released his first novel, Focus, a considerable success selling 90,000 copies. Two significant themes in Miller's work surface in Focus, "man's responsibility for all of his fellow men" (Helterman 89), as seen in All My Sons, and a "more specific aspect of that theme- all men are responsible for and have a share in the suffering of the Jews," (Helterman 89) the key issue in Incident at Vichy and a peripheral concern in After the Fall, both released in 1964. All My Sons was Miller's first successful play because it was directed toward a more popular audience which could easily comprehend its plain and unambiguous dialogue. All My Sons was awarded the New York Drama Critics Circle Award in 1947, establishing Miller as an "important young playwright." (Helterman 90)
Miller's next play was his most popular, Death of a Salesman, which won the New York Drama Critics Circle Award in 1949. In the play, the "action outlines the mental and moral collapse, leading to suicide, of an aging traveling salesman, who comes to realize that he had based his life on false ideals." (Martine 23) "The American dream and its delusions are everywhere" (Helterman 92) throughout the play, pointing to the fact that reality pales in comparison to one's hopes and dreams. Death of a Salesman ran for over two years and was a "critical and financial triumph...[catapulting] Miller into the front rank of American dramatists" (Helterman 95), and enabling him to win his second Drama Critics Circle Award along with a Pulitzer Prize in 1949. Made into a film, produced on Broadway and eventually taken to other cities by road companies, Death of a Salesman has been a staggering success, which continues to be performed by "almost every local theater in the country." (Helterman 95)
Miller's career in the 1950's began with an adaptation of Ibsen's An Enemy of the People which was released on Broadway and "signaled his interest in a new type of hero...unlike his former heroes who "dissipated their energies in the pursuit of misguided ideals." (95) The character John Proctor is a hero in a new mold in Miller's next play, The Crucible (1953), whose flaws are of a classical nature, due to afflictions such as hubris or hamartia, instead of the "skewed idealism" (Helterman 95) of Miller's previous heroes. The Crucible is set during the period of the Salem witch trials, which caused critics to sense "analogies with Senator Joseph McCarthy's witch-hunts for communists." (Helterman 95)
The Crucible was written in an historical style, marking a shift in Miller's preferred writing style from the "naturalistic dialogue of the American middle class" (Helterman 95) in his first three plays, to a formal, New-England-Puritan style. Miller "makes exemplary use of this new style, its biblical echoes, its metaphorical richness, and its ethical basis." (Helterman 95) The Crucible concerns the dilemma of "making moral choices in the face of community pressure and about the irrational basis of that pressure." (Helterman 95). The similarity between the Communist and Puritan witch-hunts allows Miller to formulate an explanation for their inception, along with the destructive effect that speculations can have on individuals when brought before an unsympathetic, judgmental and irrational public. The public's trepidation toward the subject matter of The Crucible was due to the play's remarkable similarity to the political pulse at the time, causing critics to give it "polite, lukewarm reviews," (Helterman 96) and closed after only a few months. Ironically, The Crucible was successful in an off-Broadway production five years later and was given ample praise by the same critics who previously rejected it. This performance ran over six hundred shows, establishing it as Miller's second most popular play.
Miller produced two one-act plays, A Memory of Two Mondays and A View from the Bridge, on Broadway in 1955. The plays are "completely different in tone and theme," (Helterman 98) the first a pensive reminiscence of his formative teenage years and the latter "like some reenactment of a Greek myth which was ringing a long-buried bell in [his] own subconscious mind." (Helterman 98) Miller received his third Drama Critics Circle Award in 1955 for A View from the Bridge, signaling the end of eight productive years of writing, and beginning nine years of "personal and political problems that would keep him from finishing a new play until 1964." (Helterman 100)
The year 1955 was a tumultuous one for Miller after a divorce from Mary Grace Slatterly and a dismissal from the New York Youth Board, where he was involved in producing "a film about juvenile delinquents when the American Legion and the Catholic War Veterans applied pressure to have the project dropped because of his alleged Communist ties." (Helterman 100) The groups' pressure was effective and the project was aborted.
Two years later Miller was pressured by the Committee on Un-American Activities to reveal names of associates whose beliefs were thought to be communist, but he refused to betray his colleagues, like John Proctor in The Crucible. Miller was put on trial and was found guilty on "two counts of contempt." (Helterman 101) Luckily, two years later his sentence was overturned "on a technicality by the U.S. Court of Appeals." (Helterman 101)
Miller married a second time to film actress Marilyn Monroe in 1956. Monroe felt their marriage would erase her "dumb blonde" status and bring her an opportunity to change her onscreen image through better roles, because of Miller's intellectual reputation and critical input. Instead, Miller changed his own style to reflect Monroe's already existing popular persona, and became responsible for her "financial arrangements and her script choices, pushing her to make Some Like It Hot, her most successful movie." (Helterman 101) Much to Monroe's dismay, Miller felt she was ideal for "the quintessential 'dumb blonde' part of Sugar Kane." (Helterman 101) Then, Miller convinced Yves Montand to costar with his wife in Let's Make Love, another helpful financial contribution of Miller's to his bombshell wife's career.
A series of disasters surrounded the couple, starting with Monroe's miscarriage of their hoped-for child. Around that time Miller produced the screenplay to The Misfits to help his wife's ebbing popularity. By 1961 Miller and Monroe were divorced, and on the final day of shooting The Misfits, the lead actor, Clark Gable, died of a massive heart attack. The Misfits was Monroe's last film, and by August 4, 1962, she was found dead. Miller had already married a photographer on the set of The Misfits, Ingeborg Morath, and did not attend Monroe's funeral.
Ending a nine year dry spell, Miller wrote his next play After the Fall (1964) for the Lincoln Center Repertory Company. The play reveals, "in confessional monologue form, an attitude intensely pessimistic" (Martin 159), about society in the 1960's. Critics rapidly drew parallels between Miller's marriage to Monroe and the main character Quentin, who also "married a sensuous woman for whom love was the only salvation, and he was not able to save her." (Helterman 103) Critics imagined Miller wrote the play as an explanation and justification for his inability to save Monroe from committing apparent suicide.
Miller wrote another play for the Lincoln Center Repertory, Incident at Vichy (1964), "a long, one-act play about the holocaust," (Martin 173) then returned to Broadway in 1968 with The Price. The "talkniess" of the play was a subject for critics' praise and condemnation. A close look at The Price "indicates that Miller is using and questioning the dramatic, social, and therapeutic uses of talk and that our understanding of the play...hinges on the degree to which the author- and the audience- is willing to admit there may be efficacy in conversation." (Martin 189)
Miller's interest in "the loss of innocence and conflict between two brothers" (Helterman 107) was treated with a humorous interpretation of Biblical stories with The Creation of the World and Other Business (1972), intended to be both a comedy and a philosophical observation. Unfortunately the play was a disaster, closing after just twenty performances with unceasing jabs from the critics. Douglas Watt asserts its "jesting is awkward and heavy-handed, its statements are preachy, and the writing, taken as a whole, is surprisingly flat and mechanical." (Martine 175) The incensed Miller obstinately turned his back on the critics. Wanting to save his Eden plays, Miller transformed Creation of the World into a musical, wrote the lyrics, and directed the performance of Up From Paradise at the University of Michigan. Miller's next play, The Archbishop's Ceiling (1977), is a "response to Soviet treatment of dissident writers." (Helterman 108)
After marrying Ingeborg Morath, Miller's life became more sedate and less troubled by personal and political strife as it was in the 1950s and 1960s. Miller wrote The American Clock in 1980, which addresses one of his predominant themes, family life in the Depression. In the same year he wrote Playing for Time, a television screenplay, a "portrayal of individual courage in the face of brutal dehumanization" (Helterman 109) about an all woman inmate orchestra in a Nazi concentration camp in World War II. Playing for Time won four Emmy Awards following its 1980 television debut, one for Outstanding Drama Special, another for Outstanding Writing, an Outstanding Actress award for Vanessa Redgrave, and Outstanding Supporting Actress for Jane Alexander. In 1987 Miller published his autobiography Timebends: A Life, covering his childhood in Brooklyn, the political turbulence of the 1950s, and the second half of the twentieth century. His most recent play, Broken Glass won the 1995 Oliver Award. In the same year he wrote the screenplay for The Crucible, starring Daniel Day Lewis and Winona Rider. Miller's daughter Rebecca to his third wife Ingeborg Morath, wed British actor Daniel Day Lewis in 1996. Today Miller resides on a four hundred acre Connecticut farm where he works in his garden, writes in an isolated studio, and visits with neighbors. Arthur Miller's plays are in a constant state of revival by myriad American theaters, and his name lives on as one of the most influential American playwrights of the twentieth century.
Arthur Miller died on February 11, 2005.
Works Cited
Helterman, Jeffrey. Dictionary of Literary Biography: Twentieth-Century American Dramatists Part 2: K-Z. Ed. John Mac Nicholas, Volume 7. Detroit: Gale Research Co., 1981. 86-111.
Martin, Robert A., ed. Arthur Miller. New Jersey: Prentice-Hall, 1982.
Martine, James J. Critical Essays on Arthur Miller. Boston: G. K. Hall & Co., 1979.
1. Critics have disagreed as to whether Death of a Salesman can be called a tragedy. Most of the debate centers on whether or not Willy Loman has the stature of a tragic hero. What admirable characteristics does Willy have? Could any of his desires or motivations be called noble? Consider particularly Willy's motivations in committing suicide. In what respect are they to be admired? In what respect are they mistaken? Does Willy make any "discovery" before his death? If so, does it involve an increase in his self-knowledge?
2. Critics generally agree that the theme of The Crucible emerges from the drama implicit in the play. What, in your view, is the theme of the play? The contemporary appeal of the play can hardly be attributed to either the Salem witch-hunt and/or the Communist hunt of the 1950s. Why then has The Crucible held up so well? What makes it still worth reading and performing?
MLA Style Citation of this Web Page
Reuben, Paul P. "Chapter 8: Arthur Miller." PAL: Perspectives in American Literature- A Research and Reference Guide. URL: http://www.paulreuben.website/pal/chap8/miller.html (provide page date or date of your login).
| Top |