Chapter 8: American Drama

Terrence McNally
1939 -

© Paul Reuben October 20, 2016 E-Mail
Page Links: | Primary Works | Selected Bibliography 1980-Present | MLA Style Citation of this Web Page |
Site Links: | Chap. 8: Index | Alphabetical List | Table Of Contents | Home Page |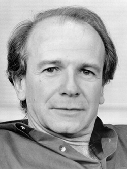 Source: TM
Next (1969) and The Ritz (1975) Frankie and Johnny at the Claire de Lune (1987) The Lisbon Traviata (1989) Andre's Mother, 1990; Lips Together, Teeth Apart (1991) Kiss of the Spider Woman (1992) Love! Valour! Compassion! (1994) Master Class (1995) Corpus Christi (1997).

The Ritz and other plays. NY: Dodd, Mead, 1976.PS3563.A323 R5

It's only a play: a comedy. Garden City, NY: N. Doubleday, 1986. PS3563 .A323 I8

Frankie and Johnny in the Clair de Lune: a play. NY: Dramatists Play Service, 1988. PS3563 .A323 F72

The Lisbon traviata. NY: Dramatists Play Service, 1992. PS3563 .A323 L5

Lips together, teeth apart. NY: Plume, 1992. PS3563 .A323 L48

A perfect ganesh. NY: Dramatists Play Service, 1994. PS3563 .A323 P47

Love! Valour! Compassion! NY: Dramatists Play Service, 1995. PS3563 .A323 L6

Terrence McNally: collected plays, volume II. NY: Smith and Kraus, 1996. PS3563 .A323 A6

"What I Know about Being a Playwright." American Theatre 15.9 (Nov 1998): 25-26.

Master class. NY: Dramatists Play Service, 1996. PS3563 .A323 M37
Selected Bibliography 1980-Present
Bryer, Jackson R. ed. The Playwright's Art: Conversations with Contemporary American Dramatists. New Brunswick, NJ: Rutgers UP, 1995.
DiGaetani, John L. ed. A Search for a Postmodern Theater: Interviews with Contemporary Playwrights. NY: Greenwood, 1991.
Fisher, James. "Terrence McNally." in Wheatley, Christopher. ed. Twentieth-Century American Dramatists, Third Series. Detroit: Thomson Gale, 2002.
Frontain, Raymond-Jean. ed. "'All Men Are Divine': Religious Mystery and Homosexual Identity in Terrence McNally's Corpus Christi." in Reclaiming the Sacred: The Bible in Gay and Lesbian Culture. NY: Harrington Park, 2003.
Kolin, Philip C. and Colby H. Kullman. eds. Speaking on Stage: Interviews with Contemporary American Playwrights. Tuscaloosa: U of Alabama P, 1996.
MacNicholas, John. ed. Twentieth-Century American Dramatists, Part 2: K-Z. Detroit: Gale, 1981.
Mazer, Cary M. "Master Class and the Paradox of the Diva." in King, Kimball. ed. Modern Dramatists: A Casebook of Major British, Irish, and American Playwrights. NY: Routledge, 2001.
Wolfe, Peter. The Theater of Terrence McNally: A Critical Study. Jefferson, NC: McFarland; 2014.
| Top |Terrence McNally (1939 - ): A Brief Biography

A Student Project by DeeAnn Hammond
Terrence McNally was born in St. Petersburg, Florida on November 3rd, 1939. The family then moved to Corpus Christi, Texas where he grew up. After his graduation from high school, he left Corpus Christi to attend Columbia University in New York. He graduated Phi Beta Kappa in 1960 with a bachelor's degree in English.
His parents, Dorothy Rapp McNally and Hubert Arthur were both native New Yorkers, who introduced him to the theater at a young age. It seemed only natural with his love of writing that he take a fellowship that had been offered in Mexico to do creative writing for the stage. He wrote a long one- act play, which was seen by the Actors Studio in New York. The script was promising, but Terrence had no practical theatrical experience. He was offered a job at the Actors Studio as a stage manager, where he began to learn how plays were produced.
Through the stage connections he began to make, he was offered a job as a private tutor in Europe. Having never been to Europe he decided to take the offer, and left in 1961. Upon arriving in Europe he was amazed to find out he had been hired to teach the children of John Steinbeck. For the next year McNally toured the world with the Steinbeck family, forming a close relationship with them.
The following year McNally received the Stanley Award for the best play at the New York City Writer's Convention. It was an early version of And Things that go Bump in the Night. He was introduced after winning his award to Franco Zefferelli, who asked Terrence to rework a production of The Lady of the Camellias. The production reached Broadway in 1963, and although it only saw 13 performances McNally received his first Broadway credit.
In 1964 And Things That Go Bump in the Night was noticed by producer Theodore Mann, who decided to produce it in New York. Reviews of this play were mainly unfavorable due to its violence and dismal vision. The play did have its supporters however, and a second review, this one more favorable than the first was printed in the Village Voice.
From 1963-1965, McNally was the film critic for the Seventh Art magazine and in 1966 he received a Guggenheim fellowship for playwriting which allowed him to concentrate on writing one-acts. During the 1968-1969 season he had seven one-act plays produced: Next, Botticelli, Sweet Eros, Witness, Noon, :Cuba Si! and Bringing It All Back Home. Four of these plays focused on the Vietnam War.
In the 1970s, McNally produced several other plays such as Bad Habits, Whiskey, The Tubs, The Ritz, and in 1991 Lips Together, Teeth Apart.
According to William Robins and Craig L. Downing the direction that McNally's career will take in the future is still uncertain. He is capable of producing a wide variety of dramatic effects from grisly horror to exuberant farce. The range of his satire extends from intensely personal matters to broad social themes. His weaknesses stem from occasional uncertainty of tone or intent and from dramatic structures, which at times threaten to fall apart because of their fragmented nature. His ear for dialogue is sharp, and his heroes very appealing. Unquestionably, he is one of the best satiric playwrights to write during and after the Vietnam War.
Work Cited
Robins, William and Craig L. Downing. Twentieth Century American Dramatists, Part 2. Ed. John MacNicholas. Michigan: Gale Research, 1981. 75-82.
MLA Style Citation of this Web Page
Reuben, Paul P. "Chapter 8: Terrence McNally." PAL: Perspectives in American Literature- A Research and Reference Guide. URL: http://www.paulreuben.website/pal/chap8/mcnally.html (provide page date or date of your login).
| Top |