Chapter 8: American Drama

Dion Boucicault
1820-1890

© Paul Reuben October 20, 2016 E-Mail
Outside Links: | Biography of DB: The Victorian Web | Internet Broadway Database: DB |
Page Links: | Primary Works | Selected Bibliography 1980-Present | MLA Style Citation of this Web Page |
Site Links: | Chap. 8: Index | Alphabetical List | Table Of Contents | Home Page |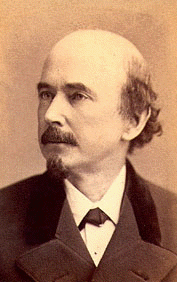 Source: NNDB - DB
The Dolmen Boucicault. Edited by David Krause, with an essay by the editor on the theatre of Dion Boucicault, and the complete authentic texts of Boucicault's three Irish plays, The colleen bawn, or The brides of Garryowen; Arran na pogue, or The Wicklow wedding; the shaughraun. The Dolmen Press,1964. PR4161 .B2 A12

The character of melodrama; an examination through Dion Boucicault's The poor of New York, including the text of the play. With a foreword by James S. Bost. Orono, Me: U of Maine, 1968. PR4161.B2 P638

London assurance; the full original text adapted for the modern stage and edited by Ronald Eyre, with an introduction by Peter Thomson. London: Methuen, 1971. PR4161 B2 L6

Dion Boucicault, the shaughraun: a documentary life, letters and selected works. compiled by Sven Eric Molin and Robin Goodefellowe. 2 vols. Newark, Del: Proscenium Press, 1979-. PR4161 .B2 Z75

American melodrama. edited, with an introduction, by Daniel C. Gerould. NY: Performing Arts Journal Publications, 1983. PN1918 .U5 A512 (Belasco, David, 1853-1931, Daly, Augustin, 1838-1899, Stowe, Harriet Beecher, 1811-1896, Aiken, George L., 1830-1876, Boucicault, Dion, 1820-1890,

Plays. by Dion Boucicault; edited with an introduction and notes by Peter Thomson. NY: Cambridge UP, 1984. PR4161 .B2 A6 (The Octoroon)
Selected Bibliography 1980-Present
Courtney, Angela. "Dion Boucicault (Dionysius Boursiquot, Dion Bourcicault, Lee Moreton)." in Courtney, Angela. ed. Nineteenth-Century British Dramatists. Detroit: Thomson Gale, 2008.
Brody, Jennifer D. "The Yankee Hugging the Creole: Reading Dion Boucicault's The Octoroon." in Kein, Sybil. ed. Creole: The History and Legacy of Louisiana's Free People of Color. Baton Rouge: Louisiana State UP, 2000.
MacKay, Carol Hanbery. ed. Dramatic Dickens. NY: St. Martin's, 1989.
Welch, Robert, and Suheil B Bushrui. eds. Literature and the Art of Creation. Totowa, NJ: Barnes & Noble, 1988.
Dion Boucicault A Biography: A Brief Biography
A Student Project by Marlen Vasquez
Dionysius Lardner Boursiquot was born in Dublin, Ireland on December 27, 1820. If any one human being had the potential to become one of the most prolific writers of melodrama, it would have been Dion. His first breath was taken in an atmosphere laden with melodramatic potential; his paternity was questionable because his mother was having an affair.
His mother, Anne Maria Darley was from an established Irish Protestant family; she was the sister of the poet George Darley and of a professor of English Literature, Reverend Charles Darley, ""it was from them that Boucicault claimed to have inherited whatever literary talent he possessed." (Fawkes, 4) At the age of 18, Anne married Samuel Smith Bourisquot, a Dublin wine merchant whose lineage could be traced to the French Huguenots; Samuel was 26 years her senior. Outside of her marriage, Anne developed a Romantic attachment to Dr. Dionysius Lardner, "...best known for his hundred - and- thirty four volume reference work The Cabinet Cyclopedia." (Hogan, 18), a childhood friend, "...only two years older than Anne. He was witty, amusing companion who enjoyed spending his money on his lady-friends - the exact opposite of the dour, elderly Boursiqout." (Fawkes, 7) There is no scientific proof as to whether Lardner was the father or Boursiquot, however, Anne named her son after Lardner and when the family moved to London, Lardner took on the financial obligations for Dion acting as his guardian, providing enough reason to believe that Lardner was very probably Dion's biological father.
His school days were accompanied by the color and flair that already marked his early history. At the age of 13, Lardner sent Dion to University College School, a grammar school set on the property of the University. Dion's outrageous temperament coupled with his Irish brogue marked him an outsider, however, some aspect of his personality drew his classmates to him; "Boucicault was popular with his fellow students. His biting wit, often at the expense of his teachers, and his ability to mimic them, were highly appreciated even if they frequently got him into trouble." (Fawkes, 14) It was at University College School that he met Charles Lamb Kenney, the son of a well known dramatist, James Kenney. Charles frequented the theater and often Dion would accompany him; "Boucicault was captivated by what he saw. There was a romantic world of the imagination in which his story-book heroes came to life, in which he could escape from his family problems and personal loneliness." (Fawkes, 14)
At the age of seventeen in March of 1838, Dion adopting the pseudonym Lee Moreton began a love affair with drama; he did not use his given name because he did not want his family to know that he was pursuing a career in theatre, nor did he want to take the chance that he might attach an unsuccessful career to his true name. He presented himself outside the stage door of the Theatre Royal in the hopes that the manager Charles Hill might take pity and offer him a job. "Day after day he waited for Hill outside the theatre, begging for a part, any part, in which he could show himself what he could do. Impressed by his persistence, Hill decided to give him a chance." (Fawkes, 17)
Hill would customarily put on amateur performances, casting local dignitaries in leading roles as a way of showing gratitude for their support of his professional performances; it was in these amateur shows that Dion a.k.a. Moreton would make his first attempts at acting. The first role that Dion was cast in was that of the Duke of Norfolk in Richard III, the first criticism regarding Dion's amateur acting were promising, "'The little which fell to the lot of the Duke of Norfolk to do was really well done,' commented the reviewer of the Cheltenham Looker-On.'" (Fawkes, 17) Aside from achieving a rather surprising successful first attempt at acting, Dion enthusiastically threw himself into the tedious task of learning his lines, "Hill was clearly impressed not just with his acting but his enthusiasm, for Moreton had not only learnt the part of the of Norfolk but also that of Richard. Four days later, on 6 April, Moreton appeared as Richard in another amateur performance for Hill in Gloucester." (Fawkes, 18) As an amateur, Moreton went on to play the roles of characters such as: Hamlet in Hamlet, Iago in Othello, and the title role of Rory O'More, were a few among others. His earliest criticisms were perhaps too mildly favorable to have any true credibility, "The favorable reviews of his provincial performances are couched in familiar language, and could have been to almost any novice." (Thompson, 2) These early reviews did not indicate the curious fact that eventually the critics would bear an outright animosity towards Dion.
Dion first critical wounds occurred when he crossed the bridge from an amateur actor to being a professional actor. The animosity that the critics bore towards Dion was surprising, "He was a handsome young man, brimful of confidence, and there must have been much of the precocious conceit of Dion Boucicault already in evidence in Lee Moreton, for he was singled out for a very firm put-down by a third critic." (Fawkes, 20) Dion was strutting around with the aura of an over-inflated ego in front of the critics; they sensed it and they attacked him for it:
Mr. Moreton, we presume, is labouring under the peculiar and unfortunate malady commonly expressed by the phrase of being 'stage-struck': he is a young man, and this renders the circumstances more excusable.

His friends, too, have doubtless persuaded him that he has talent…His performance did not fail from a want of that confidence and knowledge of the business of the scene which are the usual stumbling blocks in the way of the young actor…On the whole, it is evident to us that Mr. Moreton's friends have very much overrated his powers.
Although he had some success as an actor, Boucicault decided to try his hand at play-writing. One of his earliest attempt was a play titled London Assurance; "The play is a hotch-potch of ideas borrowed from Restoration comedy…The plot turns on a father failing to recognize his son, a dramatic device which must have seemed faintly absurd in modern dress, but Boucicault's keen ear for dialogue, his sharp eye for characterization, his warmth and sense of fun, make the incongruities unimportant." (Fawkes, 35) The play was an astounding success, "London Assurance brought Boucicault into sudden prominence. Not surprisingly it went to his already giddy head." (Thomson, 3) Money, fame, and Dion were ingredients for an explosive disaster; this time it would signal the start of a life filled with excess and debt, at times Dion would be at the height of prosperity living the life of a dandy at other times he would be hard-pressed for cash attempting to crank out plays to get the funds.
The theatre of the Victorian age "did not want original, quality drama. Audiences did not want subtle writing or to be made to think; they went to the theatre to be entertained, and the more magnificent the spectacle the more they enjoyed it." (Fawkes, 50) Because the atmosphere of Victorian theater was not conducive to a dramatists original creativity, his old friend Charles Lamb Kenney suggested to Dion that he should go to Paris and 'take their stuff and put it better use.'
Dion went to Paris, commenced to furiously translate many French comedies and he got married…to a rich old widow. This marriage was insight into Dion's lack of financial control in his life, "Money was still Boucicault's greatest problem, for no matter how much he received from Webster, his expenses were always higher than his income." (Fawkes, 61) In the summer of 1845, Dion found the solution to his money problems in the form of Anne Guiot, "Her greatest attraction seems to have been that she had money." (Fawkes, 62) It was in France that he began to take on the air of the nobility and altered his last name from Boursiquot to Boucicault, "During his bankruptcy proceedings in 1848, he mentioned that his wife had left him more than 1000. He also mentioned somewhat romantically, that he was an Irishman but the son of a Frenchman, that his name was Bourcicault, and that, when he lived in France, he had used the rightful title of Viscount de Bourcicault." (Hogan, 34) Aside from his social going-ons he translated a number of French Comedies: Esquire Within, The Old School, and "The most successful immediate outcome of the trip to France was the version of The Corsican Brothers staged by Charles Kean at the Princess's in 1852." (Thomson, 6)
Dion returned to London for some time, continuing his business relationship with Charles Kean. Working closely with Kean he became acquainted with a young Scottish actress Agnes Robertson who was also Kean's ward. After some time they became lovers eventually causing the dissolution of the friendship between Kean and Dion. With nothing to lose, Dion packed up and left for America with his new lover in tow.
On 18 September 1853 in New York, Boucicault and Agnes Robertson married by a simple formal declaration; during their marriage they had six children. Also in America, Dion learned the art of staging sensationalistic scenes. One such scene was in his French adaptation, The Poor of New York, "The sensational fire scene, ingeniously staged, set a precedent for all subsequent 'sensation scenes'; and the idea of building in to the play references to the recent financial panic in New York opened Boucicault's eyes to the potential attractiveness of contemporaneity." (Thomson, 7) Dion further explored the idea of contemporary drama with his plays: Jessie Brown; The Relief of Lucknow; and The Revolt of the Harem. Another more controversial foray into contemporary issues was the social play, Octoroon. Octoroon deals with the issue of slavery and the idea of race. In the play the central character, Zoe, is 1/8 black and commands the love of the characters in the play, many of whom are white southerners, "The dialogue and characters of the play made one feel for the South, but the action proclaimed against slavery, and called loudly for its abolition." (Thomson, 8)
On a more practical level, Dion helped changed legislation in America with regards to copywriting. Boucicault joined ranks with the playwright, Boker, and headed to Washington to persuade Congress to make an amendment to the 1831 Act and they succeeded. In 1856, the amendment was carried, "It gave the author of a dramatic composition, for the first time, 'the sole right to print and publish the said composition, the sole right also to act, perform, or represent the same, or cause it to be acted, performed, or represented on any stage or public place,' any manager who pirated a play in the future 'shall be liable for damages.'" (Fawkes, 91)
Boucicault died of pneumonia on 18 September 1890. Dion had many accomplishments over his active career of more than fifty years. The fact that he was constantly in financial duress actually pushed him to improve the plight of the playwrights' condition. He was a pioneer of sensationalistic scenes and an advocate for fireproofing scenery in the American Theatre. He can also be credited, "with having written two of the best comedies and three of the best melodramas of the nineteenth century." (Thomson, 13) Dion Boucicault led a highly colored life filled with the melodramatic material that he wrote about in his plays; he was a bastard (in all senses of the word), a lover, a spendthrift, poor, rich, arrogant, a philanderer, but above all things he was a dramatist.
Works Cited
Boucicault, Dion. Plays by Dion Boucicault. Ed. Peter Thomson. London: Cambridge University Press, 1984.
Fawkes, Richard. Dion Boucicault A Biography. London: Quartet Books Limited, 1979.
Hogan, Robert. Dion Boucicault. New York: Twayne Publishers, Inc., 1969.
MLA Style Citation of this Web Page
Reuben, Paul P. "Chapter 8: Dion Boucicault." PAL: Perspectives in American Literature- A Research and Reference Guide. URL: http://www.paulreuben.website/pal/chap8/boucicault.html (provide page date or date of your login).
| Top |