Chapter 8: American Drama

Philip Barry
1896-1949

© Paul Reuben October 20, 2016 E-Mail
Outside Links: | PB Papers | Internet Broadway Database: PB |
Page Links: | Primary Works | Selected Bibliography 1980-Present | MLA Style Citation of this Web Page |
Site Links: | Chap. 8: Index | Alphabetical List | Table Of Contents | Home Page |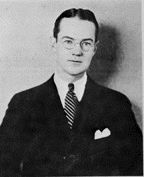 Source: LexHamArts
A Punch for Judy, 1921; You and I, 1923; The Youngest, 1924; Paris Bound, 1927; John, 1927; Holiday, 1928; Cock Robin (with Elmer Rice), 1928; Hotel universe, a play, 1930; Tomorrow and Tomorrow, 1931; The Animal Kingdom, 1932; The Joyous Season, 1934; Bright Star, 1935; Spring Dance, 1936; Here Come the Clowns, 1938; The Philadelphia Story, 1939; Liberty Jones, 1941; Without Love, 1942; Foolish Notion, 1945; Second Threshold, 1951.

The youngest; a comedy in three acts. NY: S. French, 1925. PS3503.A648 Y63

Hotel universe, a play. NY: S. French, 1930. PS3503.A648 H65

Second threshold. with revisions and a pref. by Robert E. Sherwood. NY: Harper, 1951. PS3503.A648 S4

States of grace: eight plays. intro. by Brendan Gill. NY: Harcourt Brace Jovanovich, 1975. PS3503 A648 A6
Selected Bibliography 1980-Present
Anderson, Donald R. Shadowed Cocktails: The Plays of Philip Barry from Paris Bound to The Philadelphia Story. Carbondale: Southern Illinois UP, 2011.
Aycock, Wendell, and Michael Schoenecke. eds. Film and Literature: A Comparative Approach to Adaptation. Lubbock: Texas Tech UP, 1988.
Eisen, Kurt. "Philip Barry." in Wheatley, Christopher J. ed. Twentieth-Century American Dramatists, Second Series. Detroit: Thomson Gale, 2000.
MacNicholas, John. ed. Twentieth-Century American Dramatists, Part 1: A-J. Detroit: Gale, 1981.
Sauer, David K. American Drama and the Postmodern: Fragmenting the Realistic Stage. Amherst, NY: Cambria, 2011.
Shea, Laura. "The Charmed Circle of Stephen Vincent Benét: Philip Barry, Jed Harris, Thornton Wilder." in David Garrett and Konkle, Lincoln. eds. Stephen Vincent Benét: Essays on His Life and Work. Jefferson, NC: McFarland, 2003.
MLA Style Citation of this Web Page
Reuben, Paul P. "Chapter 8: Philip Barry." PAL: Perspectives in American Literature- A Research and Reference Guide. URL: http://www.paulreuben.website/pal/chap8/barry.html (provide page date or date of your login).
| Top |