Chapter 8: American Drama

George Axelrod
1922-2003

© Paul Reuben October 20, 2016 E-Mail
Outside Links: | GA - Biography | GA on Broadway |
Page Links: | Primary Works | Selected Bibliography 1980-Present | MLA Style Citation of this Web Page |
Site Links: | Chap. 8: Index | Alphabetical List | Table Of Contents | Home Page |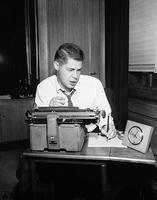 Source: 'Seven Year Itch' Writer Axelrod Dies
Director: Will Success Spoil Rock Hunter?, 1955; Once More, With Feeling, 1958; Goodbye Charlie, 1959; Lord Love a Duck, 1966; The Star-Spangled Girl, 1966

Novels: Beggar's Choice, 1947; as Hobson's Choice, 1951; Blackmailer, 1952; Where Am I Now - When I Need Me?, 1971.

Original Story: The Seven Year Itch, 1955

Plays: "Sketches," with Max Wilk, in Small Wonder, produced 1948; The Seven Year Itch: A Romantic Comedy, produced 1952; Will Success Spoil Rock Hunter?, produced 1955; Goodbye Charlie, produced 1959; Souvenir, with Peter Viertel, produced 1975.

Screenplays: Phffft!, 1954; The Seven Year Itch, 1955; Bus Stop, 1956; Breakfast at Tiffany's, 1961; The Manchurian Candidate, 1962; Paris When It Sizzles, 1964; How to Murder Your Wife, 1965; Lord Love a Duck, 1966; The Lady Vanishes, 1979; The Holcroft Covenant, 1985; The Fourth Protocol, 1987.

The seven year itch; a romantic comedy. NY: Random House, 1953. PS3501.X4 S4
Selected Bibliography 1980-Present
Aycock, Wendell, and Michael Schoenecke. eds. Film and Literature: A Comparative Approach to Adaptation. Lubbock: Texas Tech UP, 1988.
McGilligan, Pat. ed. Backstory 3: Interviews with Screenwriters of the 1960. Berkeley: U of California P, 1997.
MLA Style Citation of this Web Page
Reuben, Paul P. "Chapter 8: George Axelrod." PAL: Perspectives in American Literature- A Research and Reference Guide. URL: http://www.paulreuben.website/pal/chap8/axelrod.html (provide page date or date of your login).
| Top |