Chapter 7: Early 20th C. American Lit
and Modernism

James Thurber
1894-1961

© Paul P. Reuben October 19, 2016 E-Mail
Page Links: | Primary Works | Selected Bibliography 1980-Present | MLA Style Citation of this Web Page |
Site Links: | Chap. 7: Index | Alphabetical List | Table Of Contents | Home Page |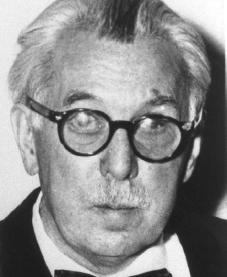 Source: Notable Biographies - JT
The last flower; a parable in pictures. NY: Harper & Brothers, 1939.

Many moons. NY: Harcourt, Brace and Company, 1943.

The middle-aged man on the flying trapeze, a collection of short pieces. Garden City, NY: Blue ribbon books, 1946.

The 13 clocks. NY: Simon and Schuster, 1950.

The Thurber album; a collection of pieces about people. NY: Simon and Schuster, 1965.

Thurber country; a new collection of pieces about males and females, mainly of our own species. NY: Simon and Schuster, 1953.

The Thurber carnival. NY: Modern Library, 1957, 1945.

The years with Ross. Boston: Little, Brown, 1959.

Lanterns & lances. NY: Harper, 1961.

A Thurber carnival. NY: Samuel French, 1962.

Thurber & company. NY: Harper & Row, 1966.

Men, women, and dogs. NY: Dodd, Mead, 1975, 1943.

Selected letters of James Thurber. Boston: Little, Brown, 1981.
Selected Bibliography 1980-Present
Gilbar, Steven, and Dean Stewart. eds. Published & Perished: Memoria, Eulogies, & Remembrances of American Writers. Boston: Godine, 2002.
Grauer, Neil A. Remember Laughter: A Life of James Thurber. Lincoln: U of Nebraska P, 1994.
Johnson, Paul. Humorists: From Hogarth to NoŽl Coward. NY: HarperCollins, 2010.
Kinney, Harrison. James Thurber: his life and times. NY: H. Holt, 1995.
Long, Robert E. James Thurber. NY: Continuum, 1988.
Tibbetts, Robert A., and Catherine M. Kenney. The Humours of James Thurber: An Exhibit of Selected Materials from the James Thurber Collection of the Ohio State University Libraries on the Occasion of the Ninetieth Anniversary of Thurber's Birth and the Opening of the Thurber House December 3, 1984-January 11, 1985. Columbus: Ohio State Univ. Libs., 1984.
MLA Style Citation of this Web Page
Reuben, Paul P. "Chapter 7: James Thurber." PAL: Perspectives in American Literature- A Research and Reference Guide. URL: http://www.paulreuben.website/pal/chap7/thurber.html (provide page date or date of your login).

| Top |