Chapter 7: Early 20th C. American Lit
and Modernism

Ringgold Wilmer Lardner
1885-1933

© Paul P. Reuben October 19, 2016 E-Mail
Outside Link: | Lardnermania |
Page Links: | Primary Works | Selected Bibliography 1980-Present | MLA Style Citation of this Web Page |
Site Links: | Chap. 7: Index | Alphabetical List | Table Of Contents | Home Page |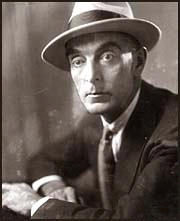 Source: Guide to Baseball Fiction: Ring Lardner
Bib Ballads, 1915; You Know Me, Al, 1916; Gullible's Travels, 1917; Four Weeks in France, 1918; Treat 'Em Rough, 1918; Own Your Own Home, 1919; Regular Fellows I Have Met, 1919; The Real Dope, 1919; The Young Immigrunts, 1920; Symptoms of Being 35, 1921; The Big Town, 1921; Say It With Oil, 1923; How to Write Short Stories (with Samples), 1924; What of It?, 1925; The Love Nest and Other Stories, 1926; The Story of a Wonder Man, 1927 (autobiography); Round Up, 1929; June Moon, 1930 (musical comedy with George S. Kaufman); Lose with a Smile, 1933.

The big town; how I and the Mrs. go to New York to see life and get Katie a husband. New York: Charles Scribner's Sons, 1925. PS3523.A7 B5

Gullible's travels, etc. Introd. by Josephine Herbst. Chicago: University of Chicago Press, 1965. PS3523.A7 G8

How to write short stories : (with samples). New York : Scribner, 1925, 1924. PS3523.A7 H6

You know me Al; a busher's letters. New York Scribner, 1960. PS3523.A7 Y6

Ring around the Bases: The Complete Baseball Stories of Ring Lardner. Bruccoli, Matthew J. (ed. and introd.); Lardner, Ring, Jr. Columbia: U of South Carolina P, 2003.
Selected Bibliography 1980-Present
Ashley, Perry J. ed. American Newspaper Journalists, 1901-1925. Detroit: Gale, 1984.
Kimbel, Bobby E. Words into Images: Screenwriters on the Studio System. Jackson: UP of Mississippi, 2007.
Schrader, Richard J. "Ring Lardner." in Schrader, Richard J. ed. The Hoosier House: Bobbs-Merrill and Its Predecessors, 1850-1985: A Documentary Volume. Detroit: Gale, 2004.
Trachtenberg, Stanley. ed. American Humorists, 1800-1950: Part 1: A-L. Detroit: Gale, 1982.
MLA Style Citation of this Web Page
Reuben, Paul P. "Chapter 7: Ring Lardner." PAL: Perspectives in American Literature- A Research and Reference Guide. URL: http://www.paulreuben.website/pal/chap7/lardner.html (provide page date or date of your login).

| Top |