Chapter 7: Early 20th C. American Lit
and Modernism

Ellen Anderson Gholson Glasgow
1873-1945

© Paul P. Reuben October 19, 2016 E-Mail
Outside Link: | The Ellen Glasgow Society |
Page Links: | Primary Works | Selected Bibliography 1980-Present | MLA Style Citation of this Web Page |
Site Links: | Chap. 7: Index | Alphabetical List | Table Of Contents | Home Page |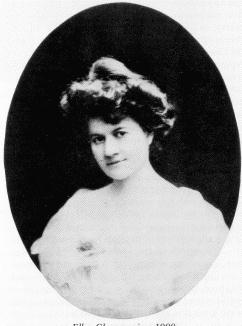 Source: American Lit Chronology
The Descendant, 1897; The Deliverance, 1904; Virginia, 1913; Barren Ground, 1925; The Romantic Comedians, 1926; They Stooped to Folly, 1929; The Sheltered Life, 1932; Vein of Iron, 1935; A Certain Measure: An Interpretation of Prose Fiction, 1943; The Woman Within (autobiography), 1954; The Collected Stories, 1963.

Perfect Companionship: Ellen Glasgow's Selected Correspondence with Women. Matthews, Pamela R. (ed. and introd.). Charlottesville: U of Virginia P, 2005.

Perfect Companionship: Ellen Glasgow's Selected Correspondence with Women. Matthews, Pamela R. (ed. and introd.) Charlottesville: U of Virginia P 2005
Selected Bibliography 1980-Present
Donovan, Josephine. After the fall the Demeter-Persephone myth in Wharton, Cather, and Glasgow. U Park: Pennsylvania State UP, 1989. PS374 .W6 D66
Goodman, Susan. Ellen Glasgow: A Biography. Baltimore: Johns Hopkins UP, 1998.
Griffith, Jean C. The Color of Democracy in Women's Regional Writing. Tuscaloosa: U of Alabama P, 2009.
Nicolaisen, Peter. "Rural Poverty and the Heroics of Farming: Elizabeth Maddox Roberts's The Time of Man and Ellen Glasgow's Barren Ground." in Godden, Richard and Crawford, Martin. Reading Southern Poverty Between the Wars, 1918-1939. Athens: U of Georgia P, 2006.
Patterson, Laura S. Stirring the Pot: The Kitchen and Domesticity in the Fiction of Southern Women. Jefferson, NC: McFarland, 2008.
Patterson, Martha H. Beyond the Gibson Girl: Reimagining the American New Woman, 1895-1915. Urbana: U of Illinois P, 2005.
Raper, Julius R. From the Sunken Garden: The Fiction of Ellen Glasgow, 1916-1945. Baton Rouge: Louisiana State UP, 1980.
Saunders, Catherine E. Writing the Margins: Edith Wharton, Ellen Glasgow, and the Literary Tradition of the Ruined Woman. Cambridge: Harvard UP, 1987.
Scura, Dorothy M. ed. Ellen Glasgow: new perspectives. Knoxville: U of Tennessee P, 1995. PS3513 .L34 Z6534
Thiebaux, Marcelle. Ellen Glasgow. NY: Ungar, 1982.
Wagner, Linda W. Ellen Glasgow: Beyond Convention. Austin U of Texas P, 1982.
MLA Style Citation of this Web Page
Reuben, Paul P. "Chapter 7: Ellen Glasgow." PAL: Perspectives in American Literature- A Research and Reference Guide. URL: http://www.paulreuben.website/pal/chap7/glasgow.html (provide page date or date of your login).

| Top |