Chapter 7: Early 20th C. American Lit
and Modernism

Mourning Dove
(Christine Quintasket, Okanogan)
1888-1936

© Paul P. Reuben October 18, 2016 E-Mail

Outside Link: | MD Page |
Page Links: | Primary Works | Selected Bibliography 1980-Present | MLA Style Citation of this Web Page |

Site Links: | Chap. 7: Index | Alphabetical List | Table Of Contents | Home Page |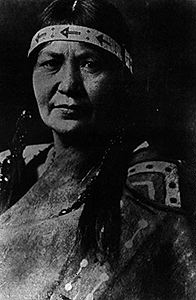 Source: Indigenous Women Rights
Cogwea, the Half-Blood: A Depiction of the Great MontanaCattle Range, 1927.

Coyote stories. edited and illustrated by Heister Dean Guie, with notes by L.V. McWhorter (Old Wolf) and a foreword by Chief Standing Bear ; introduction and notes to the Bison Book edition by Jay Miller. Lincoln: U of Nebraska P, 1990. E99 .O35 M68 (1933)

Mourning Dove: A Salishan Autobiography. ed. Jay Miller. 1990.
Six, Beverly G. "Mourning Dove (Hum-ishu-ma) (Christine Quintasket) 1882?-1936)." in Champion, Laurie. ed. American Women Writers, 1900-1945: A Bio-Bibliographical Critical Sourcebook. Westport, CT: Greenwood, 2000.
Dymond, Justine. "Modernism(s) Inside Out: History, Space, and Modern American Indian Subjectivity in Cogewea, the Half-Blood." in Doyle, Laura and Laura A. Winkiel. eds. Geomodernisms: Race, Modernism, Modernity. Bloomington: Indiana UP, 2005.
Jaskoski, Helen. ed. Early Native American Writing: New Critical Essays. NY: Cambridge UP, 1996.
Piatote, Beth H. Domestic Subjects: Gender, Citizenship, and Law in Native American Literature. New Haven, CT: Yale UP, 2013.
Rich, Charlotte J. Transcending the New Woman: Multiethnic Narratives in the Progressive Era. Columbia: U of Missouri P, 2009.
Wrobel, David M. and Michael C. Steiner. eds. Many Wests: Place, Culture, and Regional Identity. Lawrence: UP of Kansas, 1997.
MLA Style Citation of this Web Page
Reuben, Paul P. "Chapter 7: Mourning Dove." PAL: Perspectives in American Literature- A Research and Reference Guide. URL: http://www.paulreuben.website/pal/chap7/dove.html (provide page date or date of your login).

| Top |