Chapter 7: Early 20th C. American Lit
and Modernism

Djuna Barnes (Lydia Steptoe)
1892-1982

© Paul P. Reuben October 18, 2016 E-Mail
Outside Links: | Djuna Barnes | The Archive of Djuna Barnes |
Page Links: | Primary Works | Selected Bibliography 1980-Present | MLA Style Citation of this Web Page |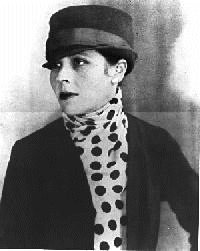 Source: Univ. of Maryland)
Djuna Barnes (1892-1982) was an American author of fiction, poetry, and plays, who got her start as a freelance journalist and illustrator in New York in 1913. Her talent and her connections with the artistic community in Greenwich Village soon led to the publication of her poetry and to the production of several of her plays by the Provincetown Players. Assignments from magazines took her to Europe in 1921 where she lived until 1939. During that time she published several book-length works, including the novel Nightwood, which is considered her masterpiece. In 1940 she moved to Greenwich Village, where she lived for the remainder of her life. Her verse play, The Antiphon, was published in 1958. She continued to write poetry until her death, though little was published. - Source: Univ. of Maryland)
The Book of Repulsive Women, 1915; "Smoke," 1917 (short story); A Book, 1923 (reprinted as A Night Among the Horses, 1929); Ladies Almanack, 1928; Ryder, 1928 (novel); Nightwood, 1936 (novel); The Antiphon, 1958 (verse drama); Selected Works, 1962.

Nightwood. Introduction by T. S. Eliot. NY: The New Directions, 1937. PS3503.A614 N5

Selected works: Spillway; The antiphon; Nightwood. NY: Farrar, Straus and Giroux, 1962. PS3503 A614 A6

Barnes, Djuna. "From Ladies Almanack: August Hath 31 Days; September Hath 30 Days." Prose 2 (1971): 23-35.

Ladies almanack: showing their signs and their tides; their moons and their changes; the seasons as it is with them; their eclipses and equinoxes; as well as a full record of diurnal and nocturnal distempers. Written & illustrated by a lady of fashion. NY: Harper & Row, 1972. PS3503 .A614 L3

Barry, Alyce. ed. Djuna Barnes: Interviews. Washington, DC: Sun & Moon, 1985.

Ladies Almanack. NY: New York UP, 1992.

"'Behind the Heart': An Unpublished Story by Djuna Barnes." Library Chronicle of the University of Texas 23.4 (1993): 27-41.

Collected Poems, With Notes Toward the Memoirs. Herring, Phillip (ed. and introd.) and Stutman, Osías. Madison: U of Wisconsin P, 2005.
Selected Bibliography 1980-Present
Abraham, Julie. Are Girls Necessary?: Lesbian Writing and Modern Histories. Minneapolis: U of Minnesota P, 2008.
Ardis, Ann L. and Leslie W. Lewis. eds. Women's Experience of Modernity, 1875-1945. Baltimore: Johns Hopkins UP, 2002.
Bombaci, Nancy. Freaks in Late Modernist American Culture: Nathanael West, Djuna Barnes, Tod Browning, and Carson McCullers. NY: Peter Lang, 2006.
Broe, Mary L. ed. Silence and Power: A Reevaluation of Djuna Barnes. Carbondale: Southern Illinois UP, 1991.
Champion, Laurie. ed. American Women Writers, 1900-1945: A Bio-Bibliographical Critical Sourcebook. Westport, CT: Greenwood, 2000.
Goodspeed-Chadwick, Julie. Modernist Women Writers and War: Trauma and the Female Body in Djuna Barnes, H. D., and Gertrude Stein. Baton Rouge: Louisiana State UP, 2011.
Goody, Alex. Modernist Articulations: A Cultural Study of Djuna Barnes, Mina Loy, and Gertrude Stein. NY: Palgrave Macmillan, 2007.
Heise, Thomas. Urban Underworlds: A Geography of Twentieth-Century American Literature and Culture. New Brunswick, NJ: Rutgers UP, 2011.
Herring, Phillip. Djuna: The Life and Work of Djuna Barnes. NY: Viking P, 1995.
Levine, Nancy J., and Marian Urquilla. eds. "Djuna Barnes." The Review of Contemporary Fiction 13.3 (Fall 1993). Special Edition.
Meese, Elizabeth A. (Sem)erotics: Theorizing Lesbian Writing. NY: New York UP, 1992.
Plumb, Cheryl J. Fancy's Craft: Art and Identity in the Early Works of Djuana Barnes. Selinsgrove: Susquehanna UP, 1986.
Plumb, Cheryl J. ed. Nightwood: The Original Version and Related Drafts. Normal, IL: Dalkey Archive, 1995.
Salvato, Nick. Uncloseting Drama: American Modernism and Queer Performance. New Haven, CT: Yale UP, 2010.
Scott, Bonnie K. Refiguring Modernism, I: The Women of 1928; II: Postmodern Feminist Readings of Woolf, West, and Barnes. Bloomington: Indiana UP, 1995.
Silvers, Robert B. and Barbara Epstein. eds. The Company They Kept: Writers on Unforgettable Friendships. NY: New York Review Books, 2006.
MLA Style Citation of this Web Page
Reuben, Paul P. "Chapter 7: Djuna Barnes." PAL: Perspectives in American Literature- A Research and Reference Guide. URL: http://www.paulreuben.website/pal/chap7/barnes.html (provide page date or date of your login).

| Top |