6: Late Nineteenth Century
and Naturalism

Charles Alexander Eastman, Sioux/Ohiyesa
1858-1939

© Paul P. Reuben October 18, 2016 E-Mail
Page Links: |Primary Works | Selected Bibliography 1980-Present | Study Questions | MLA Style Citation of this Web Page |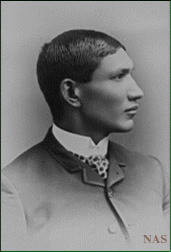 Source: Dartmouth College
Indian Boyhood, 1902; Red Hunters and the Animal People, 1904; Old Indian Days, 1907 (Electronic-Text); Wigwam Evenings (with Elaine Goodale Eastman), 1909; The Soul of the Indian, 1911; Indian Child Life, 1913; Indian Scout Talks, 1914; The Indian To Day, 1915; From Deep Woods Into Civilization, 1916; Indian Heroes and Great Chieftains, 1918.

Indian boyhood. E99.D1 E17 (Electronic-Text)

Red hunters and the animal people. E99.D1 E193x

The Soul of the Indian. E98.R3 E15 (Electronic-Text)

Indian boyhood. Charleston, SC: BiblioBazaar, 2007.

From the deep woods to civilization: chapters in the autobiography of an Indian. Whitefish, M.T.: Kessinger Publishing, 2007.

The essential Charles Eastman (Ohiyesa): light on the Indian world. ed. Michael O. Fitzgerald. Bloomington, Ind.: World Wisdom, 2007.
Selected Bibliography 1980-Present
Brumble, H. David. American Indian autobiography. Lincoln: University of Nebraska Press, 2008.
Carlson, David J. Sovereign Selves: American Indian Autobiography and the Law. Urbana: U of Illinois P, 2006.
Gallagher. Susan V. ed. Postcolonial Literature and the Biblical Call for Justice. Jackson: UP of Mississippi, 1994.
Handley, William R. and Nathaniel Lewis. eds. True West: Authenticity and the American West. Lincoln: U of Nebraska P, 2004.
Kelsey, Penelope M. Tribal Theory in Native American Literature: Dakota and Haudenosaunee Writing and Indigenous Worldviews. Lincoln: U of Nebraska P, 2008.
Markowitz, Harvey, and Carole A. Barret. American Indian biographies. Pasadena, CA: Salem Press, 2005.
Moore, MariJo. Eating fire, tasting blood: breaking the great silence of the American Indian Holocaust. NY: Thunder's Mouth Press, 2006.
Peyer, Bernd. "The thinking Indian": Native American writers, 1850s-1920s. NY: Peter Lang, 2007.
- - -. ed. American Indian nonfiction: an anthology of writings, 1760s-1930s. Norman: U of Oklahoma P, 2007.
Sargent, Theodore D. The life of Elaine Goodale Eastman. Lincoln: U of Nebraska P, 2008.
1. Research Elaine Goodale (perhaps by reading Sister to the Sioux: The Memoirs of Elaine Goodale Eastman, edited by Kay Graber, 1978) and construct a portrait of the young white women who became missionaries to the American Indians in the West.
2. Calling the adherents of the Ghost Dance religion "prophets of the 'Red Christ,'" Eastman writes about what he calls this religious "craze": "It meant that the last hope of race entity had departed, and my people were groping blindly after spiritual relief in their bewilderment and misery." Set this comment against Captain Sword's account of the Ghost Dance religion and evaluate it in terms of the confusion that becomes evident among "hostiles" and "friendlies" during the Ghost Dance War.
MLA Style Citation of this Web Page
Reuben, Paul P. "Chapter 6: Charles Alexander Eastman." PAL: Perspectives in American Literature- A Research and Reference Guide. URL: http://www.paulreuben.website/pal/chap6/eastman.html (provide page date or your date of logon).
| Top |