Chapter 4: American Transcendentalism

Frederick Henry Hedge
1805-1890

© Paul P. Reuben October 17, 2016 E-Mail

Outside Links: | "A Mighty Fortress is Our God" | Biography |
Page Links: | Primary Works | Selected Bibliography | MLA Style Citation of this Web Page |
Site Links: | Chap 4: Index |
Alphabetical List
|
Table Of Contents
|
Home Page
|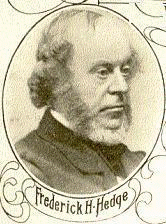 Source: Unitarian Universalist Association - Hedge
Many articles in various magazines like The Christian Examiner. His essay on Coleridge, 1833, is considered to be the first American expression of the Kantian idealism which later became famous as Transcendentalism.

Prose Writers of Germany, 1848; Recent Inquiries in Theology, 1860; Reason In Religion, 1865; The Primeval World of Hebrew Tradition, 1870; Ways of the Spirit, 1877; Atheism in Philosophy, 1884; Hours with German Classics, 1887; Martin Luther and Other Essays, 1888.

Edited and annotated a translation of Goethe's Faust, 1882 and edited and revised a translation of Goethe's Letters from Switzerland and Travels in Italy, 1884.
LeBeau, Bryan F. Frederic Henry Hedge: Nineteenth Century American Transcendentalist. Pickwick Publications, 1985.
Mueller-Vollmer, Kurt, and Michael Irmscher. eds. Translating Literatures, Translating Cultures: New Vistas and Approaches in Literary Studies. Stanford, CA: Stanford UP, 1998.
Myerson, Joel. ed. The Transcendentalists: A Review of Research and Criticism. NY: Mod. Lang. Assn. of America, 1984.
Rathbun, John W. and Monica M. Grecu. eds. American Literary Critics and Scholars, 1800-1850. Detroit: Gale, 1987.
Woodall, Guy R. "Frederic Henry Hedge." in Mott, Wesley T. ed. The American Renaissance in New England: Fourth Series. Detroit: Gale, 2001.
MLA Style Citation of this Web Page:
Reuben, Paul P. "Chapter 4: Frederic Henry Hedge." PAL: Perspectives in American Literature- A Research and Reference Guide. WWW URL: http://www.paulreuben.website/pal/chap4/hedge.html (provide page date or date of your login).

| Top |