Chapter 4: American Transcendentalism

Christopher Pearse Cranch
1813-1892

© Paul P. Reuben October 17, 2016 E-Mail

Outside Link: | Poets' Corner: CPC |
Page Links: | Selected Bibliography | MLA Style Citation of this Web Page |
Site Links: | Chap 4: Index |
Alphabetical List
|
Table Of Contents
|
Home Page
|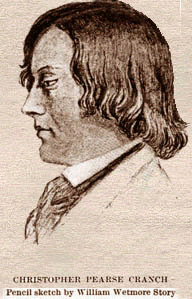 Source: CPC
Christopher Pearse Cranch was a Unitarian minister, poet, author, artist, and member of the Transcendental Club. He graduated from Harvard Divinity School in 1835 and for a short time afterward served as assistant pastor to Frederic Henry Hedge. He then moved to the Ohio Valley and from 1837 to 1839 edited the Western Messenger, one of the first Transcendentalist magazines, with James Freeman Clarke. This magazine defended Ralph Waldo Emerson, Amos Bronson Alcott, Orestes Brownson, and liberal Unitarianism in general against the attacks of the religiously orthodox. At this time Cranch drew a number of inspired and amusing caricatures of Emerson, based upon passages in Emerson's works, that became famous and today are highly prized. Cranch published early poetry in the Dial and the Harbinger; he published some later poetry in his collection The Bird and the Bell with Other Poems (1875). He was also a landscape painter of some acclaim. After studying the masters in Europe, he returned to the United States and came to paint in the style of the Hudson River School. Although his paintings have been criticized by some as indefinite, they have also been praised for serenity and a true relation to nature. - Alcott Net
Primary Work
The Bird and the Bell with Other Poems, 1875.
Estes, Glenn E. ed. American Writers for Children Before 1900. Detroit: Gale, 1985.
Richardson, Todd. "Christopher Pearse Cranch (1813-1892)." in Denise D. ed. Writers of the American Renaissance: An A-to-Z Guide. Westport, CT: Greenwood, 2003.
Miller, F. DeWolfe. Christopher Pearse Cranch and His Caricatures of New England Transcendentalists. Cambridge, Harvard UP. 1951.
Fisher, Mathew D. "Christopher Pearse Cranch." in Mott, Wesley T. ed. The American Renaissance in New England. Detroit: Thomson Gale, 2001.
Myerson, Joel. ed. The Transcendentalists: A Review of Research and Criticism. NY: Mod. Lang. Assn. of America, 1984.
MLA Style Citation of this Web Page:
Reuben, Paul P. "Chapter 4: Christopher Pearse Cranch." PAL: Perspectives in American Literature- A Research and Reference Guide. WWW URL: http://www.paulreuben.website/pal/chap4/cranch.html (provide page date or date of your login).

| Top |