Chapter 3: Nineteenth Century to 1865
Romanticism

Frank J. Webb
1828-1894

© Paul P. Reuben October 16, 2016 E-Mail
Page Links: | Primary Work | Selected Bibliography | MLA Style Citation of this Web Page |
Site Links: | Chap 3: Index | Alphabetical List | Table Of Contents | Home Page |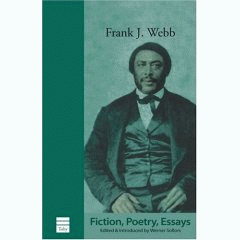 Source: Amazon
The Garies and Their Friends, 1857

Reid-Pharr, Robert. ed. The Garies and Their Friends. Harriet Beecher Stowe, original preface. Baltimore, MD : Johns Hopkins UP, 1997.
Chakkalakal, Tess. Novel Bondage: Slavery, Marriage, and Freedom in Nineteenth-Century America. Urbana: U of Illinois P, 2011.
Habich, Robert D. ed. Lives Out of Letters: Essays on American Literary Biography and Documentation. Madison, NJ: Fairleigh Dickinson UP, 2004.
Nelson, Emmanuel S. ed. African American Authors, 1745-1945: A Bio-Bibliographical Critical Sourcebook. Westport, CT: Greenwood, 2000.
Otter, Samuel. Philadelphia Stories: America's Literature of Race and Freedom. NY: Oxford UP, 2010.
MLA Style Citation of this Web Page:
Reuben, Paul P. "Chapter 3: Frank J. Webb." PAL: Perspectives in American Literature- A Research and Reference Guide. WWW URL: http://www.paulreuben.website/pal/chap3/webb.html> (provide page date or date of your login).