Chapter 10: Late Twentieth Century and Postmodernism

Helena María Viramontes
1954-

© Paul Reuben October 22, 2016 E-Mail
Outside Link: | Heath Anthology Introduction: HMV |
Page Links: | Primary Works | Selected Bibliography 1980-Present | MLA Style Citation of this Web Page |
Site Links: | Chap. 10: Index |
Alphabetical List
|
Table Of Contents
|
Home Page
|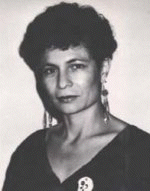 Source: Voices
Contributed by Patricia Bostian, Central Piedmont Community College
Viramontes is a Chicana writer who tackles the oppression and racism that Chicana women live with in her short stories and her novel.
The Moths and Other Stories.

Arte Publico Press: Houston, TX, 1985. PS3572 .I63 M6

"'Nopalitos': The Making of Fiction, Testimonio." Eds. Asunción Horno-Delgado, et al. Breaking Boundaries: Latina Writing and Critical Readings. Amherst: U of Massachusetts P, 1989. 33-38.

Under the Feet of Jesus. Dutton: New York, NY, 1995. PS3572 .I63 U53

"She Writes Ofrenda." Máscaras. Ed. Lucha Corpi. Berkeley, CA: Third Woman, 1997. 125-31.

Their Dogs Came With Them: A Novel. Dutton: New York, NY, 2000.

Viramontes, Helena Maria, and Maria Herrera-Sobek, Eds. Chicana Creativity and Criticism: Charting New Frontiers in American Literature. Houston: Arte Publico, 1988. PS508 .M4 C52

---. Chicana (W)rites: On Word and Film. Berkeley, CA: Third Woman Press, 1995.
Selected Bibliography 1980-Present
Castillo, Debra A. "Helena María Viramontes (1954-)." in West-Durán, Alan and others. eds. Latino and Latina Writers, I: Introductory Essays, Chicano and Chicana Authors; II: Cuban and Cuban American Authors, Dominican and Other Authors, Puerto Rican Authors. NY: Scribner's, 2004.
Gutiérrez y Muhs, Gabriella. Communal Feminisms: Chicanas, Chilenas, and Cultural Exile: Theorizing the Space of Exile, Class, and Identity. Lanham, MD: Lexington, 2006.
Kevane, Bridget and Juanita Heredia. "Praying for Knowledge: An Interview with Helena María Viramontes." in Kevane, Bridget and Heredia, Juanita. eds. Latina Self-Portraits: Interviews with Contemporary Women Writers. Albuquerque: U of New Mexico P, 2000.
Mermann-Jozwiak, Elisabeth. Conversations with Mexican American Writers: Languages and Literatures in the Borderlands. Jackson: UP of Mississippi, 2009.
Saldívar-Hull, Sonia. Feminism on the Border: Chicana Gender Politics and Literature. Berkeley: U of California P, 2000.
Sandoval, Anna M. Toward a Latina Feminism of the Americas: Repression and Resistance in Chicana and Mexicana Literature. Austin: U of Texas P, 2008.
Wiley, Catherine, and Fiona R. Barnes. eds. Homemaking: Women Writers and the Politics and Poetics of Home. NY: Garland, 1996.
MLA Style Citation of this Web Page
Reuben, Paul P. "Chapter 10: Helena María Viramontes." PAL: Perspectives in American Literature- A Research and Reference Guide. URL: http://www.paulreuben.website/pal/chap10/viramontes.html (provide page date or date of your login).

| Top |