Chapter 10: Late Twentieth Century and Postmodernism

Frank McCourt
1930-2009

© Paul Reuben October 22, 2016 E-Mail
Outside Link: | Academy of Achievement: FM Biography |
Page Links: | Primary Works | Selected Bibliography 1980-Present | MLA Style Citation of this Web Page |
Site Links: | Chap. 10: Index | Alphabetical List | Table Of Contents | Home Page |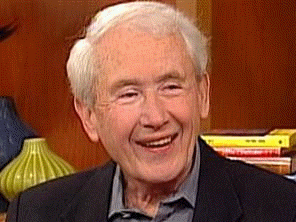 Source: MSNBC
Angela's ashes: a memoir. NY: Scribner, 1996.

'Tis: a memoir. NY: Scribner, 1999.

Teacher man: a memoir. NY: Scribner, 2005.

Angela and the baby Jesus. NY: Simon & Schuster Books for Young Readers, 2007.
Bertolini, Mary E. "Frank McCourt 1930-." in Parini, Jay. ed. American Writers: A Collection of Literary Biographies: Supplement XII: Kathy Acker to Richard Russo. NY: Scribner's, 2003.
O'Brien, George. "The Last Word: Reflections on Angela's Ashes." in Fanning, Charles. ed. New Perspectives on the Irish Diaspora. Carbondale: Southern Illinois UP, 2000.
Sanburn, Keri E. "A Marxist Perspective of Angela's Ashes." in Wright, Will and Kaplan, Steven. eds. The Image of Europe in Literature, Media, and Society. Pueblo: University of Southern Colorado, 2001.
Sullivan, Patricia A. and Goldzwig, Steven R. "Autobiography, Rhetoric, and Frank McCourt's Angela's Ashes and 'Tis: A Memoir." in New Approaches to Rhetoric. Thousand Oaks: Sage, 2004.
MLA Style Citation of this Web Page
Reuben, Paul P. "Chapter 10: Frank McCourt." PAL: Perspectives in American Literature- A Research and Reference Guide. URL: http://www.paulreuben.website/pal/pal/chap10/mccourt.html (provide page date or date of your login).
| Top |