Chapter 10: Late Twentieth Century and Postmodernism

Denise Levertov
1923 - 1997

© Paul Reuben October 22, 2016 E-Mail
Outside Links: | Modern American Poets: DL | Stanford U. Denise Levertov Papers | Washington U. Denise Levertov Papers |
Page Links: | Primary Works | Selected Bibliography 1980-Present | MLA Style Citation of this Web Page |
Site Links: | Chap. 10: Index | Alphabetical List | Table Of Contents | Home Page |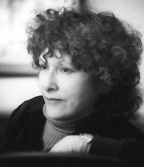 Source: The Academy of American Poets: DL
Here and Now, 1956; With Eyes at the Back of our Heads, 1959; The Sorrow Dance, 1967; Freeing the Dust, 1975; Tesserae, 1995; Poems 1968-1972, 1987; Breathing the Water, 1987; A Door in the Hive, 1989; Evening Train, 1992; The Sands of the Well, 1996; This Great Unknowing: Last Poems, 1999.

With eyes at the back of our heads. Poems. NY: New Directions, 1959. PS3562.E8876 W5

The sorrow dance; poems. NY: New Directions, 1967, 1966. PS3562.E8876 S6

In praise of Krishna; songs from the Bengali. Translations by Edward C. Dimock, Jr. and Denise Levertov. With an introd. and notes by Edward C. Dimock, Jr. Illus. by Anju Chaudhuri. Garden City, NY: Doubleday, 1967. PK1771.E3 D5

Relearning the alphabet. NY: New Directions, 1970. PS3562.E8876 R4

To stay alive. NY: New Directions, 1971. PS3562.E8876 T6

Footprints. NY: New Directions, 1972. PS3562.E8876 F6

The poet in the world. NY: New Directions, 1973.PS3562.E8876 P6

Here and now. San Francisco, City Lights Pocket Bookshop. Millwood, NY: Kraus Reprint Co., 1973, 1957. PN6101 .P462 v.1 no.1-7

The freeing of the dust. NY: New Directions, 1975. PS3562.E8876 F7

Collected earlier poems, 1940-1960. NY: New Directions, 1979. PS3562.E8876 A17

Light up the cave. NY: New Directions, 1981. PS3562.E8876 L54

Candles in Babylon. NY: New Directions, 1982. PS3562.E8876 C3

Breathing the water. NY: New Directions, 1987. PS3562 .E8876 B7

Evening train. NY: New Directions, 1993. PS3562 .E8876 E94

This great unknowing: last poems. with a note on the text by Paul A. Lacey. NY: New Directions Books, 1999. PS3562 .E8876 T47

Denise Levertov: Selected Poems. Creeley, Robert (preface); Lacey, Paul. NY: New Directions, 2003.
Selected Bibliography 1980-Present
Brooker, Jewel S. Conversations with Denise Levertov. Jackson, MS: UP of Mississippi, 1998.
Greene, Dana. Denise Levertov: A Poet's Life. Urbana: U of Illinois P, 2012.
Hollenberg, Donna K. A Poet's Revolution: The Life of Denise Levertov. Berkeley: U of California P, 2013.
Little, Anne C. and Susie Paul. eds. Denise Levertov: New Perspectives. West Cornwall, CT: Locust Hill, 2000.
MacGowan, Christopher. The Letters of Denise Levertov and William Carlos Williams. NY: New Directions, 1998.
Marten, Harry. Understanding Denise Levertov. Columbia: U of South Carolina P, 1988.
Rodgers, Audrey T. Denise Levertov: the poetry of engagement. Rutherford, N.J.: Fairleigh Dickinson UP, 1993. PS3562 .E8876 Z86
Sakelliou-Schultz, Liana. Denise Levertov: An Annotated Primary and Secondary Bibliography. NY: Garland, 1988.
Wagner-Martin, Linda. ed. Critical Essays on Denise Levertov. Boston: Hall, 1990.
MLA Style Citation of this Web Page
Reuben, Paul P. "Chapter 10: Denise Levertov." PAL: Perspectives in American Literature- A Research and Reference Guide. URL: http://www.paulreuben.website/pal/chap10/levertov.html (provide page date or date of your login).
| Top |