Chapter 10: Late Twentieth Century and Postmodernism

Stanley Kunitz
1905-2006

© Paul Reuben October 21, 2016 E-Mail
Outside Link: | Modern American Poetry: SK |
Page Links: | Primary Works | Selected Bibliography 1980-Present | MLA Style Citation of this Web Page |
Site Links: | Chap. 10: Index | Alphabetical List | Table Of Contents | Home Page |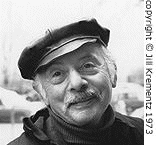 Source: Poets.org
Selected poems, 1928-1958. Boston, Little, Brown, 1958. PS3521.U7 A17

The testing-tree; poems. Boston, Little, Brown, 1971. PS3521.U7 T4

A kind of order, a kind of folly: essays and conversations. Boston: Little, Brown, 1975 PS3521 U7 K5

The Lincoln relics: a poem. Port Townsend, Wash.: Graywolf Press, 1978. PS3521.U7 L5

The poems of Stanley Kunitz, 1928-1978. Boston: Little, Brown, 1979. PS3521.U7 P6

A Celebration for Stanley Kunitz: on his eightieth birthday. Riverdale-on-Hudson, NY: Sheep Meadow Press ; NY: NY: Distributed by Persea Books, 1986. PS 3521 .U7 Z6

Passing through: the later poems, new and selected. NY: W.W. Norton, 1995. PS3521 .U7 P27

The collected poems. NY: Norton, c2000. PS3521 .U7 A17

The Wild Braid, 2005.

Others

British authors of the nineteenth century. edited by Stanley J. Kunitz; associate editor, Howard Haycraft. Complete in one volume with 1000 biographies and 350 portraits. NY: Wilson, 1936. Ref / PR451 .K8

American authors, 1600-1900; a biographical dictionary of American literature. edited by Stanley J. Kunitz and Howard Haycraft. Complete in one volume with 1300 biographies and 400 portraits. NY: The H. W. Wilson company, 1938. Ref / PS21 .K8

Twentieth century authors, a biographical dictionary of modern literature. edited by Stanley J. Kunitz and Howard Haycraft; complete in one volume with 1850 biographies and 1700 portraits. NY: The H. W. Wilson Company, 1942. PN771 .K86

The junior book of authors. edited by Stanley J. Kunitz and Howard Haycraft. NY: Wilson, 1951. PN1009 .A1 K8

British authors before 1800; a biographical dictionary. edited by Stanley J. Kunitz and Howard Haycraft. NY: Wilson, 1952. Ref / PR105 .K9

European authors, 1000-1900; a biographical dictionary of European literature. edited by Stanley J. Junitz and Vineta Colby. NY: Wilson, 1967. Ref / PN451 .K8

Poems of Akhmatova. Selected, translated and introduced by Stanley Kunitz with Max Hayward. Boston: Little, Brown 1973 PG3476 A324 A17

Story under full sail by Andrei Voznesensky. translated from the Russian by Stanley Kunitz, with Vera Reck, Maureen Sager, Catherine Leach. Garden City, N.Y.: Doubleday, 1974. PG3489.4 Z6 A9413
Selected Bibliography 1980-Present
A Celebration for Stanley Kunitz on His Eightieth Birthday. Riverdale-on-Hudson, NY: Sheep Meadow, 1986.
Henault, Marie. Stanley Kunitz. Boston: Twayne Publishers, 1980. PS3521.U7 Z69
Orr, Gregory. Stanley Kunitz: an introduction to the poetry. NY: Columbia UP, 1985. PS3521 .U7 Z84
Pacernick, Gary. Meaning and Memory: Interviews with Fourteen Jewish Poets. Columbus: Ohio State UP, 2001.
MLA Style Citation of this Web Page
Reuben, Paul P. "Chapter 10: Stanley Kunitz." PAL: Perspectives in American Literature- A Research and Reference Guide. URL: http://www.paulreuben.website/pal/chap10/kunitz.html (provide page date or date of your login).
| Top |