Chapter 10: Late Twentieth Century and Postmodernism

Etheridge Knight
1931-1991

© Paul Reuben October 21, 2016 E-Mail
Outside Link: | Modern American Poetry: EK |
Page Links: | Primary Works | Selected Bibliography 1980-Present | MLA Style Citation of this Web Page |
Site Links: | Chap. 10: Index | Alphabetical List | Table Of Contents | Home Page |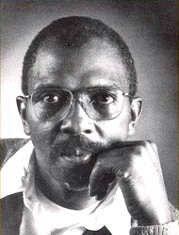 Source: EK: Black Poet from Corinth, Miss.
Contributed by Patricia Bostian, Central Piedmont Community College
Etheridge Knight was in prison when Dudley Randall published his first volume of poetry. Upon his release from prison, Knight continued to write poet, becoming a major voice in the 1960s. His poetry helped to create a new aesthetic reflecting life for black males both in and out of prison.
Poems from Prison

. Detroit: Broadside Press, 1968.

Black Voices from Prison. New York: Pathfinder Press, 1970; originally published as Voci Negre Dal Carcere (Bari, Italy: Giuseppe Laterza & Figli, 1968). PS508.N3 K6

Belly Song and Other Poems. Detroit: Broadside Press, 1973.

Born of a Woman, New and Selected Poems/ Boston: Houghton Mifflin, 1980.

The Essential Etheridge Knight. Pittsburgh: University of Pittsburgh Press, 1986.
Selected Bibliography 1980-Present
Collins, Michael S. Understanding Etheridge Knight. Columbia: U of South Carolina P, 2012.
Nelson, Howard. "Belly Songs: The Poetry of Etheridge Knight." in Dillard, R. H. W. and Amanda Cockrell. eds. Twayne Companion to Contemporary Literature in English, I: Ammons-Lurie; II: Macleod-Williams. NY: Twayne, 2002.
Sollors, Werner, and Maria Diedrich. eds. The Black Columbiad: Defining Moments in African American Literature and Culture. Cambridge: Harvard UP, 1994.
MLA Style Citation of this Web Page
Reuben, Paul P. "Chapter 10: Etheridge Knight." PAL: Perspectives in American Literature- A Research and Reference Guide. URL: http://www.paulreuben.website/pal/chap10/knight.html (provide page date or date of your login).

| Top |