Chapter 10: Late Twentieth Century and Postmodernism

June Jordan
1936-2002

© Paul Reuben October 21, 2016 E-Mail
Outside Link: | UC Berkeley Obituary |
Page Links: | Primary Works | Selected Bibliography 1980-Present | MLA Style Citation of this Web Page |
Site Links: | Chap. 10: Index | Alphabetical List | Table Of Contents | Home Page |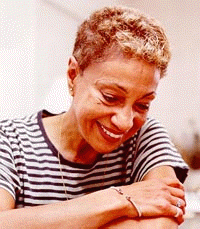 Source: New York State Writers Institute
Who look at me. Illustrated with 27 paintings. NY: Crowell 1969. PS3560 .O73 W5

Some changes. NY: Dutton, 1971. PS3560 .O73 S6

His own where. (novel) NY: Crowell 1971. Juv Fiction J82 h

Fannie Lou Hamer. Illustrated by Albert Williams. NY: Crowell 1972. Juv Biog H214 j

New life: new room. Illustrated by Ray Cruz. NY: Crowell 1975. Juv Fiction J82 n

Things that I do in the dark: selected poetry. NY: Random House, 1977. PS3560 .O73 A6

Passion: new poems, 1977-1980. Boston: Beacon P, 1980. PS3560 .O73 P3

Civil wars. Boston: Beacon P, 1981. E185.615 .J67

On call: political essays. Boston, MA: South End P, 1985. PS3560 .O73 O5

Technical difficulties: African-American notes on the state of the union. NY: Pantheon Books, 1992. E169.12 .J657

Haruko: love poems. NY: High Risk Books, 1994. PS3560 .O73 H37

Kissing God goodbye: poems, 1991-1997. NY: Anchor Books, 1997. PS3560 .O73 K57

Affirmative acts: political essays. NY: Anchor Books, 1998. E185.615 .J668

Also: New Days: Poems of Exile and Return, 1974; Living Room: New Poems, 1985; All These Blessings, 1988 (play); Lyrical Campaigns: Selected Poems, 1989; Naming Our Destiny: New and Selected Poems, 1989; Moving Towards Home: Political Essays, 1989.

Jordan, June. Soulscript: Afro-American Poetry. With Introd. Garden City, N.Y. : Zenith, 1970.

- - -. "Black English: The Politics of Translation." Library Journal 98 (1973): 1631-34.

- - - "Where Is the Love?" In the Memory and Spirit of Frances, Zora, and Lorraine: Essays and Interviews on Black Women and Writing. Ed. Juliette Bowles. Washington, DC: Inst. for the Arts & the Humanities, Howard Univ., 1979. 29-31.

- - -. "The Difficult Miracle of Black Poetry in America; Or, Something Like a Sonnet for Phillis Wheatley." Massachusetts Review 27.2 (Sumr 1986): 252-262.

Directed by Desire: The Collected Poems of June Jordan. Rich, Adrienne (foreword). Port Townsend, WA: Copper Canyon, 2005.
Selected Bibliography 1980-Present
Davis, Thadious M. and Trudier Harris. eds. Afro-American Writers after 1955: Dramatists and Prose Writers. Detroit: Gale, 1985.
Kinloch, Valerie and Grebowicz, Margret. eds. Still Seeking an Attitude: Critical Reflections on the Work of June Jordan. Lanham, MD: Lexington, 2004.
Nelson, Emmanuel S. and Deborah G. Plant. eds. Contemporary African American Novelists: A Bio-Bibliographical Critical Sourcebook. Westport, CT: Greenwood, 1999.
Norman, Brian. The American Protest Essay and National Belonging: Addressing Division. Albany: State U of New York P, 2007.
Reesman, Jeanne C. ed. Speaking the Other Self: American Women Writers. Athens: U of Georgia P, 1997.
MLA Style Citation of this Web Page
Reuben, Paul P. "Chapter 10: June Jordan." PAL: Perspectives in American Literature- A Research and Reference Guide. URL: http://www.paulreuben.website/pal/chap10/jordan.html (provide page date or date of your login).

| Top |