Chapter 10: Late Twentieth Century and Postmodernism

Gish Jen (Lillian Jen)
1955-

© Paul Reuben October 21, 2016 E-Mail
Outside Link: | Heath Anthology Introduction: GJ |
Page Links: | Primary Works | Selected Bibliography 1980-Present | MLA Style Citation of this Web Page |
Site Links: | Chap. 10: Index | Alphabetical List | Table Of Contents | Home Page |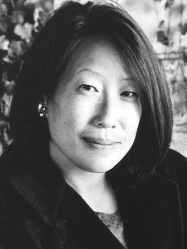 Source: New Jersey City Univ - GJ
Typical American. NY: Plume, 1992. PS3560 .E474 T9

Mona in the promised land. NY: Knopf, 1996. PS3560 .E474 M66

Who's Irish?: stories. NY: Alfred A. Knopf, 1999. PS3560 .E474 W48

Tiger Writing: Art, Culture, and the Interdependent Self. Cambridge, MA: Harvard UP, 2013.
Selected Bibliography 1980-Present
Callahan, Cynthia. Kin of Another Kind: Transracial Adoption in American Literature. Ann Arbor: U of Michigan P, 2010.
Cheung, King-Kok. ed. Words Matter: Conversations with Asian American Writers. Honolulu: U of Hawaii P, 2000.
Fallon, Erin, and others. eds. A Reader's Companion to the Short Story in English. Westport, CT: Greenwood, 2001.
Franklin, Cynthia, Ruth Hsu, and Suzanne Kosanke. eds. Navigating Islands and Continents: Conversations and Contestations in and around the Pacific. Honolulu: University of Hawaii, 2000.
Lee, Rachel C. The Americas of Asian American literature: gendered fictions of nation and transnation. Princeton: Princeton UP, 1999. PS153 .A84 L44
Madsen, Deborah L. ed. Asian American Writers. Detroit: Gale, 2005.
Parini, Jay. ed. American Writers: Classics, Volume II. NY: Scribner's, 2004.
Partridge, Jeffrey. Beyond Literary Chinatown. Seattle: U of Washington P, 2007.
MLA Style Citation of this Web Page
Reuben, Paul P. "Chapter 10: Gish Jen." PAL: Perspectives in American Literature- A Research and Reference Guide. URL: http://www.paulreuben.website/pal/chap10/jen.html (provide page date or date of your login).

| Top |