Chapter 10: Late Twentieth Century and Postmodernism

Lawson Fusao Inada
1938 -

© Paul Reuben October 21, 2016 E-Mail
Outside Links: | Memoirs of LFI | Modern American Poetry: LFI |
Page Links: | Primary Works | Selected Bibliography 1980-Present | MLA Style Citation of this Web Page |
Site Links: | Chap. 10: Index | Alphabetical List | Table Of Contents | Home Page |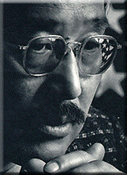 Source: Asian/Pacific American Student Services
Before the war; poems as they happened. NY: Morrow, 1971. PS3559 .N3 B4

The Buddha bandits down Highway 99: poetry. by Garrett Kaoru Hongo, Alan Chong Lau, Lawson Fusao Inada; [artwork by Alan Lau]. Mountain View, Calif.: Buddhahead Press, 1978. PS647 .A75 H6

Legends from camp: poems. Minneapolis: Coffee House Press; St. Paul, MN: Available through Consortium Book Sales & Distribution, 1992. PS3559 .N3 L43

In this great land of freedom: the Japanese pioneers of Oregon. poetry by Lawson Fusao Inada; historical essay by Eiichiro Azuma; edited by Akemi Kikumura, Lawson Fusao Inada, Mary Worthington. Los Angeles: Japanese American National Museum, 1993. F885 .J3 I56

Drawing the line: poems. Minneapolis: Coffee House Press, 1997. PS3559 .N3 D73

Unfinished message: selected works of Toshio Mori. introduction by Lawson Fusao Inada; foreword by Steven Y. Mori. Santa Clara: Santa Clara University; Berkeley: Heyday Books, 2000. PS3563 .O87163 A6

Only what we could carry: the Japanese American internment experience. edited with introduction by Lawson Fusao Inada; preface by Patricia Wakida; afterword by William Hohri. Berkeley, Calif.: Heyday Books; San Francisco, Calif.: California Historical Society, 2000. D769.8 .A6 O55

Inada, Lawson F., and William Saroyan. eds. Yokohama, California. Seattle: U of Washington P, 1985.
Selected Bibliography 1980-Present
Goldner, Ellen J. and Safiya Henderson-Holmes. eds. Racing and (E)Racing Language: Living with the Color of Our Words. Syracuse, NY: Syracuse UP, 2001.
Holliday, Shawn. Lawson Fusao Inada. Boise: Boise State University, 2003.
Huang, Yunte. Transpacific Imaginations: History, Literature, Counterpoetics. Cambridge, MA: Harvard UP, 2008.
MLA Style Citation of this Web Page
Reuben, Paul P. "Chapter 10: Lawson Fusao Inada." PAL: Perspectives in American Literature- A Research and Reference Guide. URL: http://www.paulreuben.website/pal/chap10/inada.html (provide page date or date of your login).

| Top |