Chapter 10: Late Twentieth Century and Postmodernism

Robert Hayden
1913-1980

© Paul Reuben October 21, 2016 E-Mail
Outside Link: | The Academy of American Poets: RH |
Page Links: | Primary Works | Selected Bibliography 1980-Present | MLA Style Citation of this Web Page |
Site Links: | Chap. 10: Index | Alphabetical List | Table Of Contents | Home Page |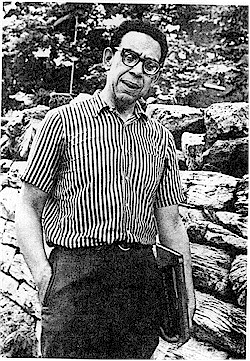 Source: Modern American Poetry: RH
Selected poems by Robert Hayden. NY: October House 1966. PS3515.A9363 A6

Kaleidoscope; poems by American Negro poets. edited and with an introd. by Robert Hayden. NY: Harcourt, Brace & World 1967. PS591.N4 H3

Words in the mourning time: poems by Robert Hayden. London: October House, 1970. PS3515.A9363 W6

Angle of ascent: new and selected poems by Robert Hayden. NY: Liveright, 1975. PS3515.A9363 A6

American journal: poems by Robert Hayden. NY: Liveright Pub. Corp., 1982. PS3515 .A9363 A74

Collected Prose: Robert Hayden. Ed. Frederick Glaysher. Ann Arbor: U of Michigan P, 1984.
Selected Bibliography 1980-Present
Fetrow, Fred. Robert Hayden. Boston: Twayne Publishers, 1984. PS3515 .A9363 Z66
Hand, Sally and others. "Using Intuition, Emotion, and Personal Story to Teach Multicultural Literature." in Friedman, Ellen G. and others. eds. Creating an Inclusive College Curriculum: A Teaching Sourcebook from the New Jersey Project. NY: Teachers College, Columbia UP, 1996.
Howard, W. Scott. "Resistance, Sacrifice, and Historicity in the Elegies of Robert Hayden." in Haralson, Eric. ed. Reading the Middle Generation Anew: Culture, Community, and Form in Twentieth Century American Poetry. Iowa City; U of Iowa P, 2006.
Williams, Pontheolla T. Robert Hayden: A Critical Analysis of His Poetry. Urbana: U of Illinois P, 1987.
MLA Style Citation of this Web Page
Reuben, Paul P. "Chapter 10: Robert Hayden." PAL: Perspectives in American Literature- A Research and Reference Guide. URL: http://www.paulreuben.website/pal/chap10/hayden.html (provide page date or date of your login).
| Top |